Used Land Rover Discovery buying guide: 2004-2009 (Mk3)
The third-generation Land Rover Discovery was a huge step forward in 2003, and still makes a fantastic used buy – if you choose carefully
Since arriving at the end of the 1980s, the Land Rover Discovery has carved out a niche as the go-to car for families needing something big, versatile and able to go anywhere, and there's no debating this huge SUV's qualifications in any of those respects.
The Discovery is huge – it's longer than many parking spaces and too tall to fit in most garages and many multi-storey car parks. Its sheer size, though, gives it one of the most versatile interiors of any SUV, with seating for seven and masses of room. The Discovery is also able to confidently tackle almost any terrain you care to point it at – it's a Land Rover, after all.
While the latest Land Rover Discovery SUV is bigger, more economical and even more luxurious, its predecessor is still as capable as ever and still exudes upmarket appeal despite having graced British roads since 2004. It caused quite a stir when first launched, when it was broadly seen as a quantum leap forwards from its rather agricultural Mk1 and Mk2 ancestors. The Mk3 was advanced enough to stay in production for 14 years, morphing into the Mk4 during a 2009 facelift.
We've produced a separate guide to the Discovery Mk4, but read on for the lowdown on choosing the right Discovery Mk3 for you.
Land Rover Discovery Mk3 history
The third-generation Land Rover Discovery arrived in August 2004 and was initially offered with a 4.4-litre petrol engine or a 2.7-litre V6 diesel. Four trim levels were available at first: Discovery 3, S, SE and HSE, with XS and GS replacing the S in September 2006. There was a subtle cosmetic update in July 2008, before a more involved facelift resulted in the Discovery 4 name being adopted in September 2009. We cover that model in a separate buyer's guide.
Which is the best Land Rover Discovery Mk3 for me?
The Discovery 3 was initially available with a 4.4-litre petrol engine (which was dropped in 2007) or a 2.7-litre diesel. The petrol engine is expensive to run – if you manage 19mpg you'll be doing well – though some cars have been converted to run on LPG (Liquefied Petroleum Gas), which offers cheaper running costs than petrol alone – so don't discount a petrol-engined Discovery out of hand. LPG-equipped cars have a second fuel tank, which is often mounted in the boot so you may find some of the versatility has been lost.
Most people chose the 2.7-litre diesel engine, though, which returns around 27mpg. The petrol engine gets the Discovery 3 from 0-62mph in 8.5 seconds, while the diesel engine does the same in 11 seconds. A six-speed manual gearbox was standard with the diesel engine, with an automatic gearbox optional – though most specified the latter. Petrol-engined Discovery 3s came with an automatic gearbox as standard.
Entry-level cars were simply called Discovery 3. All had 17-inch alloy wheels, air-conditioning and electric windows and were available with five or seven seats. Five-seater cars were the only models to get conventional steel suspension, while seven seaters got the clever adjustable air suspension system, as well as parking sensors.
S trim added 18-inch alloy wheels, cruise control, roof rails, xenon headlights, while SE cars came with a standard automatic gearbox, all-round parking sensors and leather seats (heated in the front). HSE cars have 19-inch alloy wheels, all-round heated seats, sat nav, Bluetooth and a panoramic sunroof. The S trim split in two in 2006. GS cars got adjustable suspension and rear parking sensors, while XS models came with leather seats, cruise control and sat nav.
You might also come across a few Mk3 Discovery Panel Vans, which brought blacked-out rear windows and a large load area in place of the rear seats. These utilitarian vehicles tended to come with a similar spec to entry-level models.
There's a variance in used Mk3 Discovery values, but there's also a wide range of ages, mileages, specifications and histories. Prices begin at around £4,000 for a working car, but a Discovery at this price will usually have a rather high mileage. In itself this isn't necessarily a problem, but make doubly sure that the maintenance history is in order and the car is in good mechanical condition. The best-kept models currently cost around £10-12,000.
Running costs, maintenance and parts
The Mk3 Land Rover Discovery is a very big and heavy car, and all engines have a rather thirsty appetite for fuel. The 2.7-litre diesel might push 30mpg, but you'll be lucky to see more than 18mpg from the petrol V8. It's worth noting that most Discoveries sold after 23 March 2006 will be liable for annual road tax of £515.
A service is required every 12 months or 15,000 miles and alternate between minor and major. Diesel engines require a cambelt change, and as this is an expensive operation, it's worth checking that any car you consider allows you plenty of time or mileage before this is due.
What to look out for
The most fundamental concern relates to the 2.7-litre TDV6 engine, whose crankshaft can snap – a very costly fault to fix. Unfortunately, there's no way to predict this happening, but it's a very rare occurrence.
The air suspension system can develop leaks and electrical problems – ensure that any car you inspect rises and falls properly when the system is in use, and that the car sits evenly at all four corners. The air-conditioning system can develop problems, too – particularly faulty sensors, refrigerant compressors and corroded pipes.
It's worth noting that Discoveries are often made to work hard for a living, towing heavy loads and crossing rough terrain. This can put considerable strain on a car's mechanical makeup, so check every example you look at thoroughly, looking out for oil leaks underneath or worrying noises from the engine or gearbox. Walk away from cars that show obvious signs of a hard life.
If the electronic parking brake doesn't hold the car securely, this might just be due to a build-up of brake dust and dirt in the mechanism. Check the car's interior electrics thoroughly, too – central locking, electric window and rear wiper faults are common.
Recalls
A total of 11 recalls have affected the Discovery Mk3 so far, five of which relate to potential fuel leaks, with mainly cars built before 2007 affected. Defective seatbelt buckles and brake servo issues have also been reported, while a November 2005 campaign recalled cars that had been supplied with the wrong type of jack.
You can use the DVSA's recall tool to learn about recalls in more detail, before checking the paperwork to see if the necessary work has been completed.
Alternatives
Many seven-seat SUVs have been offered over the years, but not all have the genuine off-road ability the Discovery can boast. If this is a must-have, the Mitsubishi Shogun and Toyota Land Cruiser Amazon are the Discovery's closets rivals. Both Japanese models are likely to prove more reliable than the British car, too, but neither are as spacious or as luxurious in feel.
The Volvo XC90 is a fantastic car, but is more road-biased and its third row of seats is rather on the cramped side. The same is true of the Audi Q7 and Mercedes GL, as well as seven-seat versions of the second-generation BMW X5. All three of these German options are stylish, luxurious models, but their running costs could easily eclipse even those of the Land Rover and none can challenge the Discovery for ability in rough terrain.
Verdict
When the Mk3 Discovery arrived, it was a monumental step forward from the Mk2. With lots of influence from the then-new Range Rover, it was classier, more stylish and far more technologically sophisticated than its predecessor. The greatest compliment ever paid to it was the fact that the subsequent Mk4 was basically the same car with a comprehensive suite of upgrades. The shape, layout and spirit of the Mk3 wasn't broken, so they didn't fix it.
Today, the Mk3 has been on the road for a decade and a half and some early examples are rather scruffy. However, the right one can make a great-value family SUV, as long as you choose wisely. If you avoid cars that haven't been maintained with the care they require, this legendary SUV is a discovery worth making.
See where the latest Land Rover Discovery features on our lists of the best large SUVs and best used 7-seat cars.
Car dashboard warning lights: the complete guide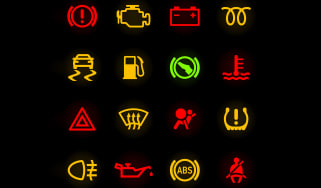 Car dashboard warning lights: the complete guide
New Volkswagen Golf GTI Clubsport gets 296bhp and racetrack mode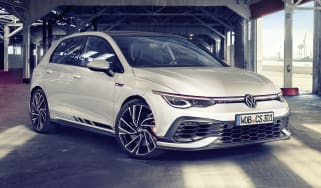 New Volkswagen Golf GTI Clubsport gets 296bhp and racetrack mode
2020 scrappage schemes: the complete guide
2020 scrappage schemes: the complete guide