What are part-worn tyres?
Part-worn tyres might sound like a bargain, but they come with risks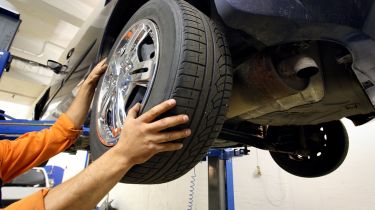 Part-worn tyres are secondhand tyres that have been removed from cars and resold.
They mostly originate from countries like Germany, where motorists generally change their tyres when they reach 3mm. They're shipped to the UK, where their lifespan can be increased due to our minimum tread depth of just 1.6mm.
A 2017 survey by safety body Tyresafe found that only four of 67 used tyres it inspected met legal regulations. More than half had defects compromising their safety.
Meanwhile, the National Tyre Distribution Association (NTDA) has claimed that "as many as 97% of all part-worn tyres are being sold illegally", with lax attitudes to (and poor enforcement of) the regulations surrounding part-worn tyres. As such, tyres with "safety breaches, including dangerous and unsafe repairs, exposed cords, bead damage and evidence of run-flat damage" have been found on sale by the NTDA. As a result, the NTDA is calling for a ban on the sale of part-worn tyres in the UK.
Risks of buying part-worn tyres
Part-worn tyres will have been removed when they've worn down to 3mm, which is the point where grip really starts to deteriorate. That means the tyres will be operating at reduced efficiency, making grip – particularly in the wet – more problematic.
A tyre with 3mm of tread will only have 1.4mm to go until it meets the 1.6mm legal limit in the UK. By contrast, new tyres have 8mm of tread. That means you'll be changing your tyres more often.
It may also be difficult to buy a tyre that matches (or is close to) the tread pattern of your other tyres, or buy a full set of matching tyres.
Part-worn tyre costs
A part-worn tyre can cost less than £20, depending on the size, brand and condition, but research by Tyresafe found that the cost per millimetre of a part-worn tyre is on average £6.33, compared to just £5.32 for a comparable new tyre.
The difference between the minimum tread depth of a part-worn tyre that can be legally sold and the legal limit for a tyre on the road is just 0.4mm – half the thickness of a credit card.
That means you won't need to cover that many miles before they're below the legal limit – the point at which you could face a £2,500 fine and three penalty points for each tyre.
Tyre speed rating and labelling guide
Part-worn tyres and the law
While it's perfectly legal for retailers to sell part-worn tyres, they must adhere to the following rules under The Motor Vehicle Tyres (Safety) Regulations part of the Consumer Protection Act:
- They must be free from cuts over 25mm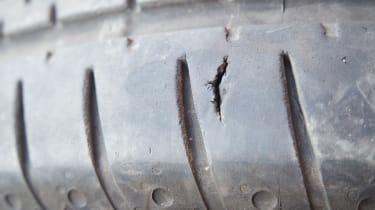 - They must also be free from bulges and lumps internally and externally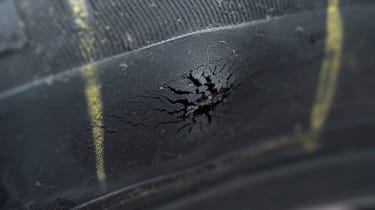 - They must pass an inflation test prior to sale- The original grooves must be visible around the entire tyre- Tread must be at least 2mm across the breadth of the tyre and around the entire circumference- Part-worn tyres that haven't been retreaded must have an 'E' mark alongside 'PART WORN'. This must be permanently applied in letters at least 4mm high and cannot be cut or branded into the tyre.
Checks when buying a part-worn tyre
As you may have gathered by now, we regard buying a part-worn tyre as both a risky business and a false economy. But if you're still keen on buying a part-worn, these are the things to look for:
- Cracking in the sidewalls or tread - Unsafe repairs (look for plugs in or near the sidewalls of both sides) - Objects such as nails and screws in the tyre - Bulges or lumps in the tyre
Remember, that even though a tyre might look okay, there are more 30 components in a tyre and some damage can't be seen. It's a legal requirement for part-worns to be checked by the retailer, but this isn't always done.
Retreaded tyres and remoulds
Retreaded tyres – sometimes called retreads or remoulds – are old tyres that have the remaining tread and sidewall stripped away and new rubber moulded onto the old tyre carcass.
The process is common for lorry and bus tyres. Since 2004, all retreaded tyres must be approved to ensure they meet basic standards. Once passed, they gain an 'E' mark. It's illegal to sell a remould without this mark.
According to RoSPA (the Royal Society for the Prevention of Accidents): "retreaded tyres perform satisfactorily provided the manufacturer's guidance about maximum vehicle loadings and maximum speeds is followed". However, given the proliferation of budget-priced new tyres, the appeal of remoulds for a car is negligible.
UK road tax 2022: VED tax rates and bands explained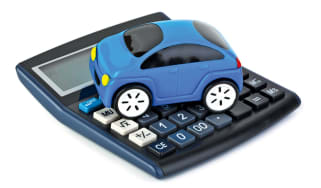 UK road tax 2022: VED tax rates and bands explained
Top 10 best economical 4x4s, SUVs and crossovers 2022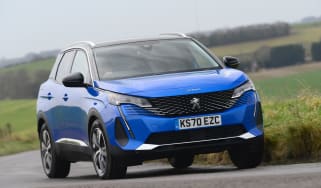 Top 10 best economical 4x4s, SUVs and crossovers 2022
Top 10 best used small cars 2022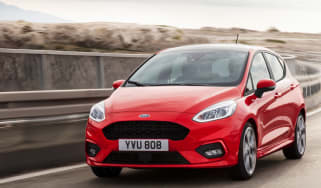 Top 10 best used small cars 2022