Best all-season tyres 2021
Should you buy all-season tyres and which ones are the best?
Tyres are the only contact between you and the road, so it's hard to overstate how important they are in terms of performance and safety. Many cars are fitted with summer tyres but they don't perform at their best when the temperature drops and roads get slippery. 
You could buy a dedicated set of winter tyres but these can be expensive and storing and changing the tyres to suit the season can be inconvenient.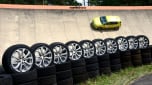 Best car tyres to buy 2022
Another option is to replace your tyres with all-season tyres. These are specifically designed for use all year round, working in most of the conditions and temperatures you're ever likely to experience on the road. They give you extra peace of mind that your tyres can cope with any weather, however extreme. Their grip patterns and rubber compounds are designed to disperse water and provide grip both on the road surface and snow.
But are these tyres better than dedicated summer and winter tyres? We've tested them to give you our summary on how they perform. The results were used to create our list of the best all-weather tyres on sale in the UK.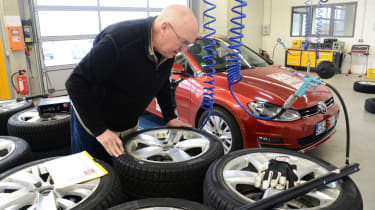 How we tested them
We tested these tyres in snowy, wet and dry conditions, and checked the rolling resistance and noise of each product. The tyres on test were all the same size (225/45 R17), a common size for family cars. While that may not match your car's wheels, different-sized tyres from the same manufacturer will perform the same. Wherever possible, the tests were performed by staff at our sister site, Auto Express. All prices are from Black Circles, and were correct at the time of writing.
Snow, rain and dry weather
Good all-season tyres will deal with more than a little bit of slush, and our tests included braking, cornering and accelerating in the snow.
To see how our tyres coped in wet weather, we subjected them to similar tests. We also set up a scenario where tyres might aquaplane (if there's too much water on the road, tyres can completely lose grip), to test how likely they were to lose grip. As with the snow tests and dry weather tests, we repeated each test multiple times to get an average result.
Cabin noise and rolling resistance
Cabin noise might not be the first thing you consider when buying a tyre but you'll soon notice noisy ones and it could become quite annoying. To test the amount of noise you'd hear inside, we coasted down from 50mph on concrete paving, and two different tarmac surfaces. We repeated the process twice on each surface to get an average score.
Rolling resistance is the amount of force resisting the motion of travel, and it affects your car's fuel economy. Cheaper tyres might be tempting, but you might find that you're paying slightly more at the pumps because they have a higher rolling resistance.
What we tested
We tested six of the top tyre brands - Goodyear, Continental, Michelin, Hankook, Cooper and Vredestein. The tyres all had a 94 weight rating, and speed ratings of either V, W or Y (149mph, 168mph or 186mph) for a fair comparison. Read our guide to tyre labelling for more information about the letters and numbers on your tyres, and what they mean.
| | | | | |
| --- | --- | --- | --- | --- |
| Name of tyre | Weight and speed rating | Fuel economy | Wet grip | Noise (dB) |
| Continental AllSeasonContact | 94 V | C | B | 72 |
| Cooper Discoverer All Season | 94 W | C | B | 70 |
| Goodyear Vector 4Seasons Gen-3 | 94 W | C | B | 70 |
| Hankook Kinergy 4S2 | 94 W | C | B | 70 |
| Michelin CrossClimate+ | 94 W | C | B | 69 |
| Vredestein Quatrac Pro | 94 Y | E | B | 71 |
Continental All Season Contact tyre
Score: 100%
Ranking: 1st
Price: £103.94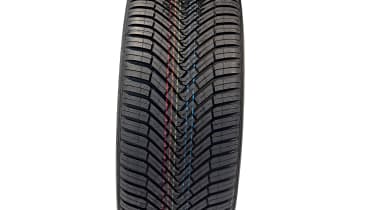 Continental's all-season tyre is very impressive. It performed brilliantly in our last series of tests and has continued to do so this time around. Once again, it placed first overall with exceptional performance in snow braking and handling, wet handling and rolling resistance. Most other scores where it didn't lead were very strong, making this a great all-rounder.
Goodyear Vector 4Seasons Gen-3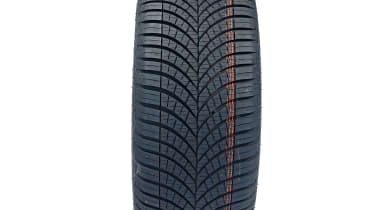 Score: 99.7%
Ranking: 2nd
Price: £110.03
Partnership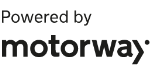 Need to sell your car?
Find your best offer from over 5,000+ dealers. It's that easy.
The previous Gen-2 took first place in several tests. The Gen-3 still did well but lost out to the Hankook in a number of areas, resulting in an overall second place this time around. The Goodyear took second place in multiple tests including snow traction and braking, wet handling and braking, rolling resistance and cabin noise. So, although it fell slightly short of its predecessor, it's still a strong addition to the range.
Hankook Kinergy 4S2
Score: 99.6%
Ranking: 3rd
Price: £87.50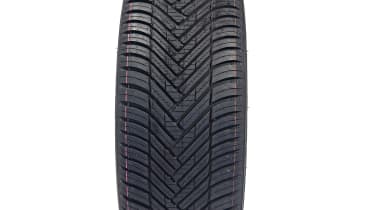 Hankook has created Kinergy 4S2 with performance in the wet and dry in mind. Because of this, it was one of the lesser performers in the snow tests. However, it made up for this in wet and warmer conditions. When braking, it triggered the ABS less than most rivals. In dry braking it placed third. This is a great tyre for wet UK road conditions but is let down by poor fuel economy and snow grip.
Michelin CrossClimate+ tyre
Score: 98.8%
Ranking: 4th
Price: £105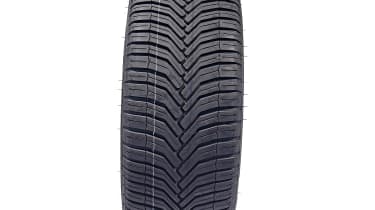 Michelin has sacrificed outright snow performance to focus on more common wet and dry conditions. Regardless of this, the CrossClimat+ still performs well in the white stuff, thanks to its design. In fact, it even performed better than some dedicated winter tyres. Balance and traction were strong in both wet and dry conditions but not class-leading. Deep water was this tyre's biggest weakness, with the poor result of this test causing a lower score overall. Considering that it wasn't Michelin's goal, this is still a great tyre on snow, as well as dry conditions.
Cooper Discoverer All Season tyre
Score: 97.1%
Ranking: 5th
Price: £82.25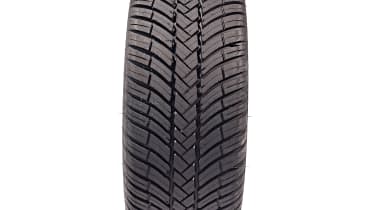 Cooper introduced the Discoverer in 2019 and it was the brand's first all-season tyre to join its European range. This tyre came out top in the cabin noise test, proved a reasonable performer in the snow tests but did the worst in the wet tests. It made up for this with braking performance but ended up in fifth place overall. The Discoverer is best suited for those who prioritise comfort.
Vredestein Quatrac Pro
Score: 96.9%
Ranking: 6th
Price: £110.21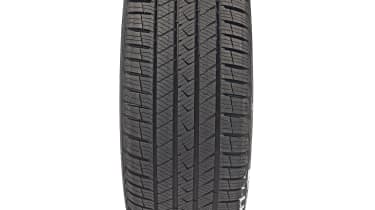 The Quatrac Pro is another tyre that's oriented towards performance and this could be the reason for its rather poor scoring in our tests. On snow it finished some 7% behind the Continental and needed three more metres to stop in the braking test. Performance improved in wet conditions, where it scored a surprise win, and in braking it was a match for most rivals. Poor fuel economy results ensured it finished in last place.
For more information about tyres, read our guides to part-worn tyres and run-flat tyres.