How to remove bird poop from a car
Read our guide on how to remove this most unpleasant of substances from your car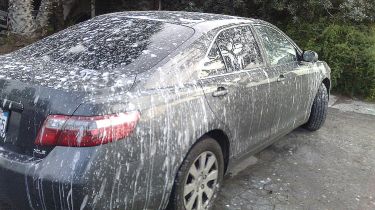 It happens to all of us – you spend ages cleaning your car to a perfect mirror finish, only for a bird to fly over just as you're packing up your car shampoo and cleaning equipment and mess it all up… literally. If you park on a road with lots of trees, then you'll likely want to know how to remove bird poop from your car quickly and without damaging the paint, as this nasty substance can cause some costly problems if left for too long.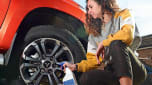 Best alloy wheel cleaners to buy in 2021
But how does bird poop damage car paint, and what's the best way to clean it off? Read our guide to find out.
How can bird droppings damage a car?
Bird droppings are very acidic, which is why they're able to damage your car's paintwork. If you don't clean them off your car as soon as possible, you run the risk of the droppings eating through your car's paint lacquer, which in worst case scenarios will require professional help to fix.
In fact, research carried out by car detailing specialist Autoglym suggests that as the temperature warms during the day, the top layer of paint lacquer softens and expands, while the bird droppings dry and go hard. When the lacquer then cools and contracts, it moulds to the shape of the hardened bird mess on top, leaving an impression on the surface that can look like a dull, cloudy mark or even a visible ripple that can stand out clearly against the shiny paint next to it.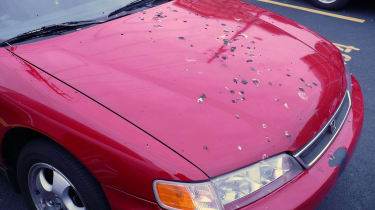 It's not just the bird mess on its own that can damage your car's paint – you need to be careful when removing it, too. Use the wrong tools or be too aggressive, and you'll risk making things worse by scratching the paintwork and chipping the surface.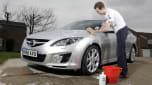 Best car cleaning tips: how to wash your car
How to remove bird mess safely
One of the most effective ways to avoid damage is by removing bird mess as quickly as possible. Nip it in the bud early, and you'll reduce the chances of the droppings damaging your car's paint finish. According to Autoglym's theory, it's especially important on sunny or hot days when the lacquer is at its softest. 
A great way to keep on top of any bird poop on your car is to check it over as often as you can. You'll likely notice new bird poop marks on your car if you drive it every day, though you should ideally give your car a daily once over if it's used infrequently. Likewise, check for dropping marks if your car is parked under trees, lamp posts or other places where birds tend to congregate.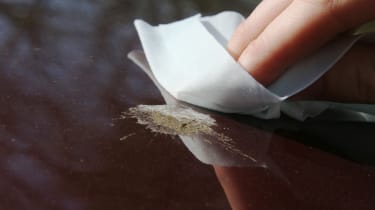 The key to easy and safe removal is to use water to ensure the droppings are soft. This is most easily achieved by placing a damp cloth or car cleaning wipe over the offending area and leaving it in place for a few minutes. Once you've done this, you should find it comes away from the surface easily.
Always avoid pressing hard, or using a rubbing or scraping motion to dislodge the droppings; if not all of it is removed first time, simply place another damp cloth or cleaning wipe over the spot again and repeat this process until everything has gone.
Partnership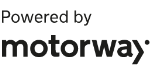 Need to sell your car?
Find your best offer from over 5,000+ dealers. It's that easy.
It's advisable to wear disposable gloves when tackling this job and, of course, to wash your hands thoroughly afterwards.
How can I prevent bird droppings from damaging my car's paintwork?
An effective way of stopping bird poop from getting onto your car in the first place is to keep it under cover in some way. Ideally, you should leave your car parked inside a garage, though if this isn't possible for you then it may be worth investing in an outdoor car cover.
Keeping your car squeaky clean on a regular basis is also a great way to look after your the paint finish. As well as washing off anything that could cause damage, it's a great opportunity to safeguard the paint even further with some sealant or car wax. Once you've washed your car and blotted off any excess water, apply a coating of sealant or wax, and your car's paintwork will have some extra protection from bird droppings.
What if my car is already damaged?
If the paintwork already has dull spots from bird mess, you may not necessarily need to visit a professional shop. A bit of time and attention should shift these spots in most cases. If this doesn't work, then a professional paint restorer or detailer may be needed.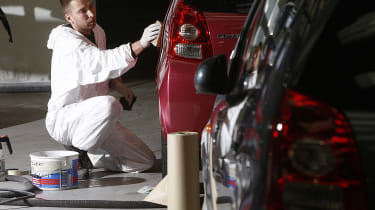 If you want to try to correct the paint at home, the first step is to wash the car to ensure it's clean. Once it's dry, apply lightly abrasive car polish to the affected area, following the manufacturer's instructions. This should gently remove the damaged top layer of paintwork, exposing the fresh paint below for a better finish.
Once it's polished, ensure you cover the panel with a wax or sealant to protect it from the elements. If the condition of the paint is very poor, an expert will be able to assess the damage and use the correct products along with tools such as orbital polishers to get a satisfactory result.
Read Carbuyer's guide to polishing and waxing your car, along with the best car wax to buy.