How to clean your car seats
Dirty car seats? Whether you're maintaining or selling your car, cleaning its seats will keep it looking fresh and boost its value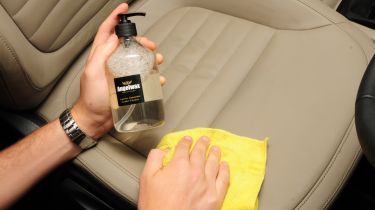 Your car's seats, whether upholstered in leather or fabric, have a hard life. Even the most careful owner can leave crumbs, dirt and stains on them from the likes of spilt drinks, food and muddy clothing. Not only can this detract from the look of your interior but some permanent damage could occur if you never do any cleaning. 
Society is now more aware of cleanliness than ever and your car's interior is full of surfaces that are touched regularly; cleaning the interior properly and thoroughly is a very good idea for reasons of hygiene and appearance. Your car will look better, smell fresher, and the condition and colour of the upholstery will be protected too. Not only will the car be more pleasant to be in but it'll also be more appealing to a potential buyer in future.
How to clean cloth car seats
The first step of cleaning your seats is to make sure they are free of debris and crumbs; use a vacuum cleaner or soft-bristled brush to do this. Pet hair can be more stubborn to remove, so use a dedicated pet hair brush to lift it out first and then vacuum it up. If you're struggling to reach the deepest seams and crevices in your seat, try using a toothbrush to dislodge any crumbs that have worked their way down there. Don't forget your headrests either!
Once free from visible dirt, take a bottle of upholstery cleaner or shampoo and spray one part of the seat. Be sure to read the manufacturer's instructions and follow them carefully, as they may vary between brands and products. Usually, it's best to make the area damp, but not soaking wet, and gently agitate the cleaning solution with a soft-bristled brush – this will help to loosen any dirt that has ingrained itself within the fabric fibres. Mild weather is best when tackling this job, as it'll help the seats dry more quickly.
Once the cleaner has been left to work on the seat for a few minutes (unless otherwise stated on the bottle), take a clean microfibre cloth – that you set aside just for jobs inside the car – and mop up or gently rub the damp area to dry the seat as much as you can, being sure to reach into those hard to reach seams and crevices.
We recommend concentrating on small areas so that the product isn't left in one spot for longer than others and to ensure each part of the seat is thoroughly cleaned before moving onto the next. It's also important to ensure an even spread of upholstery cleaner or shampoo to avoid water stains when the seat dries.
For the dirtiest of car seats, you may have to resort to a dedicated carpet extraction cleaner, sometimes called a spot cleaner. This can be safely used on fabric car seats but be sure to read the instructions for your particular extraction cleaner before use. Use this to saturate the seat with water or upholstery cleaning solution and then suck the dirt and grime out of the seat fabric with the vacuum.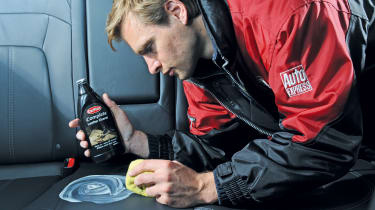 How to clean leather car seats
While cleaning leather car seats is similar to maintaining cloth seats, there are a few important differences. While leather can be good at repelling stains, it can also be delicate and prone to abrasions, so you will want to be especially gentle when vacuuming it with a plastic nozzle. Another difference is that you'll need to use a specific leather upholstery cleaner, which could be a cream rather than a spray or shampoo.
Partnership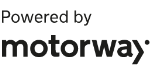 Need to sell your car?
Find your best offer from over 5,000+ dealers. It's that easy.
Follow the directions on the product and once it has been applied and left to work its magic, lightly rub the treated area of the seat with a clean microfibre towel. You should be able to see the leather becoming brighter and less shiny, because clean leather is typically matte in appearance. As above, observe the transfer of dirt onto your towel until you're satisfied it's a job well done.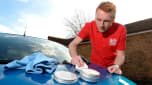 Best car wax to buy
What about 'vegan leather' seats?
Sustainability has long been an important issue for car manufacturers, and one way they're seeking to improve the carbon footprint of their models is by using synthetic, 'vegan leathers' in the interior. Vegan leather is no different from vinyl or faux-leather but manufacturers have moved away from these terms in recent years. This material looks and feels very similar to traditional leather but it is made from alternative materials, including recycled plastic.
To clean vegan leather seats, start by vacuuming the crumbs and dust in a careful fashion, much like you would for ordinary leather, as vegan leather is also prone to abrasions. For a quick and simple clean, use a microfibre cloth to wipe the seats with warm water. For the best results, you can purchase a specific faux leather cleaning product and follow the same steps as you would for regular leather seats, mentioned above. Many regular leather cleaners can also be used for vegan leather but make sure to check the directions for your specific product.
How to dry clean car seats
Once you've finished cleaning the car seats with upholstery cleaner and a microfibre towel, they should only be slightly damp to the touch. Most products recommend being left to dry naturally, so it's best to clean your seats on a day when you aren't planning on using the car.
It's best to clean upholstery early in the day, when the weather is mild and there's no rain forecast. If there's no risk of theft and you can keep an eye on the car, it can be helpful to leave your windows open slightly to allow moisture to escape.
On a warm day, the seats should be dry in just a few hours and you'll be able to take your fresh-smelling car for a spin.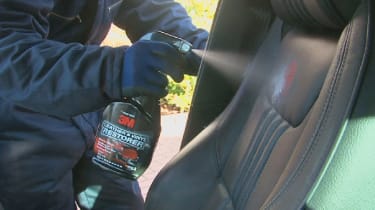 How to keep car seats clean for longer
Once you've cleaned your car seats, it's a great idea to protect them as well. For cloth seats this will ward off stains and repel dirt, meaning you won't have to clean them as often. Fabric upholstery protector will usually come as a spray – apply according to the product's instructions.
In a car with leather upholstery, conditioning the leather will not only help it stay clean, it's an essential part of its maintenance. Because leather is a natural product, if it dries out too much, it becomes cracked and loses its supple feel and great smell. You can also buy conditioner for vegan leather which is vital to use as these materials tend to be stiffer than traditional leather and are prone to drying out.
If you'd like to learn about how to protect the outside of your car, read our guide to car paint protection...