Best cars under £100 per month
Getting on the road in a respectable, recent car needn't break the bank – here are some great cars for £100 per month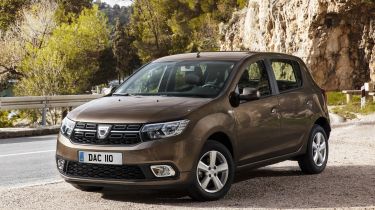 Buying and running a car is typically among the greatest monthly expenses a family faces. With fuel and insurance costs that only ever seem to increase, getting on the road has never been more expensive. You can free a fair bit of money up, though, by going for a car with as small a monthly payment as possible.
Then there's that initial deposit to find, and while you might find a car with no deposit needed at all, deals like these are very hard to come by and are the exception rather than the rule.
Let's face it – very few are in the lucky position of being able to buy a car outright. This huge purchase usually involves a certain amount of borrowing, and whether it's a building society, a car finance company or the 'bank of Mum and Dad' that stumps up the cash, it'll need to be repaid sooner or later.
Of course, it's likely that your parents will demand a considerably lower rate of repayment interest than a high-street lender, but it doesn't pay to strain family relationships. There are often attractive deals available right on the dealership forecourt, though, and online brokers such as Buyacar can will get you behind the wheel for less than you think.
If you're able to lay a fairly substantial initial deposit, you could even drive away in a car that hasn't been owned by anybody else, and many find the prospect of a brand new car to be worth every penny. But opting for something that isn't showroom-fresh, yet new enough to still have most of its warranty remaining, is a cost-effective choice for millions of motorists.
Take a look at our suggestions for new and nearly new cars you can drive for £100 per month or less.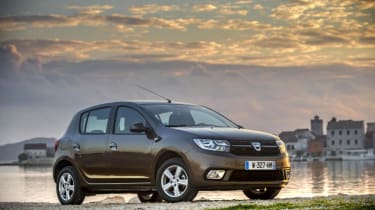 Dacia Sandero
There's no cheaper new car than the Dacia Sandero, yet despite its low price, it's a thoroughly practical, comfortable and enjoyable family hatchback. We should mention, though, that you'll need to find a substantial deposit in order to finance one for £100 per month. Dacia requires a deposit of over £2,000, and you'll need to decide whether to make the final £3,500 payment to own your Sandero outright after three years. Otherwise, you can hand the car back and walk away, as long as you've kept the car in good condition and not strayed beyond a 6,000-mile annual limit.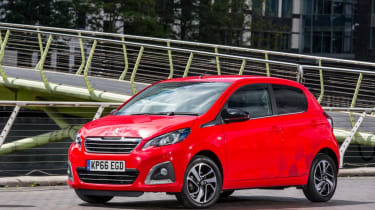 Peugeot 108
Opting for a car that isn't fresh from the showroom can dramatically reduce the deposit you'll need to put down in order to drive a car for £100 per month. In fact, Buyacar can put you behind the wheel of a 2016 Peugeot 108 after you've put down just £500, although this figure will change depending on the price of the exact model you're looking at. The 108 is a classy, modern city car that's not out of its depth on a country lane, and after four years of payment and a final instalment of £2,749, it can be yours to keep.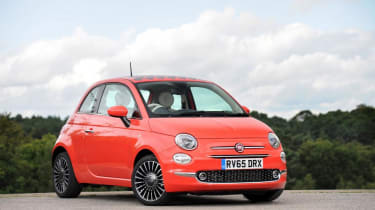 Fiat 500
The Fiat 500 is one of those cars that really doesn't look like it might be bought with a strict budget in mind. In fact, you can drive a 2016 example with just 10,000 miles on the clock for as little as £99 per month. You'll need to a deposit of around £1,000, but you'll only be making three years of payments, with a final £4,000 to pay if you want to own the car outright. That's a tiny monthly payment, though, to be behind the wheel of such a style icon.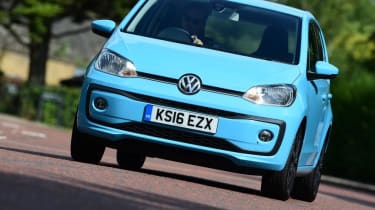 Volkswagen up!
You'll only need to put about £600 down to drive Volkswagen's tiny car with big aspirations. The up! really does feel bigger and more grown-up than its diminutive scale might suggest, and is a thoroughly comfortable car in which to tackle even longer journeys. Buyacar can put you behind the wheel of a 2016 model for £99 per month, with a final payment of around £2,300 after four years to make it yours to keep.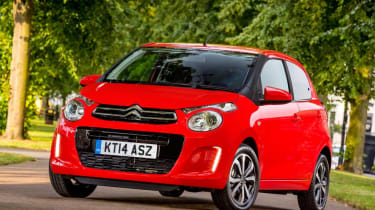 Citroen C1
The Citroen C1 is closely related to the Peugeot 108, and shares a design that combines compact dimensions with surprising interior space. Buyacar will only ask for £96 per month to drive a 2016 example, after you've placed a £600 deposit. Then, after four years of payments, you'll have a chance to own it outright for a final instalment of about £2,300. A good deal for a fun and functional city car.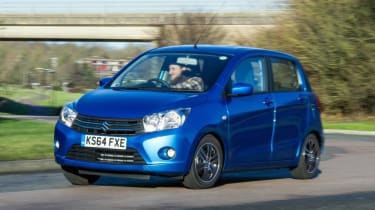 Suzuki Celerio
The Suzuki Celerio is something a little outside the city-car norm and has earned a loyal following since it took the mantle of the smallest car in the Japanese brand's UK range. Buyacar can source a low-mileage 2016 example for just £95 per month after an initial deposit of around £550. This leaves you with four years of payments to make before you get the chance to own your Celerio outright for a final instalment of around £1,800.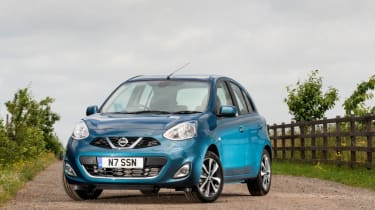 Nissan Micra (2010-2016)
While the latest Nissan Micra is perhaps more stylish, the previous design has proven itself as a reliable, economical and easygoing supermini – and is also extremely cost-effective to buy. Buyacar can offer a 2016 example for £99 per month if you lay a deposit of around £600. Instalments continue for four years, with a final, optional £2,374 to spend if you want to own your Micra outright.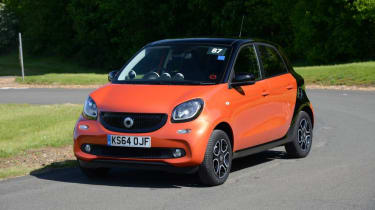 Smart ForFour
The Smart ForFour is definitely a cut above your average city car, and few would realise you can run one for just £99 per month courtesy of Buyacar. A 2016 example costs just £97 per month on a three-year PCP, and a final payment of around £3,000 makes it yours to keep. And with its characterful rear-engined layout and high-quality interior, you've plenty of reasons to hang onto it.
Engine management light: top 5 causes of amber engine warning light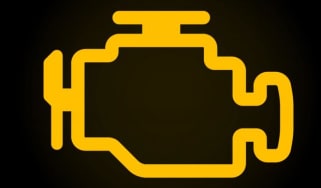 Engine management light: top 5 causes of amber engine warning light
Best new car deals 2023: this week's top car offers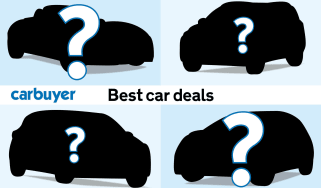 Best new car deals 2023: this week's top car offers
Swoopy new Toyota Sport Crossover Concept to take on Polestar 2 in 2025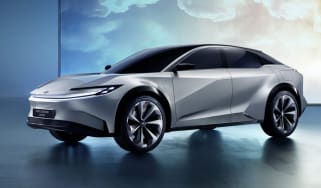 Swoopy new Toyota Sport Crossover Concept to take on Polestar 2 in 2025