How to pack your car for holiday
Packing enough luggage in the car for a holiday can be tricky if you don't follow these tips
One downside of going on holiday by car is the impossible struggle to close the boot when you realise you've packed too much luggage. To reduce holiday stress and avoid overloading, we've prepared this simple guide explaining how to pack your car for a holiday.
How many passengers will you have?
The total number of people you're taking on holiday can make a significant difference when loading a car. If you're travelling alone or with one other person, the rear seats in most hatchbacks, estates, SUVs and MPVs can be folded flat, giving you access to a large amount of additional luggage space.
Carbuyer's best 4x4s and SUVs on sale now
If you need to carry a third passenger, most cars have 60:40 or 40:20:40 'split and fold' rear seats, allowing you to keep one seat in place while folding the others flat. If there'll be more than three people in the car, it's likely you'll be restricted to using standard boot space; if this isn't enough room for your luggage, you could consider fitting a roof box or towing a small trailer but both will affect fuel economy on a long journey.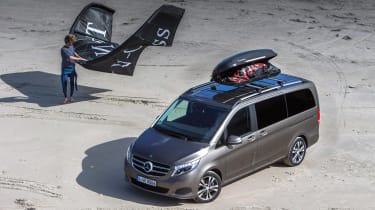 What kind of car do you have?
When it comes to practicality, all cars aren't created equal. A city car or two-seat convertible will have a fraction of the luggage space of a large SUV, 4x4 or MPV, which can be van-like in their proportions. To find out how practical your car is, check out its Carbuyer review or download its brochure from the manufacturer's website to find out its boot size and interior dimensions. This information should also be in your car's handbook.
Armed with this information, should you decide your car is too small for the amount of luggage, you may need to consider swapping it for a larger model, or hiring a bigger vehicle for the trip. Alternatively, a car luggage box can provide lots of extra space if you can up your holiday budget to include the cost of the roof box, its fittings and a roof rack to attach it to. A trailer can also be a good way to transport extra baggage and kit, but unless your car already has a tow bar, this can be costly to fit; you also need to alter how you drive with a trailer in tow.
Packing a car boot
First, ensure all loose items are removed from the boot, giving you maximum space for your luggage. Ensure any large, heavy suitcases go in first, making a solid base at the bottom of your boot. After these are in, fill the gaps above them with soft bags, rucksacks and any shopping bags carrying food or smaller items. If you have any long pieces of holiday sports equipment like skis or snowboards, fold down the ski hatch in your car's back seat (if it has one), or the smallest section of the rear bench to allow them to fit lengthways, before securing them in place with other luggage.
Ensure everything you've packed is firmly in place and avoid filling above the window line, because not only does this block visibility, it can also allow items to shift dangerously in an accident. For safety and security (against prying eyes), you should be able to keep the parcel shelf or tonneau cover in place to hide your luggage.
If you own a small car or even a sports car and run out of room in the boot, don't forget to look around the interior for extra space. The glovebox, passenger footwells and even the gaps under and behind seats can all hide a surprising amount of squishy luggage – as long as it doesn't interfere with driving safely. Always keep luggage away from the gearlever, handbrake and pedals.
The KonMari Method
You could also try packing adhering to the KonMari Method. SEAT consulted Aline Lau, Europe's first certified KonMari Consultant, to find out how to pack perfectly for a family holiday. Lau's first tip is to decide what can be left at home and "only pack the things that are going to be useful". Next, organise your luggage into categories like clothing, accessories and toys and plan to fill unused spaces with any smaller items.
Lau also suggests rolling up items of clothing and packing them vertically "as they take up less space and you can easily see everything at once". Make use of every safe nook and cranny, without leaving anything loose inside the car, and remember "last in – first out". You'll need to put items you need on arrival or at stopovers in the most accessible places, while loading the largest and heaviest suitcases at the bottom and as far back as possible.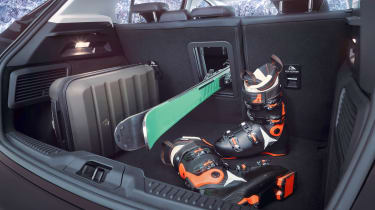 Cars designed for families
If you plan on taking your car on holidays – especially family trips – it's worth knowing that some models have features to make packing the car boot simpler.
Here are things to look out for when choosing an easy car to pack:
Low loading lip: The bottom of the boot opening is referred to as the 'loading lip', and the lower and wider it is the better so far as packing goes. A low lip means you don't have have to lift heavy items as high before sliding them inside.
Remote tailgate: Many SUVs and MPVs now have electric hatchbacks that open and shut using motors instead of brute force. A car with a remote tailgate will sense the fob in your pocket and open the boot when you waggle your foot under the rear bumper.
Sliding side doors: Several MPVs, including the SEAT Alhambra, come fitted with sliding rear doors, making getting in and out easier.
Clever rear seats: A number of manufacturers offer clever folding mechanisms for the rear seats, which allow them to tumble flat into the floor with a single pull on a lever in the boot. This can make preparing the car for a long trip much quicker and easier. Land Rover has taken things a step further with its new Land Rover Discovery, allowing you to control the rear seats via your smartphone.
Roof rails: Many SUVs, estate cars and crossovers come with roof rails from the factory. While you'll still need roof bars and fittings to attach a roof box, this still gives you a headstart and should make for a neater solution, too
Are you planning on driving in Europe this summer? See our guides for car insurance, green cards, International Driving Permits and what you need to know to drive in the EU post-Brexit.