2022 Volvo XC100 SUV to rival BMW X7
Volvo is planning a new flagship SUV that's bigger than the XC90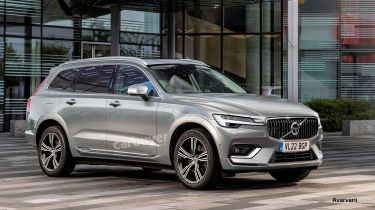 Exclusive images preview how it might look
Will use a new platform
Set to cost at least £80,000
A new flagship Volvo SUV is rumoured to be in the pipeline, and it may be called the Volvo XC100. Such a car would compete against the BMW X7 and Mercedes GLS, and would have a starting price of around £80,000, rising to six figures for top-spec cars.
Volvo will predominantly target markets like China and North America with its largest SUV, although it's likely it would also be sold in Europe. It's likely to be 2022 before the XC100 is launched, as we expect the brand to prioritise getting an SUV smaller than the Volvo XC40 to market first.
The range-topping SUV will use a brand-new 'SPA2' platform, as the one underpinning the current XC90 isn't quite big enough. The new architecture will also form the basis of the upcoming Polestar 3 SUV.
The Polestar 3 will be a fully electric model, and it's almost guaranteed that the XC100 would be available as electric too, especially as Volvo plans to sell half its cars as EVs by 2025. An electric XC100 would be joined by mild-hybrid and plug-in hybrid versions featuring powerful petrol engines.
We understand that an XC100 would be about 30cm longer than the XC90, so it'll be slightly longer than even the BMW X7. The extra length will be evident in the wheelbase (the distance between the front and rear wheels) and the rear overhang, so rear passenger and boot space will both be better than in the XC90.
Volvo is also working on a second 40-series model alongside the XC40, and this'll also feature an electric powertrain.
Read the latest on Volvo here, or check out our guide to the best large SUVs.