Volvo teases new electric SUV and aims for EV-only range by 2030
Volvo is planning six new electric cars this decade, including a new model to sit below the XC40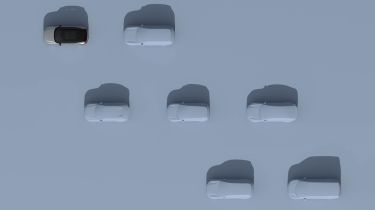 Volvo to stop selling plug-in hybrids by 2030
Exclusive images suggest how new small SUV might look
XC20 name likely
A new small Volvo SUV has been teased in an image that previews six new models. All will be electric, as the Swedish brand looks to sell nothing but electric cars by 2030, despite plug-in hybrids remaining on sale in the UK beyond 2030.
Details are scarce but Volvo's plan seems to show that all six models will be SUVs and crossovers. The small SUV, which we expect to be called the Volvo XC20, is in the middle of the picture, flanked by two cars with swooping rooflines. To the left of it (below the silver XC40), there's a car that looks very much like the freshly revealed Volvo C40 coupe-SUV.
The other coupe-styled model is a bit bigger, so it could be that the next Volvo XC60 will spawn a sportier-looking version to take on the Audi e-tron Sportback. Meanwhile, the car to the bottom right, the largest in the image, could be the rumoured Volvo XC100 flagship.
Volvo is pushing ahead with its plan for half of all its cars sold to be fully electric by 2025, before phasing out plug-in hybrid models towards the end of the decade. Other brands are also committing to purely electric ranges; Ford by 2030 and Jaguar by 2025.
Volvo XC20 small SUV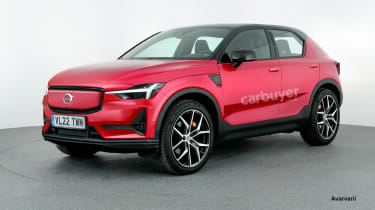 Our exclusive images preview how Volvo's smallest and most affordable crossover might look. It'll borrow some of the styling cues from the Volvo XC40 P8 Recharge EV, namely the sharp LED elements in the light clusters and a blanked-out grille.
It'll be underpinned by a new platform called Sustainable Experience Architecture (SEA), which will be used across several of the brands owned by Volvo's parent company Geely. The XC40's underpinnings are slightly too big to be used and a new platform could bring down the production costs and, therefore, the price of the car.
The Volvo XC20 will rival the Hyundai Kona Electric, Kia e-Niro and Lexus UX 330e, but it'll still fit in with Volvo's positioning as a 'premium' brand. Speaking to our sister site Auto Express, Volvo boss Hakan Samuelsson said: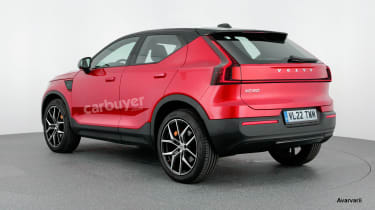 "Small cars can also be premium. Just because you have a small suit, it doesn't have to be polyester. We can build a very premium Volvo on SEA - we'll do it together with Geely. "SEA has been developed in China, and with Chinese suppliers you get a very good cost structure. But with a Volvo top hat on."
There's no word on range or performance yet but the XC20 will almost certainly have a smaller battery than the XC40 Recharge. A range of 200-230 miles would make it competitive with its main rivals, and fast-charging should be offered.
Read the latest on Volvo here, or check out our guide to the cars launching in 2021 and beyond.