Used Renault ZOE buying guide: 2013-present (Mk1)
The Renault ZOE was arguably the first modern electric car 'for the people' and now makes an intriguing secondhand option
It's easy to forget that electric cars have been with us for over a century – in fact they were around before petrol engines came about. Only recently, though, have they started to become truly viable for daily use – and that's if you can afford the expensive technology that forces electric car prices beyond their fossil-fuel alternatives.
The Renault ZOE, though, was among the first electric cars with price tag that made it a true electric alternative to the petrol and diesel supermini norm, and with plenty of choice on the secondhand market, moving to electric power has never been more affordable.
The ZOE is a pleasant car to drive, particularly on urban roads where the instant urge of its electric motor puts you at an advantage over conventionally powered traffic. It's very quiet, the seats are comfortable and the ride is generally smooth. Some of the interior trim feels a little insubstantial, but the interior is quite attractive. It's spacious, too, with loads of front and rear headroom, and the boot can swallow 338 litres of luggage – or 1,225 if you lower the rear seatbacks.
The ZOE has done rather well in our annual Driver Power survey, too, which demonstrates that owners have few regrets in their choice, while its excellent Euro NCAP crash-test scores are sure to reassure families. Of course, the ZOE makes even more sense if you can find the right example for your needs; so here's our in-depth guide to what to look for.
Renault ZOE history
The ZOE first became available in the UK in June 2013, with a price tag of £13,995 after the Government's £5,000 plug-in vehicle grant was applied. This didn't include the battery, though, which was subject to rental from £70 a month or 7,500 miles on a three-year contract. Things were made simpler in November 2015 when the ZOE i was introduced, with a battery pack included. This added £4,500 to the price and the battery was covered by a five-year/60,000-mile warranty.
While early cars had a claimed range of between 62 and 93 miles on a full charge, an update in July 2015 introduced a more efficient electric motor for an increased range of 149 miles. This was fitted to Expression Nav and Dynamique Nav, but the Dynamique Rapid Charge retained the previous motor.
A higher-capacity battery, the ZE40, was made available early in 2017. With 40kw/h of power storage, it provides a worthwhile increase in range over the 22kw/h battery fitted to every ZOE up to then. Today, both batteries are available for rental, but older ZOEs don't benefit as much from the greater battery capacity as more recent example, due to gradual updates to the electrical system.
Which is the best Renault ZOE for me?
Be aware when looking at used ZOEs that the advertised cost will rarely include the battery or its leasing. Make doubly sure what's included in the price. Any ZOE sold with a battery pack included will command a hefty premium, although that will spare you from having to make additional monthly payments for the battery.
Every ZOE has an automatic gearbox and five doors, the only variations between examples are colour and standard equipment. Entry-level Expression cars get climate control, a touchscreen infotainment system with navigation and power-adjustable heated door mirrors. The Dynamique Zen adds rear parking sensors, all-round electric windows and a hi-fi upgrade, as well as alloy wheels. The Dynamique Intens adds a reversing camera.
It's rare that you'll find a ZOE with a mileage far above average – the majority will have been used for relatively short, frequent journeys and there are plenty around with very low mileage indeed. There's little reason not to choose on price alone – some dealers have an inflated idea of what a ZOE is worth and online listings such as Auto Trader show just how much price disparity there is. Make sure any example you consider has a full Renault service history, though.
Running costs, maintenance and parts
Every ZOE needs a service every 12 months or 18,000 miles. Workshop visits alternate between minor and major and are typically rather less expensive than a similarly sized petrol or diesel car would cost. Bear in mind that not every Renault dealer is authorised to service the ZOE, though, and you may have to travel beyond your local branch.
A minor service checks the car's systems over and adds a new air-conditioning pollen filter, the major service brings fluid replacements, a new pollen filter and systems check – including a checkover of the brakes. Brake fluid will need replacing every four years or 72,000 miles.
To help determine whether running a ZOE will save you money, Renault offers an online calculator to compare it against your current car. It can be found at http://ZOEcostcalculator.renault.co.uk
What to look out for
When running an electric car, there are a few factors to bear in mind that don't affect petrol or diesel cars to anything like the same extent. For example, extremely cold weather can limit the performance of the battery – owners of cars with the standard 22kw/h battery report 70 miles on a full charge in sub-zero weather compared to 90-100 miles in the summer.
It's also worth double-checking your insurance cover, as some insurers don't regard the battery as part of the car and require it to be covered by a separate policy. And speaking of insurance – while an immobilizer is standard on every ZOE, an alarm was only available as part of the extra-cost Protection Pack.
You'll not find a spare wheel, either. Renault states that you're not supposed to change a ZOE wheel yourself due to the risk of damage to the battery pack when jacking the car up. Instead, a can of tyre sealant is supplied, along with a compressor. There's an expiry date to the Renault sealant cans, but the RAC can supply an alternative without one.
Although it's a lightweight car, you should find the ZOE free from rattles on rough roads. One source of annoying noises, though, is play in the tailgate's hinges and locking mechanism that allow it to move around slightly.
Recalls
Since going on sale in 2013, the ZOE has only been recalled twice. The first was announced in March 2016 and potentially affected all examples built up to that point – it concerns a brake hose that could wear and leak fluid, leading to potential loss of braking force.
The second recall, in September 2017, affected cars built from July 2015 to January 2016. On these cars, there was a risk of the car rolling on hills if the gearbox is left in park but the brake not fully applied.
Alternatives
The ZOE is pretty much unique in the UK market; there are no other supermini-size electric cars out there. The Nissan Leaf is its closest rival and examples sold before spring 2013 were sold with batteries included – after that point, a battery rental scheme similar to that for the ZOE was introduced. Another larger alternative is the Renault Fluence, but you'll not find many around. It, too, requires that you lease the battery separately.
If you're considering a ZOE, it's likely that you have your heart set on an electric car. If you're just looking for a compact car that's inexpensive to run, the Ford Fiesta, Vauxhall Corsa and Volkswagen Golf are all abundantly available, as is the Renault Clio, a car that shares many parts with the ZOE.
Verdict
Going by the recent results of our annual Driver Power owner satisfaction, ZOE drivers really love their cars. Too few participated in our 2017 survey for it to be individually rated, but it was voted into second place overall (out of 150 cars scrutinised) in 2016 – a fantastic result for an alternative-fuel car. Owners reckon its ease of driving, running costs and ride quality are fantastic, and there were few gripes about its performance or in-car technology, either.
An electric car won't fit into everybody's daily driving routine, especially if the journeys you make aren't a routine length and you're not regularly near a charging point. However, for those repetitive urban journeys, an electric car makes a lot of sense and a used ZOE can offer a lot of value for money. It's an environmentally savvy family car that really shouldn't cost the earth.
Renault ZOE: old vs new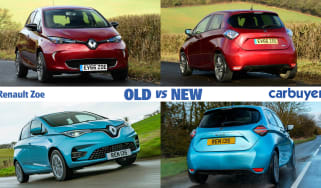 Euro NCAP: how safe is my car?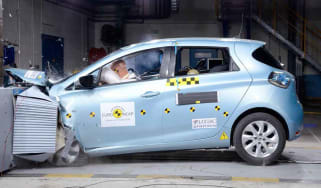 Euro NCAP: how safe is my car?
Updated Peugeot 5008 starts at £29,585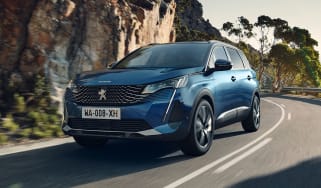 Updated Peugeot 5008 starts at £29,585
Cupra Formentor SUV review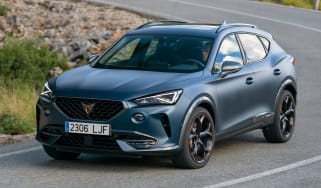 Cupra Formentor SUV review
2020 Volkswagen ID.3 hatchback: base model starts at under £30k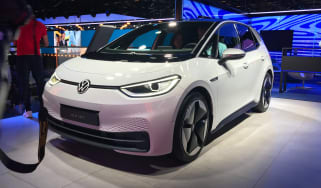 2020 Volkswagen ID.3 hatchback: base model starts at under £30k