What is Peugeot i-Cockpit?
Peugeot offers one of the most striking car interiors on the market – we explain what makes it so different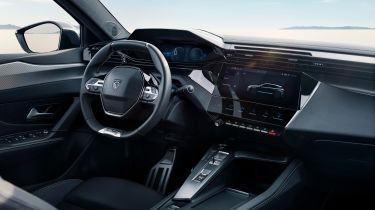 Back in 2016, Peugeot revealed its latest generation of car interior dubbed 'i-Cockpit'. Looking like something pulled straight out of a concept car or jet fighter, i-Cockpit is one of the most intriguing and controversial cabin layouts in the entire car industry.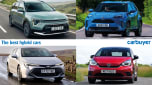 Top 10 best hybrid cars 2023
Midway through 2023, Peugeot announced a major update to i-Cockpit to debut in the Peugeot 3008 SUV. Dubbed panoramic i-Cockpit, the newer system gets a curved screen panel sitting ahead of the driver, which seamlessly leads into the second main infotainment touchscreen, as well as other updates.
But what is i-Cockpit? Does it come as standard? What are the benefits? We've compiled and answered all of your most burning questions below. Keep reading to find out more about the hi-tech Peugeot i-Cockpit…
What is Peugeot i-Cockpit?
The latest iteration of i-Cockpit made its debut on the new Peugeot 308 hatchback and comprises three different screens: a 12.3-inch digital instrument cluster, a 10-inch central infotainment touchscreen and a further small touchscreen to act as a row of shortcut buttons.
While the two screens in the middle are nothing particularly out of the ordinary – both are responsive to your touch with sharp graphics – it's the set of digital instruments that are the most polarising part of the i-Cockpit setup.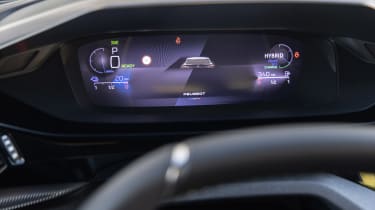 Displaying all the readouts you'd expect such as your current speed, revs and level of regenerative braking, the 12.3-inch display can also show your sat nav directions via a miniature map and your current media playback. Top models even boast a 3D effect, achieved via a small projector mounted in front of the screen itself.
All of this sits above a small, squared-off steering wheel that is designed to enable the driver to view the instruments above the top of the rim, rather than looking through the spokes like you would on most cars.
What is Peugeot's panoramic i-Cockpit?
Peugeot's panoramic i-Cockpit is the latest version of Peugeot's i-Cockpit system, debuting in the Peugeot 3008 SUV. The hardware for this version includes two screens: one for a digital dash ahead of the driver, and another used as the main infotainment touchscreen, which blend seamlessly into each other – hence being described as 'panoramic' – and curve towards the driver.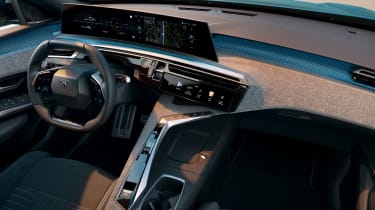 In the 3008, it also gets a touch-sensitive 'i-Toggle' panel below this, allowing quick access to some of the most frequently used system features, that's customisable so drivers can configure their own shortcuts. No physical buttons appear to be available for climate control, however, so it appears this will be incorporated into the touchscreen system.
Peugeot is known for its use of a small, chunky steering wheel as part of the i-Cockpit layout, and the brand's designers have updated this for a more modern look. To improve user feel, the steering wheel buttons get what Peugeot describes as 'tactile clicking' which automatically detects the driver's fingers and only activate when they are pressed with intent, avoiding accidental inputs as you drive and park. 
What is Peugeot i-Cockpit Amplify?
Several models such as the Peugeot 3008 and 5008 SUV come with something called 'Amplify', which allows you to switch your car into one of two modes: 'Relax' and 'Boost'. Selecting either setting changes the colour of the ambient lighting to suit the mood and plays a specific fragrance through the air conditioning system. Relax also turns on the seat massage function while Boost sharpens up the steering and throttle response and plays synthesised engine sounds through the speakers.
Does Peugeot i-Cockpit come with Apple CarPlay and Android Auto?
In general, most Peugeot models with i-Cockpit come equipped with Apple CarPlay and Android Auto in either wireless or wired form. It's worth checking with your dealer whether your exact specification includes this as standard.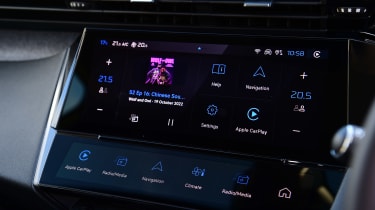 Is Peugeot i-Cockpit uncomfortable for the driver?
Because of the unique design of the i-Cockpit, many drivers have to position the square-shaped steering wheel much lower than they would normally, in order to view the dials above it. This can be uncomfortable for certain body types and we recommend you at least sit in the Peugeot you are considering before you buy, as it can be a dealbreaker for some potential customers.
Can you get a Peugeot without i-Cockpit?
If you're after a Peugeot but can't get on with the i-Cockpit setup, you're out of luck as all of the French brand's models come fitted with this style of infotainment and cabin. Thankfully, many Vauxhall and Citroen models share the same underpinnings and engines as Peugeot models, so these offer a similar alternative if you're not a fan of the brand's i-Cockpit interior design.
Partnership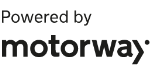 Need to sell your car?
Find your best offer from over 5,000+ dealers. It's that easy.
Looking for a car filled with tech? Check out our list of the top 10 most innovative cars