2021 Hyundai Ioniq 5 electric SUV teased
Retro-styled electric crossover launches Hyundai's Ioniq EV brand
Will closely resemble the 45 concept
300-mile range expected
Fast-charging and power supply function promised
Hyundai has teased its new Ioniq 5 electric crossover, which will be the first model launched under the new Ioniq sub-brand. The SUV will go into production largely unchanged from the concept, and will sit roughly between the Hyundai Kona and the bold new Hyundai Tucson in terms of size. The official reveal is due to take place next month.
We expect a range of about 300 miles from a charge, which will make it a rival to the Volkswagen ID.4, Skoda Enyaq and the Kia e-Niro, and should be priced similarly.
In many respects, the final production model of the Ioniq 5 is expected to look very similar to the Hyundai 45 concept, which was inspired by the 1974 Hyundai Pony Coupe concept. The square headlights and wide, slim grille feature on this model, as do the similarly boxy tail-lights. The silhouette is close to the original design, too, and the intricate alloy wheels look to have been carried over. They'll be 20 inches in diameter on production cars and the largest ones fitted to an electric Hyundai.
Sitting on the Hyundai Group's brand-new scalable electric car platform, called E-GMP, the Ioniq 5 will be the first of a new wave of Hyundai and Kia electric vehicles and will be compatible with high-capacity 350kW chargers for a sub-20 minute recharging time. In fact, you'll be able to add around 60 miles of range in just five minutes. Kia's recent electric car concept had a planned 300-mile range, so we'd expect the Ioniq to offer a similar amount.
Provided there's enough charge in the battery, you'll also be able to use the Ioniq 5 as a power source. Hyundai has released videos showing someone cooking a turkey, listening to music and exercising on a treadmill using power from the car.
The interior of the concept featured retro-themed materials like wool floor mats, cotton upholstery and a wooden dashboard. That was paired with ultra-modern technology including a huge screen, combining a digital instrument cluster and infotainment touchscreen, as well as hidden LED ambient lighting.
A screen in front of the driver is visible in some of these spy shots, suggesting the production model won't have any analogue dials behind the steering wheel. We don't expect the lounge-style armchairs to reach the production model but some of the materials should feature. Blending the retro and ultra-modern will make the Hyundai 45 feel similar to the funky Honda e electric hatchback.
Read about the company's current Hyundai Kona Electric and Hyundai Ioniq Electric models here, or see where they feature on our list of the best electric cars to buy now.
New Renault 5 electric car on sale by 2025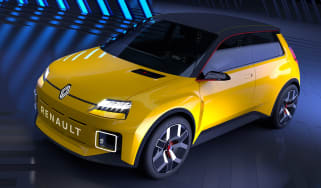 New Renault 5 electric car on sale by 2025
Best small SUVs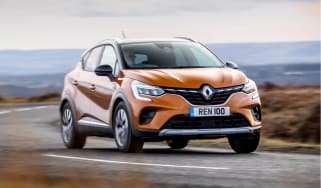 Best first cars