2021 Hyundai Kona N: prices, specs, release date and prototype drive
New 278bhp Kona N SUV will be a rival to the VW T-Roc R and have an automatic gearbox as standard
New Hyundai Kona N will have 278bhp and an automatic gearbox
Shares parts with the i30 N
Full reveal in spring 2021, sale start in the summer
The Hyundai Kona N has been teased in a set of official images previewing the car's styling. It will be powered by a 278bhp 2.0-litre petrol engine and come with an automatic gearbox as standard. Hyundai will fully unveil the new car in spring, with sales starting in summer 2021.
The Kona N will be smaller and cheaper to buy than several of its rivals, with pricing expected to start from around £33,000. This price-point would undercut performance SUV models like the BMW X2 M35i, Cupra Ateca and Volkswagen T-Roc R, positioning it as a more powerful and more expensive alternative to the href="https://www.carbuyer.co.uk/ford/puma/302904/ford-puma-st-suv-review">Ford Puma ST. We've sampled an early prototype of the new Kona N, and although the car we drove is not fully production ready, it left us with a very positive first impression. Read on for full details of the prototype drive.
2021 Hyundai Kona N: design
The official images show off the aggressive styling of the Hyundai Kona N. There's a model-specific hexagonal front grille design and a larger front air intake, plus split-level LED headlights and a slightly raised bonnet design, which are familiar from the facelifted Kona N Line model that was recently introduced.
The prototype also features N-specific design touches such as a vented spoiler featuring a triangular third brake light, large alloy wheels, red brake calipers and two large exhausts.
Engine, chassis and performance
The Kona N will be powered by the same 2.0-litre petrol engine as the Hyundai i30 N hot hatchback, producing a total power output of 278bhp giving it an estimated 0-62mph time of under six seconds.
Hyundai has confirmed that the Kona N will only be available with an eight-speed dual clutch (DCT) automatic gearbox and front-wheel drive. It will also share several chassis components from the i30 N, using the same brakes, steering system, limited-slip differential and suspension setup, with the latter being recalibrated for the Kona's larger size. Additional performance features will include a launch control system, switchable driving modes and a set of Pirelli performance tyres.
Interior and technology
The Kona N will share much of its interior with the standard car but is likely to get a pair of sports seats with 'N' logos in the front, aluminium pedals and a flat-bottomed sports steering wheel with gearshift paddles. A 10.25-inch digital instrument cluster will also feature alongside a 10.25-inch infotainment touchscreen featuring wireless Apple CarPlay and Android Auto.
Standard safety technology is likely to include features such as Leading Vehicle Departure Alert, which tells you if stationary traffic in front of your car has moved forward. Other features are likely to include Lane Following Assist, which automatically keeps the car in the centre of the lane while driving, smart cruise control with stop and go functionality, and blind spot assist with collision avoidance.
The forthcoming Kona N will be the third 'N' badged performance model from the brand, joining the recently facelifted i30 N and the smaller i20 N hot hatchback. There have also been rumours of a Hyundai Tucson N with almost 350bhp.
2021 Hyundai Kona N prototype drive by Steve Sutcliffe
While Hyundai's take on the small SUV certainly looks familiar enough, the influence of the firm's N Division is wholly apparent. During our prototype drive on UK roads, it's clear the brand has another hot hatch hit on its hands. 
On the varied roads of our test route, some of which were wet with others being typically bumpy, the Kona N has more than enough pulling power to make it energetic and dynamic to drive. When using Comfort mode, it still offers a spirited drive with agile and involving handling, and even a reasonably compliant ride.
Switch the car into Sport mode, or the headline N-mode, and the ride becomes too harsh, while the electronic differential, responsible for smooth and secure power delivery, becomes somewhat too 'relaxed' in slippery winter conditions. Selecting N-mode gives the Kona N an unhinged feel about it, meaning it's best suited to track use, which is something of a waste considering this is a family SUV. 
Nonetheless, the Kona N is substantially rapid for everyday driving, with plenty of pulling power in the middle of the rev range, which is useful for overtaking and getting up to speed quickly on faster roads. It's 0-62mph is estimated at under six seconds, although it feels quicker than these numbers suggest on the road. When compared to its rivals, the Kona N can only be beaten for pace by premium performance SUVs like the Mercedes-AMG GLA 45 and Porsche Macan GTS.
Hyundai's decision to offer only an eight-speed dual clutch (DCT) automatic gearbox may seem an oddity, when the slick six-speed manual gearbox in the i30 N exists. When driving, however, the automatic gearbox is snappy and responsive when using the gearshift paddles, and seamlessly smooth in auto mode. Like the automatic gearbox in the i30, the speed of the gearshifts changes depending on the mode selected, altering the responsiveness of the throttle, suspension stiffness, exhaust note and the way the limited-slip differential helps deliver power to the wheels. 
While the final Custom mode wasn't working on the prototype, leaving only Comfort, Sport or N-mode to pick from, we found that Comfort is best suited to most scenarios, with Sport and N proving too hardcore for road use. At times, the hardcore N setting made the car a handful almost to the point of undriveability, even for the most experienced driver. 
Verdict
Adding the N division know-how to Hyundai's smallest SUV looks to be an intriguing success based on this prototype. It takes the best elements of the i30 N, merging them into a taller and similarly capable package. While it's not yet the finished article, there should be no doubt that with minor tweaks, the Kona N could be capable of becoming a very fast SUV with a wide range of abilities.
Read our in-depth Hyundai Kona review for more information.
Facelifted Hyundai Kona on sale in January 2021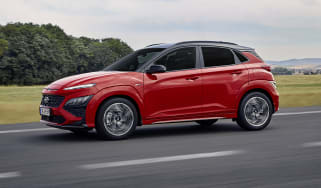 Facelifted Hyundai Kona on sale in January 2021
2021 Hyundai Ioniq 5 electric SUV teased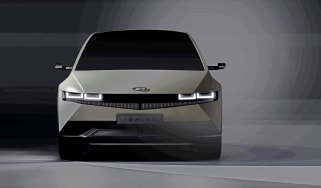 2021 Hyundai Ioniq 5 electric SUV teased
2021 Hyundai i20 N hot hatch: prices, specs and release date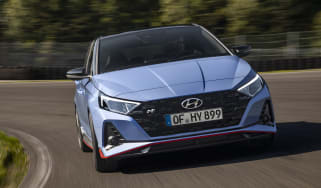 2021 Hyundai i20 N hot hatch: prices, specs and release date
New Renault 5 electric car on sale by 2025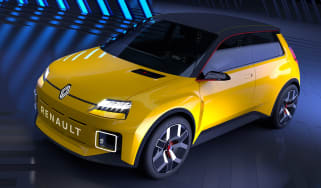 New Renault 5 electric car on sale by 2025
Best small SUVs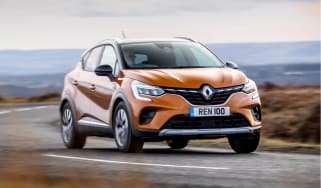 Best first cars