Audi SQ2 SUV
"The Audi SQ2 is a discreet, desirable but expensive high-performance crossover that surprises in several ways"
Pros
Discrete
Desirable
Loaded with technology
Cons
Small boot
Expensive to run
Slightly uninvolving
The Audi SQ2 is one of the most surprising cars on sale, especially for anyone following one down a motorway slip road. It's at this point that they're likely to hear a low rumble from its exhausts, followed by cracks as the automatic gearbox swaps gears, and then the sight of the car vanishing up the road.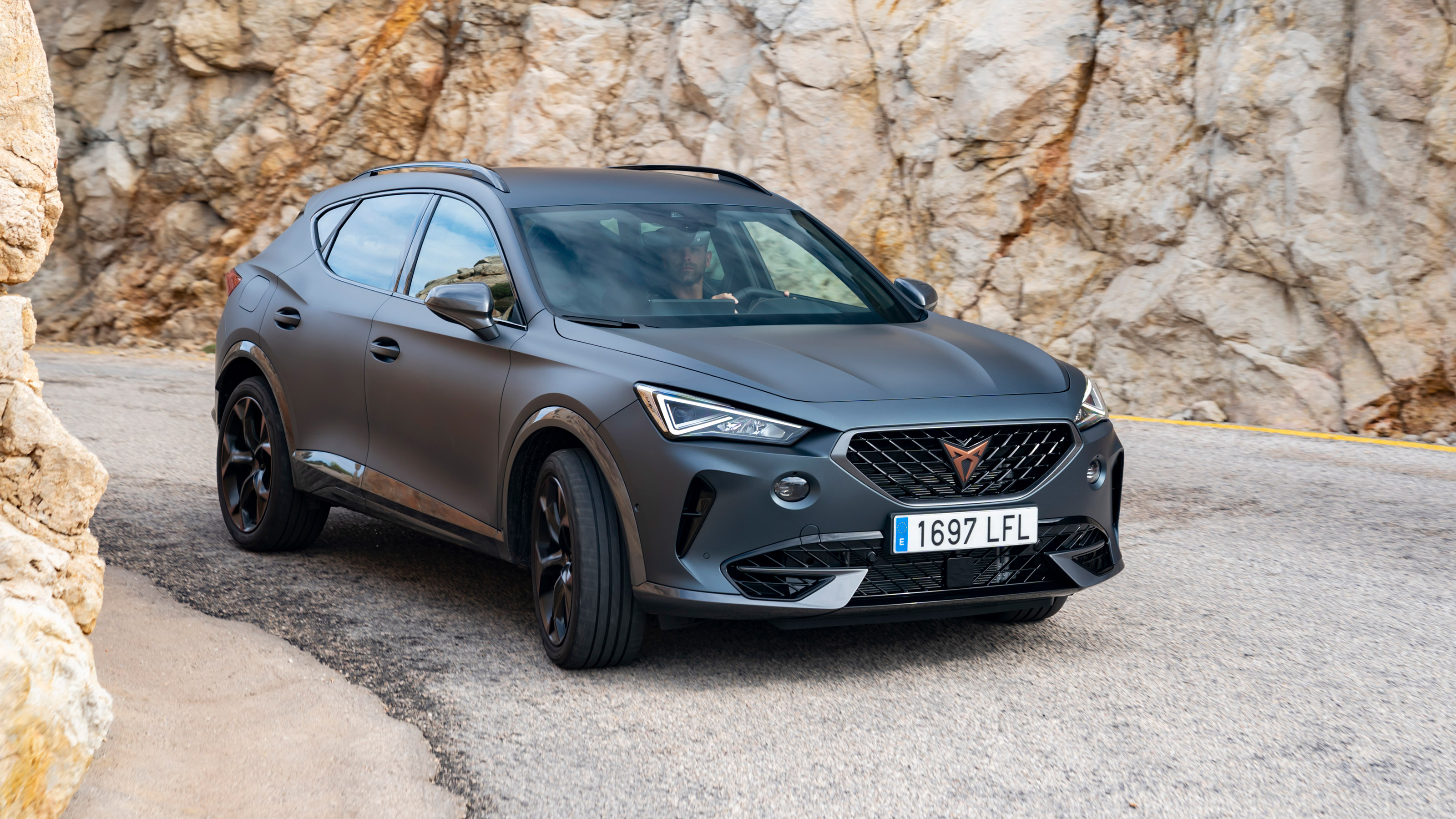 Top 10 best sports and performance SUVs 2022
That's thanks to the same 296bhp turbocharged 2.0-litre petrol engine and four-wheel drive system fitted to the Volkswagen Golf R, Audi S3, Cupra Ateca and Volkswagen T-Roc R. The SQ2 is arguably the most subtle package for this powertrain to date, with just a set of extra tailpipes and subtle exterior changes marking it out as anything other than a diesel Audi Q2 in S line trim.
A facelift for late 2021 altered the SQ2's appearance slightly, thanks to a new grille, redesigned bumpers and a new set of LED headlights and rear lights. Added up, they helped give the SQ2 a slightly more distinctive appearance.
The understated appearance is misleading; the SQ2 is faster than most amateur rally cars, with any driver behind the wheel. As a result, it's also a crossover with few rivals, with even 'hot' versions of the Nissan Juke and MINI Countryman producing far less power. Indeed, its closest competitors come from within the Volkswagen Group stable, namely the Cupra Ateca and Volkswagen T-Roc R. For some, the Audi badge will give the SQ2 instant appeal, while others may prefer the practicality of the larger Ateca or the flair of the T-Roc R or Cupra Formentor.
The SQ2 shares its smart interior with the rest of the range, albeit with some sporty seats and extra features. A few brittle plastics remind you that this is the entry-level Audi SUV, but it feels just upmarket enough to justify its price, and boasts one of the best infotainment systems in the business. With a 355-litre boot (down 50 litres on the Q2), the SQ2 is as practical as a family hatchback, rather than a full-blown SUV. Some will find the extra £4,000 or so versus a Volkswagen Golf GTI hard to swallow but the SQ2 looks better value when compared against the BMW X2 M35i or the 306bhp 2.0-litre version of the Cupra Formentor.
MPG, running costs & CO2
The Audi SQ2 should be relatively affordable to run, given its stonking performance
With a powerful, turbocharged petrol engine, four-wheel drive and raised ride height all going against it, you'd rightly expect the Audi SQ2 to be rather underwhelming when it comes to running costs. So its fuel economy figure of 34mpg might come as something of a surprise, even when prefaced with the assumption you'll have to drive monastically to get close to it.
More reviews
In-depth reviews
Road tests
Its reasonable figure is possible for a few reasons. Firstly, the quattro four-wheel drive system is clever enough to send power to just the front wheels most of the time, saving fuel and only redistributing power to all four wheels if a slippery surface is detected. Then there's the automatic gearbox, which shifts up early in certain driving modes, and technology such as stop-start, which cuts the engine in traffic. And let's not forget - the SQ2 might be billed as an SUV, but park it next to an A3 hatchback and it's barely any bigger.
CO2 emissions stand at 188g/km, resulting in the highest Benefit-in-Kind (BiK) liability for company-car drivers, and making it an expensive proposition for business users. VED (road tax) will cost the standard annual rate but it's possible to spend more than £40,000 (if you lavish options on it) on an SQ2, which will add a luxury car surcharge in the first five renewal years.
Engines, drive & performance
There's no faster small crossover, but the SQ2's handling can be a bit uninvolving
There are a few slang terms like 'Q-car' and 'sleeper' in motoring circles, used to describe a fairly ordinary looking car that's far faster than it first appears. In the SQ2, Audi appears to have created one such car because while there are small badges and styling changes, few would guess this small Nissan Juke rival features launch control and can romp from 0-62mph in 4.9 seconds, leaving an entry-level Porsche 718 Boxster in its wake.
Its 296bhp 2.0-litre petrol engine and seven-speed dual-clutch automatic is familiar from the Cupra Ateca and Volkswagen Golf R, and the driving experience is predictable too. With no steep learning curve, you can simply hop in and go faster than just about anything on the road, without the extrovert looks and big wings of a Honda Civic Type R.
Switch into the SQ2's Dynamic driving mode and it feels searingly quick, with power arriving as soon as you squeeze the accelerator pedal. There are four exhausts but the soundtrack is a little more muted than in most performance Audis, with a rumble as you accelerate towards the horizon. It's a similar story with the driving experience, with the SQ2 proving devastatingly effective, but with numb steering and its taller ride height sanitising the experience somewhat. It won't be the first choice for keen drivers seeking the ultimate in engagement but it's certainly rapid, particularly when faced with bumpy or wet roads.
Interior & comfort
As you'd expect from Audi, the interior is classy and loaded with tech
As you'd expect for an S model, the interior is loaded with sporty parts, which also add luxury and help justify the car's steep price tag. Sports seats and a sports steering wheel look and feel good, while a black headliner adds to the ambience. For the facelift, the SQ2 now gets a 12.3-inch digital instrument panel as standard.
There are illuminated 'S' door sills and stainless steel pedals but even after forking out for the SQ2, lots of the interior upgrades remain cost options, so you'll need to pay extra for full leather upholstery. There are also a few hard plastics that betray the Q2's status as the first rung on Audi's SUV ladder. The infotainment system helps make up for it, with a large 8.3-inch display and clear graphics, as well as excellent mobile connectivity.
Refinement impresses, too, and there are few better crossovers to take on a long motorway journey. One advantage of the SQ2's extra ride height over a traditional hot hatchback is a more comfortable ride.
There are three trim levels: the standard SQ2, the Black Edition and the range-topping Vorsprung. Leather and Alacantara sports seats and 18-inch alloy wheels are fitted as standard, while the Black Edition has a black grille, mirror caps and exhaust tips, along with black 19-inch alloys. Vorsprung gets upgrades like Matrix LED headlights, unique wheels and scrolling indicators. The interior upgraded with Nappa leather sports seats, a Bang & Olufsen stereo, a wireless smartphone charging pad and a panoramic sunroof.
Practicality & boot space
Extra performance hardware means the boot shrinks
The Audi SQ2 is the smallest SUV in the manufacturer's line-up, and is based on the same underpinnings as the Audi A3, Volkswagen Golf and SEAT Leon. Imagine the space inside a family hatchback and you won't be far off, with plenty of room and seating adjustment up front, but a reasonably small back seat. If you need more space for passengers, a Cupra Ateca will be a better bet.
The SQ2 is also outgunned by the Cupra for luggage space because the bigger Ateca has a 485-litre boot versus just 355 litres in the SQ2, which sits a class lower size-wise but costs about the same. The extra performance kit fitted to the SQ2 reduces its boot size from 405 litres in regular versions of the Audi Q2. Folding the rear seats results in a virtually flat loading area but the space left only measures 1,000 litres, so it's still rather small for an SUV.
Reliability & safety
The Audi Q2 has already performed well in satisfaction surveys and crash tests
Both the Audi SQ2's underpinnings and its 2.0-litre turbocharged engine have been widely used in other models for a number of years, so despite its high performance, we wouldn't have too many worries. The Audi Q2 came 53rd out of the top 75 cars in the UK in our 2021 Driver Power survey, with above average scores for its interior and comfort, exterior design and engines. Owners weren't as keen on the boot space or value for money.
There's lots of safety technology from the class above, with standard autonomous emergency braking and an adaptive cruise control system that can practically drive the car unaided in traffic at up to 40mph. The Audi Q2 scored the full five stars in Euro NCAP crash tests, with 93% for adult occupant protection and an 86% child rating.
Safety kit has been upgraded for the Vorsprung trim, which now features blind-spot monitoring, rear cross-traffic alerts and adaptive cruise control, which can accelerate, brake and steer the car on the motorway, so long as the driver keeps their hands on the steering wheel.