Range Rover SUV review (2012-2022)
"The Range Rover is an SUV icon, built to be one of the most upmarket and comfortable ways to travel, whatever terrain you need to cross"
Pros
Very comfortable ride
Luxurious interior
Spacious boot
Cons
Pricey to buy
Expensive to run
No seven-seat version
The legendary Range Rover SUV must be almost unrecognisable to owners of the simple original model, which was designed to offer more comfort than the Land Rover on which it was based, but was still rather workmanlike.
Before long, the Range Rover was adopted by wealthy owners with sprawling estates, making it the 4x4 to be seen in – a fact cemented by the Royal Family being photographed driving them – and its utilitarian plastic interior trim was gradually made more luxurious, with wood veneer and swathes of leather. A new fifth-generation Range Rover was unveiled last year and is on sale now. It features an all-new design, an array of new engines, and a suite of upgraded technology, as well as the option of seven seats for the first time in the models history.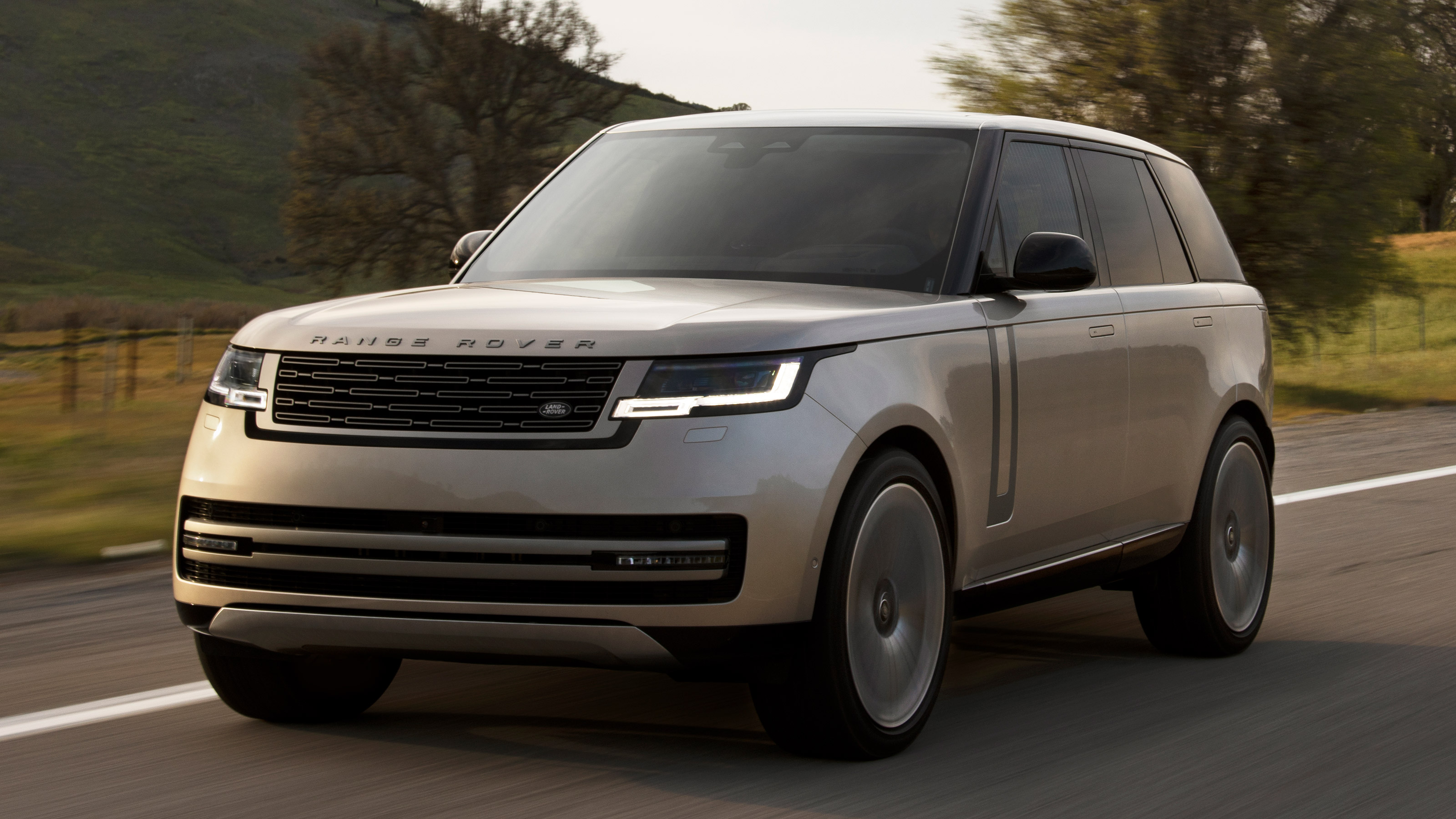 Top 10 best luxury SUVs 2022
Over the years, it's been kept bang up-to-date, but one thing that has never changed is Land Rover's commitment to the Range Rover being the most capable off-roader you can buy. To this end, even a top-spec Range Rover – with an interior as luxurious as a premium saloon car and destined to spend its life in Kensington – still has the technology to scale almost any mountain or ford any river.
The Range Rover has taken this concept to the next level, with a greater emphasis on exterior and interior design than before. Inside, the dashboard is uncluttered and simple, with attractive materials and a pleasant design. A 2017 update modernised the infotainment system, ushering in two screens on the central console but this now feels dated compared with JLR's latest Pivo Pro infotainment in newer models. There's gesture control for the sunblind, LED headlights and an Activity Key that allows owners to leave the normal key in their Range Rover while wearing a rugged, waterproof bracelet version. Meanwhile, comfort for rear-seat passengers is better than ever – especially if you go for the long-wheelbase model.
More reviews
Car trim reviews
In-depth reviews
Impressively, despite all these technological additions, this Range Rover is 420kg lighter than its predecessor, improving performance and running costs. The P400e petrol plug-in hybrid is the cheapest to run, despite its impressive pulling power. For those that want a mild-hybrid, the P400 MHEV uses a 3.0-litre straight-six engine producing 395bhp. For higher mileage drivers who want a diesel engine, there's the 3.0-litre D300 and D350, a pair of 'Ingenium' straight-six diesels with mild-hybrid hardware introduced in 2020, with 296bhp and 345bhp respectively.
The other extreme is the 5.0-litre supercharged V8 engine with 518bhp or 557bhp, which you can also find in sports cars like the Jaguar F-Type. The most powerful version is exclusive to the SVAutobiography Dynamic, which is as menacingly raucous as you'd want but costs around £120,000. This model comes with a tuned chassis and has responses honed to be as close as possible to a Range Rover sports car. It manages 0-62mph in just 5.4 seconds, while passengers travel in unabashed luxury.
Managing the same 5.4-second 0-62mph time, the 'normal' 518bhp version of that engine is available on Autobiography models. That name signifies the top of the Range Rover tree, but you can still spend many hours poring over the options, colour combinations and accessories in the brochure – it's easy to send the cost of this SUV deep into three figures. However, even the entry-level Vogue and Vogue SE models are well equipped, the opulent Autobiography versions compete with the Bentley Bentayga – the world's most expensive SUV – for luxury and comfort. For its swansong, the Westminster and Westminster Black trims were also added in late 2021, fitted with desirable extras.
While the off-road prowess and craftsmanship of the Range Rover aren't in doubt, the marque has struggled for reliability in the past. Not enough owners provided details for the latest version to appear in our 2021 Driver Power customer satisfaction survey, but the Land Rover brand came a disappointing 22nd out of 29 manufacturers overall, hampered by poor reliability and steep running costs. But we'd imagine few people buy a Range Rover expecting it to save them pennies and there's nothing else on the road quite like it, with a stunning design and unique ability to sooth long journeys one minute and then canter up grass banks too steep for most horses the next.