SEAT Leon named Auto Express Car of the Year 2013
The SEAT Leon has been awarded the prestigious title of Auto Express Car of the Year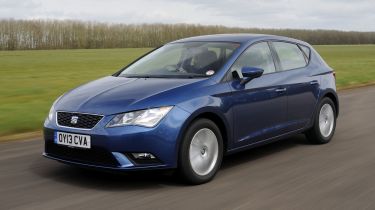 The SEAT Leon hatchback has won the Auto Express Car of the Year 2013 award at our sister brand's annual award ceremony in London last night.
The Auto Express awards are held every year, celebrating the best new cars from the past 12 months. The SEAT Leon won both the Car of the Year award and the Best Compact Family Car award.
Auto Express and CarBuyer editor-in-chief, Steve Fowler, said: "The new Leon is a brilliant all-rounder offering space, quality, economy and plenty of style. You've only got to look at the cars the Leon beat to see just how good it is."
Indeed, here at CarBuyer we gave the Leon 4.6 out of 5, praising its stylish looks, high build quality and range of economical engines. To read more about the car visit the SEAT Leon hatchback review page.
The brand also picked up the Best MPV award with the SEAT Alhambra MPV, which also won the CarBuyer award in the same category this year. Ford did well in the awards this year, too, with the Ford Transit Custom getting Best Van, the Ford Fiesta getting Best Supermini and the Ford B-MAX getting Best Five-Seat MPV.
Land Rover also picked up some awards, with the Best Luxury Car and reader-voted Design of the Year award going to the new Range Rover SUV. Its smaller sibling, the Range Rover Evoque, picked up the award for being the Best Compact SUV.
Other winners include the Skoda Citigo for Best City Car, the Mazda6 for Best Family Car and the Skoda Octavia Estate for Best Estate Car.
Steve Fowler added: "We're continually amazed by the quality and efficiency of the latest new cars – offering so much more, but costing far less to run. Standards are incredibly high, which makes choosing the right car more difficult than ever. These awards provide the perfect guide for car buyers in the run-up to the September plate change."
For the rest of this year's winners, you can buy the special issue of Auto Express today, and for the full SEAT range, visit the CarBuyer SEAT reviews page.