Mercedes A-Class now more efficient
Mercedes A and B-Class now available with eco engine and four-wheel drive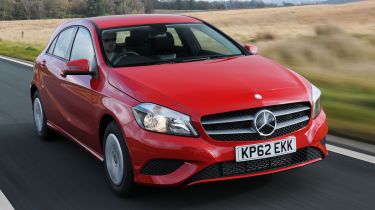 The Mercedes A-Class and Mercedes B-Class can now be ordered with a super-economical 1.8-litre diesel engine, which drops CO2 emissions to just 92g/km, making them extremely cheap to run and free from road tax.
The A180 CDI ECO SE and B180 ECO SE models offer a raft of new features that include an aerodynamic grille, clever under-body panelling and lowered suspension, which make the car more aerodynamic and help cut fuel consumption. Also fitted to both models is a new manual gearbox, with longer gears, which means the engine doesn't have to work as hard when accelerating, further improving fuel efficiency.
In the A-Class, economy is up from the old model's 74.3mpg to 78.5mpg. The B-Class improves its economy by eight percent, over the model it replaces, to return 74.3mpg.
Prices start at £21,965 for the A180 CDI ECO SE, while the B180 CDI ECO SE is priced from £22,950. That's an increase of £520 over the old diesel SE models.
From January, Mercedes will also add models fitted with its 4MATIC four-wheel drive system. It will be offered on the A-Class, but only on the top-spec A250 petrol models, and only in AMG Sport and Engineered by AMG specifications. In the Mercedes B-Class, it will be exclusive to those cars with the Sport spec.
The addition of four-wheel drive puts Mercedes in direct competition with four-wheel drive models such as the Audi A3 quattro and BMW 1 Series xDrive. However, both Audi and BMW offer their four-wheel drive systems on a wider variety of engines and specifications.
The A250 4MATIC is available from £28,985 in AMG Sport trim, rising to £30,905 for the Engineered by AMG model. Prices for the B220 4MATIC starts at £28,135.
For the full Mercedes range, visit the CarBuyer Mercedes reviews page.