Smaller Porsche Panamera planned
As Porsche plans to increase sales, a smaller saloon model could be on the way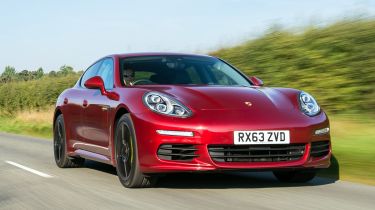 Rumours are currently circulating that Porsche is planning to launch a small sports saloon car - called the Porsche Pajun - which would rival models such as the BMW 3 Series, Mercedes C-Class and Audi A4. Given the upmarket Porsche badge, it may also compete with the Maserati Ghibli.
Although Porsche told us that a final decision has yet to be made, the move would make sense as the firm looks to build on worldwide sales of 162,145 units in 2013, with cars such as the Porsche Macan SUV. If built, we would expect the baby Porsche Panamera to offer fun handling to rival the best in class and the option of four-wheel drive for excellent grip in all weather conditions.
Porsche has recently announced that both the Porsche Boxster and the Porsche Macan will feature smaller, more economical engines, so it is likely that any new saloon would follow suit. A larger turbocharged petrol engine would provide a high-performance option to rival the new BMW M3 and Mercedes C63 AMG, while Porsche's experience with the Porsche Panamera S E-Hybrid means that a petrol-electric hybrid, which would offer excellent economy and exemption from the London Congestion Charge, is also a distinct possibility.
The sought-after Porsche badge would give the small saloon an excellent chance of success, but it would face stiff competition. The current BMW 3 Series is a huge sales success, placing sixth in our list of the best selling cars 2013, while Maserati hopes to sell up to 50,000 Maserati Ghibli saloons over the next few years.
The current Porsche Panamera (pictured) costs from £63,893, so we expect the smaller saloon to start from around £50,000 – including kit like sat-nav, leather seats, electric windows and parking sensors as standard.
For more news on the baby Panamera keep checking back to the Carbuyer website, while for all the latest Porsche reviews, visit the Carbuyer Porsche reviews page.