Ford Edge SUV 2015: full specs, prices and release date
Ford's large flagship SUV on sale now; first deliveries in the summer
Having recently gone on sale, the Ford Edge SUV – the largest car the company will sell you – has taken the company into a whole new section of the market – the upmarket SUV.
Prices start at £29,995 for entry-level models, rising to £36,745 for top-of-the-range Sport models. When UK deliveries start, the new Ford will be up against rivals like the Kia Sorento, Hyundai Santa Fe and Honda CR-V. However, it'll also have to take on rivals from more premium marques, such as the Land Rover Discovery Sport, BMW X3 and Mercedes GLC.
As well as being the largest, the new Ford Edge is pretty much the roughest, toughest Ford you can buy too (apart from the Ford Ranger pick-up truck, obviously), as well as one of the most premium and well equipped. Indeed, while the prices may be hinting toward Mercedes, Audi, Land Rover and BMW territory, the Edge does come with an awful lot more standard equipment than any of its more elevated rivals.
Under the bonnet, there's the choice of diesel or, well, diesel. There are two versions of the same 2.0-litre, four-cylinder unit, managing 177 or 207bhp. The latter of these two is only available with a six-speed automatic gearbox, while the former only comes with a six-speed manual.
This'll also be the latest Ford to be added to the Vignale range. Essentially, this is a new top-level trim that not only adds vast swathes of extra kit, but also with certain ownership benefits too. Essentially, this means that Ford will pick your car up and drop it back off when it's time to be serviced, as well as other features.
Ford Edge interior, technology and safety
Inside, the dash is pretty much identical to that which you'll find in many other Fords across the range. The 10-inch touchscreen display for the SYNC 2 infotainment system is the focal point for the dashboard and it's flanked by a pair of vertical air vents in an otherwise fairly minimalist interior.
However, unlike some rivals – including the Land Rover Discovery Sport and the Kia Sorento – the Edge doesn't come with the option of seven seats, although Ford says it makes up for this by having one of the most spacious interiors in the class.
In terms of safety, Ford has used the latest technology to ensure driver and passenger protection in the Edge. It's fitted with inflatable rear seatbelts (as seen on the Ford Mondeo) that have a cushioning effect when they deploy, reducing chances of injury or bruising compared to conventional seatbelt design.
Other safety equipment on the Edge includes active cruise control, autonomous emergency braking (which will stop the car automatically when travelling at low speed if it detects an imminent crash), traffic-sign recognition, a lane-departure aid that'll steer the car gently back into its lane and a blind-spot warning system.
It's not just safety where Ford has pulled out all the technological stops, though: to stay competitive and entice buyers, it's tried to make driving the Edge as pleasant and convenient as possible. Active Noise Cancellation technology uses the car's stereo to ensure as little unwanted noise as possible makes its way into the cabin.
It's similar to technology used with the opposite intended effect in some sportier BMWs, enhancing their engine noise via the stereo. We're keen to see how it works in noise-cancelling form in the Edge.
Furthermore, the Edge comes with adaptive steering. This changes how quickly the steering reacts depending on how fast the car is being driven – only small, light inputs are needed during low-speed town driving, but at higher speeds, heavier inputs are called for, resulting in greater stability.
The Ford Edge will also launch with a Front Split View camera, which gives you a 180-degree view from the front of the car and lets you 'peek out' when pulling out of junctions or getting into tight parking spaces. More familiar (yet by no means unwelcome) technology includes a power-operated bootlid with Ford's excellent foot-operated opening sensor, Ford's updated SYNC 2 voice-control system, a heated steering wheel and heated, ventilated front seats.
Engines and driving experience
Diesel will probably be the engine of choice for most Ford Edge buyers and it launches with two options: both 2.0-litre turbos, producing 178 and 207bhp. A six-speed manual transmission is standard on the less powerful model, which produces 149 grams of CO2 per kilometre, meaning road tax will be a relatively affordable (for a car this size) £145 a year.
The 207bhp engine will come with Ford's six-speed Powershift automatic gearbox and has exactly the same CO2 figures as the less powerful version meaning it won't cost any more to run, although it does cost considerably more to buy. Both engines will also return an average of 48.7mpg.
Ford has developed sophisticated electronics and clever rear suspension to ensure the Edge appeals to keen drivers, as well as ensuring as safe a driving experience as possible.
Trim levels and equipment
At launch, there will be two trim levels – Zetec and Sport – and you get things like DAB radio, 19-inch alloy wheels and four-wheel drive as standard. All models also get Ford's Active Noise Control technology, which uses the same technology as noise-cancelling headphones to suppress any unwanted noise in the cabin.
Top-of-the-range Sport trim is expected to be the big seller, however. It comes with styling enhancements such as a gloss-black grille and window pillars, rugged-looking panels on the front and rear bumpers, twin exhaust pipes and 20-inch alloy wheels. Inside, the Edge Sport gets gloss-black and silver finishes around its switches, door handles and air vents, as well as carbon-fibre trim panels.
There will also, eventually, be a Vignale version, which will add a plusher interior, more equipment, as well as more chrome on the outside. It's not just a trim level, however, as Vignale customers will also get their own areas at special Ford dealerships - called Ford Stores - and will recieve more after sale benfits. this includes having you car picked up and dropped back off again when it goes in for a service. Customers will also have access to a 24 hour customer service hotline which can help deal with a multitude of problems.
Price and release date
The Ford Edge has been on sale in the US for some time and has spent the last couple of years being extensively re-engineered for the European market. It's now on sale in the UK, priced from £29,995 to £36,745, depending on your engine and trim choices (for full details, see the table below). Ford tells us that deliveries of the Edge will begin this summer.
Ford Edge full price list
| | |
| --- | --- |
| Model | Price |
| Zetec 180PS 2.0-litre TDCi AWD 6sp Manual | £29,995 |
| Sport 180PS 2.0-litre TDCi AWD 6sp Manual | £34,495 |
| Sport 210PS 2.0-litre TDCi AWD 6sp PS Auto | £36,745 |
New Volkswagen Tiguan vs Ford Kuga & SEAT Ateca: comparison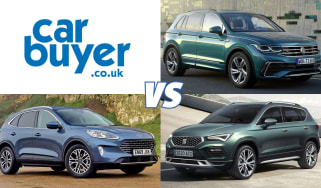 New Volkswagen Tiguan vs Ford Kuga & SEAT Ateca: comparison
Updated Peugeot 5008 starts at £29,585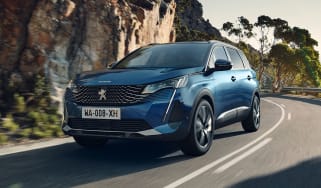 Updated Peugeot 5008 starts at £29,585
Cupra Formentor SUV review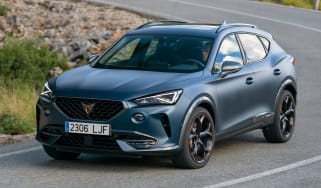 Cupra Formentor SUV review
2020 Volkswagen ID.3 hatchback: base model starts at under £30k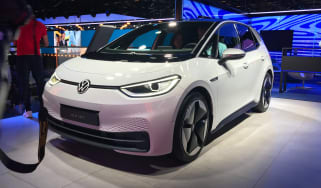 2020 Volkswagen ID.3 hatchback: base model starts at under £30k