World exclusive – Tesla Model 3
We have a world exclusive on the Tesla Model 3, an electric-powered rival to the BMW 3 Series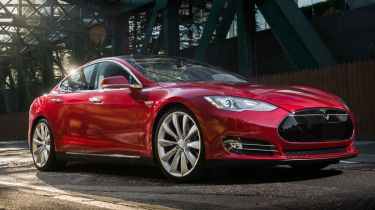 Tesla is planning a BMW 3 Series rival called the Tesla Model 3, which will look similar to the Tesla Model S (pictured). The plans were revealed in an exclusive interview with Tesla's founder, Elon Musk by our sister title, Auto Express.
It is thought that the new saloon will be 20 per cent smaller than the Tesla Model S and will be an all-new model. Tesla's reputation as a builder of performance electric cars will be central to the Model 3's design. We expect the fastest model to be capable of 0-60mph in less than 5 seconds.
Tesla is also likely to offer the car with different levels of power – the Tesla Model S (BMW 5 Series rival) is available in 60kWh, 85kWh and 85kWh Performance forms.
The car will have a theoretical range of more than 200 miles and, as with any other Tesla, Model 3 owners will have use of Tesla's Supercharger network. By 2015, the infrastructure will be in place to allow Tesla drivers to run the length and breadth of the UK for free.
Model 3 prices are expected to start from around £30,000, and it could make its first public appearance in 2016 with the first cars going on sale in 2017.
News of the new model is the latest step in Tesla's plan to sell more than 100,000 cars worldwide by 2020. The Tesla Model S will help the company to sales of nearly 35,000 cars this year.
Tesla is planning a new research and development base in the UK, which will be involved in the development of the Model 3. Another new factory will mass-produce batteries cheaper than before, with customers already said to include BMW and Mercedes.
The Tesla Roadster – the company's Lotus Elise based inaugural model – is set to get a range boost from 245 miles to more than 400 miles. Those extra miles come courtesy of the latest battery technology, making the model more appealing than ever before.
For our road tests on the Tesla Roadster and Tesla Model S – including Mat Watson's video review of the car – visit the Carbuyer Tesla reviews page.