Study reveals total cost of SUV ownership
Industry experts at CAP urge buyers to research whole-life costs of SUV ownership more thoroughly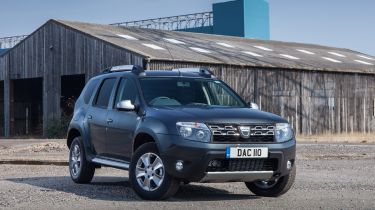 A recent study by the car valuation experts at CAP has revealed the true cost of SUV ownership; revealing that it's not just the initial purchase price that determines how much a car will cost you.
The company has looked at maintenance costs, depreciation, fuel costs, how much the car costs to insure and, of course, how much it costs to buy in the first place. After calculating these for the first three years of ownership for various models, the study has come up with a clear winner.
By far and away the cheapest SUV to own over the first three years of its life is the petrol-powered Dacia Duster. Overall, this car will cost you from £9,771 over three years, which equates to £271.44 a month. Thanks to its lower list price and the lower price of petrol, this version of the Duster turned out to be considerably cheaper to run overall than the diesel, despite the latter's better fuel economy and lower road-tax bills.
In fact, the diesel version emerged as considerably more expensive over the three-year timeframe than the petrol, with a total ownership cost of £12,322. The Peugeot 2008 came second in the table, while the Citroen C4 Cactus, Jeep Renegade, Suzuki Jimny and Ford EcoSport also made the top 10 – the full run down of which is shown in the table below.
| | | | | |
| --- | --- | --- | --- | --- |
| Fuel | Manufacturer | Model | Cost of ownshership starting from | Monthly running costs |
| Petrol | Dacia | Duster | £9,771.99 | £271.44 |
| Petrol | Peugeot | 2008 | £11,020.18 | £306.12 |
| Petrol | Citroen | C4 Cactus | £11,083.92 | £307.89 |
| Petrol | Suzuki | Vitara | £11,175.48 | £310.43 |
| Diesel | Nissan | Juke | £11,681.95 | £324.50 |
| Diesel | Ford | Ecosport | £11,699.34 | £324.98 |
| Petrol | Suzuki | Jimny | £12,655.85 | £351.55 |
| Diesel | Skoda | Yeti | £12,723.87 | £353.44 |
| Diesel | Jeep | Renegade | £12,751.78 | £354.22 |
| Petrol | Fiat | 500X | £12,806.25 | £355.73 |
At the other end of the market, the data revealed that the most expensive SUV to own is, rather unsurprisingly, also one of the most expensive to buy in the first place. The survey revealed that a Range Rover SV Autobiography LWB with the 5.0-litre supercharged V8 engine will cost a whopping £122,068 to own over the first three years of its life.
These numbers prompted CAP to urge buyers to do all their research if they're looking at buying an SUV. Philip Nothard, CAP consumer and retail editor, said: "Our figures show that consumers need to consider more than just the price tag when it comes to investing in an SUV. There are a number of factors that can swing overall ownership costs quite dramatically, such as service and maintenance, fuel, insurance and depreciation, so all of these should be considered to ensure those buyers whose purchase decision is based on a budget get the best value for money."
In terms of maintenance costs, the two cars that worked out cheapest to service and maintain were the diesel Skoda Yeti and Volkswagen Tiguan – costing £241 and £229 respectively per service.
The survey also looked at the used market and there's good news for owners of some models, which are actually starting to appreciate in value. The Honda CR-V (2005-2007), Hyundai Santa Fe (2001-2006) and Subaru Forester (2005-2009) are all starting to gain value on the used market – going up £120, £140 and £189 respectively.