New 2017 Porsche Panamera revealed
All-new Porsche Panamera revealed ahead of November launch
Official details and images of the new Porsche Panamera have been revealed ahead of the new car going on sale in November.
The new Panamera is expected to make its public debut at September's Paris Motor Show. Once it goes on sale towards the end of 2016, the new Porsche Panamera will take on the likes of the Mercedes CLS, BMW 6 Series Gran Coupe and Audi A7.
You'll be able to order your Panamera with a variety of turbocharged petrol and diesel engines, ranging from a 3.0-litre V6 diesel all the way up to a twin-turbocharged petrol V8 producing around 550bhp.
This official reveal comes hot on the heels of leaked images that made their way on to the internet last week.
New 2017 Porsche Panamera design
Longer, wider and taller than the outgoing model, the new car is very much a design evolution rather than revolution. It keeps many of the Porsche 911-inspired design cues, as well as others from the likes of the new 718 Boxster and Cayman ranges. Although the new car is taller than the current model, it appears to have a lower roofline thanks to a higher beltline and reduced glass area.
Up front, you can see the strong hints of the new Porsche 718 Boxster and Cayman, with similar headlights, front bumper and the four-point daytime running lights. Meanwhile, at the back, the slender light clusters and light strip that runs across the car's rear are strongly redolent of the Porsche 911, as are the quad exhaust pipes.
In profile, however, the new Panamera looks much more like a traditional hatchback or saloon, with strong hints of the Tesla Model S and even the Maserati Ghibli, while its proportions seem more balanced than those of the outgoing model. At each corner sit wheels of at least 19 inches in diameter, while the top-spec Turbo model gets 20-inch wheels, with 21-inch items available as an option.
Interior
Take a look inside and you'll notice that the current model's part-touchscreen, part-button-operated infotainment system has been replaced by an all-new touchscreen-only system. This made its debut in the recently revised Porsche 911, while it also features in the new Porsche 718 Boxster. It's much higher-resolution than the outgoing version and is larger, too, at 12.3 inches.
All of this is part of the new Porsche Advanced Cockpit, which makes its debut in the new Panamera. Along with the new infotainment system, there's a new centre console and a new gear selector for the PDK twin-clutch automatic gearbox. Instead of physical buttons and switches, the new controls are also now touch-sensitive, with even the air vents being controlled by touch-sensitive sliders, rather than physical, mechanical controls.
Meanwhile in the instrument cluster, a pair of configurable seven-inch TFT screens, which can show speed, sat-nav directions, media and climate settings, flank the large central analogue rev counter.
In the back, versions fitted with the optional four-zone climate control system get their own climate and infotainment controls. Meanwhile, the 40:20:40 split-folding rear backrests allow the car's boot space to increase from 495 litres to an impressive 1,304 litres – more than the Mercedes CLS and BMW 6 Series Gran Coupe.
A panoramic tilting sunroof will be available, as will massaging seats, LED ambient lighting and a high-end Burmester stereo.
Engines & performance
At launch, you'll have a choice between three turbocharged petrol and diesel engines, all of which come with four-wheel drive and an all-new eight-speed PDK dual-clutch automatic gearbox as standard.
The entry-level Panamera 4S comes with a twin-turbocharged 2.9-litre petrol V6, generating a maximum of 434bhp. This is enough to get the car from 0-62mph in just 4.4 seconds (4.2 with the Sport Chrono pack fitted) and on to a 180mph top speed. Next up, the eight-cylinder 4S diesel version comes with an impressive 416bhp, which is enough to get it from 0-62mph in 4.5 seconds (or 4.3 if you specify the Sport Chrono pack) and a 177mph top speed.
At the top of the range sits the twin-turbocharged 4.0-litre V8 turbo model that produces 542bhp. This allows it to complete the 0-62mph sprint in either 3.8 seconds, or 3.6 if you add the Sport Chrono pack. It has a top speed of 190mph.
We also expect a plug-in petrol-electric hybrid version to arrive at a later date, along with a more hardcore, driver-focused GTS model, possibly with rear-wheel drive.
Running costs & fuel efficiency
Unsurprisingly, the cheapest version to run will be the 4S Diesel, which can return around 42mpg. This equates to CO2 emissions of 176g/km and a subsequent road tax bill of £230 a year. Next up, the petrol Panamera 4S will do around 35mpg and emits 184g/km, which means it sits in the same tax band as the diesel version.
Naturally, the most powerful Turbo model will cost the most to run, with fuel economy hovering around the 30mpg mark, while CO2 emissions of 212g/km mean a £295 annual road-tax bill. This is, however, considerably better than the outgoing model and partly achieved by the use of cylinder de-activation technology. This means that when you're cruising gently, four of the eight cylinders temporarily shut down, saving lots of fuel.
Equipment
The new Panamera is available with a variety of active safety systems, as well as a host of electronic systems for its suspension and steering.
First up, there's the latest version of the Porsche Active Stability Management (PASM) system, as well as Porsche Dynamic Chassis Control Sport (PDCC Sport). There's also active torque vectoring (a system that can shuffle the power around to the wheel that can deal with it best) and these all work together to keep the car stable and under control whatever the road conditions.
You'll also be able to specify a whole load of safety systems, including an infrared camera that allows you to see further ahead at night, even if you specify the LED headlights. There's also a new system called Porsche InnoDrive, which uses radar, satellite navigation and cameras to make sure the adaptive cruise control is always prepared for what's about to happen.
Price & on-sale date
The new Porsche Panamera is set to go on sale in November 2016 and should make its public debut at September's Paris Motor Show.
At this early stage there's no word on UK pricing, but we do know that prices will start at €113,027 in Germany, rising to €116,954 for the 4S Diesel and to €153,011 for the Turbo. At current exchange rates, those amounts work out at around £94,000 and £127,500 respectively.
690bhp Porsche Panamera Turbo S E-Hybrid sprints in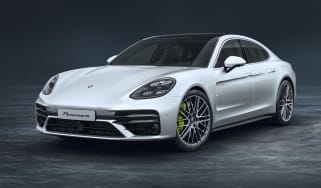 690bhp Porsche Panamera Turbo S E-Hybrid sprints in
Updated Peugeot 5008 starts at £29,585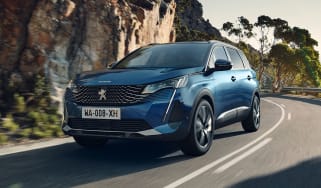 Updated Peugeot 5008 starts at £29,585
Cupra Formentor SUV review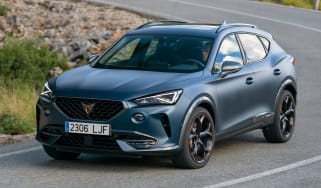 Cupra Formentor SUV review
2020 Volkswagen ID.3 hatchback: base model starts at under £30k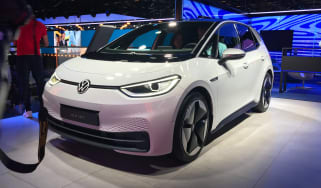 2020 Volkswagen ID.3 hatchback: base model starts at under £30k