New Range Rover Velar SUV – first look
Our man takes a passenger ride in Range Rover's ambitious, luxurious and tech-laden SUV
The Range Rover Velar is one of the most hotly anticipated cars of recent years and its broad pricing means it competes with everything from the BMW X3 to the Porsche Cayenne.
The Velar is a veritable tech fest and features two dramatic touchscreens in the centre of its dashboard, which control almost every aspect of the car. In fact, you become aware of the Velar's luxurious approach to technology before you've even climbed aboard, as its recessed door handles emerge from the car as it unlocks itself.
We've driven the new Range Rover Velar – read our review here.
Range Rover Velar passenger ride
We were taken up the hillclimb in a Velar at this year's Goodwood Festival of Speed, where it was almost constantly surrounded by members of the public, many of whom were asking about waiting lists and pricing.
The first thing that struck us is the Velar's low, coupe-like roofline and sleek looks. Once inside, the minimalist dashboard is achingly cool, and despite the thumping 375bhp supercharged 3.0-litre petrol engine under the bonnet, our Velar was impressively quiet. It's this sense of indulgent isolation that draws many buyers to the Range Rover brand, and the Velar has it in spades.
Power is another requisite most Range Rover owners have, and to that end our Velar felt more than sufficiently endowed, with 0-60mph taking just 5.1 seconds. While the cheapest Velars come with a 178bhp 2.0-litre diesel, the majority of buyers are expected to upgrade to a more powerful engine – and doing so will get you a 0-60mph time no longer than seven seconds.
Range Rover Velar: design
First, some context: the Velar is a four-door, five-seater SUV, which comes as standard with four-wheel drive. It's roughly the same width as a BMW X5, but about 8cm shorter.
The cheapest Velar is just under £45,000; the most expensive is a little over £85,000. That's a vast spread and means there are few premium SUVs with which the Velar doesn't compete.
After a top-of-the-range BMW X3? A mid-spec Audi Q7? Maybe you're close to signing off on a Mercedes GLE Coupe or a Lexus RX – if your budget falls between the Velar's vast spectrum of prices, Range Rover hopes you'll visit one of its showrooms.
The Velar is also quite low – for an SUV, at least: with a height of roughly 1.6 metres, it's just 5mm taller than the streamlined Range Rover Evoque and, while Range Rover makes no reference to it being an SUV coupe, it's 5cm lower than the BMW X6 – a car placed in that category by its manufacturer.
As well as being relatively wide, long and low, the Velar is also sleek. It features recessed door handles that pop out, Tesla-style, when the car is unlocked, retreating back into their housings once the Velar is in motion. Choose a model with air suspension and it'll hunker down by 10mm at speeds over 65mph to save fuel.
LED headlights and rear lights, which run a fair distance along the sides of the car, join up with 'burnished copper' trim details beneath the wing mirrors and a thin, high waistline.These aspects – together with the 'floating' roof that's differentiated from the Velar's bodywork by contrasting black pillars – contribute to the car's low-slung profile. This doesn't come at the expense of the off-roading capability (of which more later) Range Rover is famous for, though.
Interior, dashboard and technology
The first things you notice when looking at the Velar's interior is the near-total lack of buttons. Safety regulations mean the hazard warning lights require a physical switch, but aside from that almost every function is controlled through a brand-new Touch Pro Duo system, which comprises two 10-inch touchscreens. These are supplemented by a smattering of capacitive buttons, which only become visible when illuminated.
The upper infotainment screen handles sat nav, media and phone requirements, and Range Rover promises operating it is "as intuitive as using a tablet or a smartphone". It can pivot through 30 degrees to provide an ideal viewing angle, becoming flush with the dashboard when the Velar is switched off – but it'll return to its previous angle when you restart the car.
The lower screen takes care of climate control, seat heating, cooling and massaging, as well as the Velar's various off road systems. And if you're put off by the idea of using a touchscreen for so many functions, two physical dials rest below the screens. These can be configured to control various aspects of the car – meaning you have physical knobs for the air-conditioning, should you wish. Reassuringly, the stereo gets its own dedicated physical dial.
The Touch Pro Duo system has a few neat tricks up its sleeve: as well as the obligatory wi-fi hotspot, if you're using the sat nav it'll calculate whether you've enough fuel for your journey, directing you to a convenient filling station if necessary, and even quoting fuel prices.
Running late? The 'Share ETA' mode will text your expected arrival time to your contacts, while Arrival mode will display a 360-degree view of your destination, and can even find and direct you to a nearby parking space once you're there.
Like the main control stack, the steering wheel features capacitive buttons, and these can be programmed according to your preferences, changing function depending on which system is being called upon.
All Velars come with the Touch Pro Duo system and autonomous emergency braking, while options include matrix LED lights with a full-beam range of 550 metres, two panoramic sunroofs (fixed or opening) and a 23-speaker 1,600-watt Meridian stereo.
Engines
The Velar is available with three diesel and three petrol engine options, all of which are mated to an eight-speed automatic gearbox and four-wheel drive.
The entry-level four-cylinder 178bhp 2.0-litre diesel is only offered with 'Standard' trim (see below), but stepping up to S trim sees a 237bhp version of this engine become available and the range also includes a 3.0-litre six-cylinder 296bhp diesel. Performance should be adequate whichever of these you choose: the cheapest diesel does 0-60mph in 8.4 seconds, the 237bhp 2.0-litre does the same in 6.8 seconds, while the 3.0-litre diesel shrinks it to 6.1 seconds.
Those after petrol power can choose from a turbocharged four-cylinder 2.0-litre engine with either 247bhp or 296bhp, or a supercharged six-cylinder 375bhp 3.0-litre. 0-60mph takes 6.4, 5.7 and 5.1 seconds respectively.
The six-cylinder engines come as standard with air suspension, which is offered as an option with the 247bhp petrol and 237bhp diesel engines. This system increases the Velar's off-roading capability and also lowers it by 10mm when cruising above 65mph, in order to save fuel.
Speaking of which, economy is officially pegged at 52.5mpg for the 178bhp diesel, 48.7mpg for the more powerful version of this engine and 44.1mpg for the 3.0-litre diesel. Choose the 2.0 or 3.0-litre petrol engines and these figures respectively drop to 37.1 and 30.1mpg.
Because even the cheapest version costs more than £40,000, all Velars will cost £450 a year to tax for the first five years, after which they'll be £140 a year. CO2 emissions of between 142 and 214g/km will see company car drivers liable for Benefit-in-Kind rates of between 28 and 37%, with the 3.0-litre diesel getting a 33% rate.
Off-roading ability & practicality
Since its inception in 1970, Range Rover has been famed for its ability to blend interior luxury and practicality with genuine off-roading prowess. That heritage means there's no danger of the Velar being anything other than accomplished when the going gets rough.
Most buyers are expected to go for air suspension and doing so improves the Velar's off-road credentials. The car's wading depth increases from 600 to 650mm if you choose this option and the air suspension also allows the car to rise 46mm when off-road mode is selected.
A 'Terrain Response' system is standard across the range and provides the driver with eco, comfort, grass-gravel-snow, mud and sand modes. Choose the optional Terrain Response 2 system and these modes are switched between automatically.
All Terrain Progress Control, meanwhile, acts like a low-speed, off-roading cruise control system, maintaining progress as you simply steer the car. For those who require maximum agility, note that the six-cylinder engines can be ordered with a locking rear differential.
Interior space looks reasonable rather than exceptional, but four six-foot adults should be able to get comfortable. The boot's 632-litre capacity is large, and it grows to 1,731 litres when all of the individually folding rear seats are dropped.
Another reason to go for the air suspension: with this fitted, the Velar's 'auto access mode' will lower the car by 40mm when it's switched off, in order to make getting in and out easier.
The Velar should be an accomplished tow car. It has a 2,500kg towing capacity, while a tow assist system will plot your course for you when reversing, allowing you to control its rearward progress with one of the rotary controllers, rather than making counterintuitive adjustments to the steering wheel.
Trim levels
The Velar is available in four main trim levels. The entry-level version is known as Standard, with S, SE and HSE following. Moving up through the trim levels requires deep pockets, though, with S costing around £5,500 more than the Standard, SE adding a further £4,000 or so and HSE being £6,500 more again.
Entry-level Velars come with the Touch Pro Duo system, keyless entry, autonomous emergency braking, cruise control, LED headlights and 18-inch alloy wheels. The seats at this level are clad in a mixture of 'suedecloth' and 'luxtech', meaning they're covered partly in Alcantara-style fabric and partly in synthetic leather.
Step up to S trim and the alloy wheels grow to 19 inches in diameter, the seats become clad in real leather (with power adjustment up front), the boot gets a power-opening function and the LED headlights become stronger (and dip automatically). The Touch Pro Duo system, meanwhile, gains sat nav, and the stereo becomes more powerful; a reversing camera is thrown in for good measure.
SE trim brings a 12.3-inch digital display in lieu of traditional dashboard dials, 20-inch alloy wheels, the matrix LED headlights mentioned above, a Meridian stereo and some extra safety features. These comprise a fatigue warning system, traffic-sign recognition, rear cross-traffic alert (which looks out for you when reversing), blind-spot monitoring and a 360-degree parking camera.
Still want more? You'll be needing HSE trim. This adds more leather to the interior, improves the seat leather to 'Windsor' quality and fits a massaging function up front. The steering wheel, meanwhile, gains power adjustment, a chrome bezel and chrome paddles for the gearbox, while the alloys grow to 21 inches. Safety kit increases, too, with active cruise control providing a semi-autonomous experience in traffic jams and on the motorway, while the blind-spot and lane-departure systems become active, so they'll take corrective action if you're about to stray into traffic.
Specify the R-Dynamic pack for a mixture of aluminium and black interior trim details as well satin-grey alloys, gloss-black wing mirrors and a bodykit, and add the Black pack for even more (you guessed it) black exterior garnish.
For the first year of the model's production, Range Rover will also offer a First Edition Velar. This comes with vast 22-inch alloy wheels and every conceivable option going – including the more sophisticated off-road systems mentioned above.
Price & on-sale date
The Velar range starts at £44,830, which will secure you the 178bhp 2.0-litre diesel engine and Standard trim. Most buyers are expected to go for SE trim with the 237bhp 2.0-litre or 3.0-litre diesel, though, and these come in at £57,660 and £61,610 respectively.
Those after the Velar First Edition will need to find £83,350 for the 3.0-litre diesel version, and a further £2,000 or so for the supercharged petrol. Range Rover is taking orders now and first customer deliveries are expected in July.
Cupra Formentor SUV review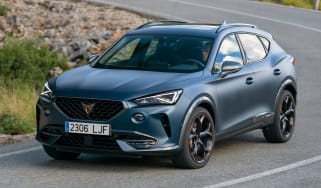 Cupra Formentor SUV review
2020 Volkswagen ID.3 hatchback: base model starts at under £30k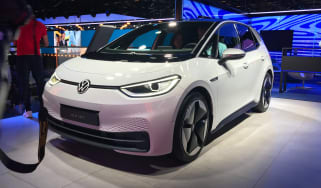 2020 Volkswagen ID.3 hatchback: base model starts at under £30k
Audi Q8 gains plug-in hybrid versions with 28-mile electric range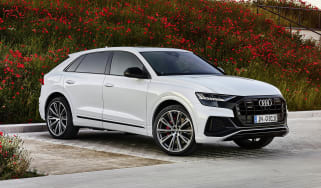 Audi Q8 gains plug-in hybrid versions with 28-mile electric range