BMW X6 SUV review
"The BMW X6 was the original coupe-SUV, and it's been reinvented with even more power and luxury"
Pros
Straight-line performance
Updated interior
Great infotainment
Cons
Expensive to run
No plug-in hybrid
Reduced boot space
The coupe-SUV might still seem like a daring new niche, but the original BMW X6, widely considered the first car of this type, was launched way back in 2008. Almost half-a-million cars later, BMW's experiment can safely be deemed a sales success, and its all-new replacement updates the recipe with fresh ingredients.
While the BMW X6 kicked off this sector, it's now been joined by a number of rivals. There's the Mercedes GLE Coupe, the Audi Q5 Sportback and the Porsche Cayenne Coupe to name three, while the seemingly contradictory coupe-SUV body style has now filtered down to cheaper models such as the Toyota C-HR and Renault Arkana.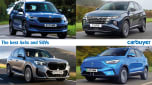 Top 10 best 4x4s and SUVs 2023
As before, the X6 is a sister car to the BMW X5, sharing its front end and even a new (and optional) illuminated grille, but departing from the more conventional model as you trace its roofline backwards. In exchange for a few thousand pounds extra and a slight reduction in practicality, the roofline slashes downwards for dramatic effect.
Even as the number of competitors it faces has increased, an X6 will still get you noticed, yet inside there's plenty of space - even in the back - and the same great dashboard layout as the X5. This boasts the latest digital displays for the instruments and iDrive infotainment system, along with quality materials and standard leather upholstery. Of course, you can also spend a small fortune on optional extras, including a panoramic glass roof that's almost twice as big as before.
Engines are all 3.0 litres in capacity in the standard range, while flagship M models get a 4.4-litre V8 petrol engine. Even the entry-level xDrive30d diesel model means the X6 is as fast as a hot hatch. Representing a big step up in performance and price, there's the M50i with 523bhp, but this costs around £20,000 more than an entry-level car. BMW's xDrive four-wheel-drive system and an eight-speed automatic gearbox are standard across the range, and the M50i can get from 0-62mph in 4.3 seconds. Previously, there was also an entry-level xDrive30i petrol and a hot M50d diesel model with 395bhp, capable of 0-62mph in 5.2 seconds.
Further up the X6 model range from the 30d, the xDrive40i is a competent performer providing a decent level of comfort on UK roads, with strong performance from its 3.0-litre straight-six petrol engine and eight-speed automatic gearbox.
At the top of the standard X6 line-up, the M50i is fitted with advanced air suspension and its main party trick is the awe-inspiring levels of acceleration it exhibits for such a big SUV. The BMW never quite threatens the class-leading Porsche Cayenne Coupe in the handling stakes, but it is a comfortable cruiser, taking the edge off most bumps effectively.
As a standalone flagship model, the X6 M Competition is a superb example of how BMW's 'M Division' can transform an already fast SUV into one that can match supercars for pace. It's capable of matching the Audi RS Q8 for pace, sprinting from 0-62mph in just 3.8 seconds - a considerable feat for a car that weighs well over two tonnes.