Renault Megane R.S. Trophy: prices, spec and on sale date
Most powerful 296bhp Renaultsport Megane Trophy goes on sale costing from £31,810
The the new Renault Megane R.S. Trophy is now on sale in the UK, costing from £31,810 with a manual gearbox, or £33,510 with a dual-clutch automatic. The first customers in the queue are expected to get their cars in February 2019.
The Trophy is an even more potent version of the standard Renault Megane R.S. hot hatch with more power, upgraded brakes and a host of lightweight components.
Carbuyer's best hot hatchbacks to buy now
With 296bhp, it's the most powerful production car that Renault Sport has ever produced. The Renault Megane R.S. Trophy gets a brand new version of the existing car's turbocharged 1.8-litre petrol engine which achieves its impressive power output thanks to an upgraded turbocharger and exhaust.
The Megane R.S. Trophy's mechanical specification is based on that of the standard car's optional Cup chassis, which brings stiffer suspension and a limited-slip differential. To this, the Trophy adds 'bi-material' front brakes discs and Brembo calipers, unique 19-inch 'Jerez' alloy wheels and high-performance Bridgestone tyres. There's also an optional set of even lighter 'Fuji' alloy wheels that shave 2kg from each corner of the car, fitted with stickier tyres. Alongside these changes, the Renault Megane R.S. Trophy will be distinguishable by stripes applied to its front splitter, and it's available in Liquid Yellow, a flagship colour for the Renaultsport brand.
Read our full Renault Megane R.S. review
Inside, optional Recaro seats are offered. These are trimmed in Alcantara and mounted 20mm lower than standard to offer a sportier driving position. From 2019, R.S Monitor Expert will also be available for the infotainment system. This will allow drivers to film their track driving and overlay telemetry data to help shave seconds off their lap times. Using iOS and Android smartphones, the footage can also be shared on social media.
Renault Megane R.S.
R.S. stands for Renaultsport, the French company's performance arm, which has created some of the best hot hatchbacks of recent times. Now, with an all-new Renault Clio R.S. on the horizon, the bigger Renault Megane R.S. has arrived. The Megane R.S. is a direct rival for the Volkswagen Golf GTI, Honda Civic Type R, SEAT Leon Cupra and Hyundai I30 N.
Pricing and on-sale date
The Renault Megane R.S. is on sale now, priced from £27,495 for the Sport, or £28,995 for the Cup chassis pack. The Trophy version went on sale on 17 December 2018, costing from £31,810 with a manual or £33,510 with a dual-clutch automatic gearbox. First customer deliveries are expected in February 2019.
Renault Megane R.S. design and features
Parked next to any other model in the Megane range, the new R.S. catches the eye with its special 18-inch wheels in gunmetal grey, a colour also found on its aggressive front bumper. This incorporates a honeycomb front grille and "F1-style blade" and matches a rear bumper with a functional aerodynamic diffuser that surrounds the car's centre-mounted exhaust. The look is completed by a colour-matched rear spoiler.
A sporting identity is emphasised inside by chromed R.S. door sills and a roof lining and dark carbon upholstery that are unique to this model. The steering wheel is finished in tactile soft Nappa leather and the gear gaiter matches on manual cars. Standard equipment befits the car's range-topping status, with dual-zone climate control, cruise control and rear parking sensors, as well as a seven-inch infotainment system that includes European mapping.
You can upgrade the latter to Renault's 8.7-inch portrait-mounted screen, while a BOSE sound system, opening sunroof and Alcantara suede upholstery are optional – as are blind-spot monitoring, adaptive cruise control and autonomous emergency braking.
However, it's the standard package of Renault Sport features that really sets the R.S. aside from other models in the range. It starts with an 'R.S. Vision' LED lighting system, which integrates side, fog, cornering and high-beam lights into a single 'chequered-flag' style enclosure. A 17% range increase is claimed compared to the lights of the previous Megane R.S.
R.S. Monitor presents information on acceleration, steering angle, braking, speed and lap times, gathered from around 40 sensors around the car. It was also seen on the previous Megane R.S, but is now claimed to be more user-friendly and has been expanded with a new 'expert' feature that allows drivers to film driving sessions on their smartphone, with telemetry data overlaid. You can even upload these videos and data to the Renault Sport website, to share with other R.S. drivers.
One feature the R.S. has in common with other models in the range is 'multi sense', which offers multiple driving modes. The R.S. extends its scope to control engine and accelerator response, steering assistance and even the ambient lighting, each of which are made progressively more sporty through comfort, normal, sport and race modes, the latter two of which add a synthesised engine soundtrack.
Race mode disables the ESP system, and allows the 4Control four-wheel-steering system – more on which below – greater influence on the car's handling. A customizable 'perso' mode is also at hand, enabling any combination of personal preferences to be stored; the R.S. Drive button can call up Sport and Race modes with a single short or long press respectively.
Engine and technology
As with previous Renaultsport models, the latest Megane has the mechanical bite to match the bark of its aggressively styled exterior and its 276bhp 1.8-litre turbocharged petrol engine means it shouldn't be found wanting for performance. Claimed to be the most powerful engine of its size on sale in the UK, it uses low-friction internal coatings that are more usually the preserve of motorsport and supercars.
Motorsport has also inspired the car's suspension geometry, which incorporates 'PerfoHub' features that help to keep the steering and propulsion forces separate to optimise steering feel and accuracy. Turn-in is also sharpened by four-wheel steering; Renault says the Megane R.S. is the first hot hatchback with this feature. The system, named 4Control, steers all four wheels in the same direction at over 37mph – or over 62mph in 'race' mode – to increase stability when cornering. Slow down and the front and rear wheels steer in opposing directions, helping the car turn more directly in sharp corners. Easier parking in tight spaces comes as a fringe benefit.
Renault also claims improvements to agility and ride quality, thanks to shock absorbers with built-in hydraulic bump-stops. These cushion the blow when the car reaches the limit of its suspension travel – after a sharp road undulation, for example.
The Megane R.S. can be chosen with a 'Sport' chassis that that combines sharp reflexes with everyday comfort, or a more uncompromising 'Cup' setup with stiffer suspension and a Torsen limited-slip differential that's specially tuned to optimise traction at higher cornering speeds. Uprated brakes from Italian specialist Brembo are optional; they're claimed to reduce overall vehicle weight while increasing stopping power and driver confidence.
A six-speed manual gearbox is standard and the new Megane R.S. is the first to offer a dual-clutch automatic option. The latter is claimed to have been tuned to suit the car's power characteristics, and offers a choice of Comfort, Normal and more responsive Sport modes, as well as a sharp-shifting Race mode that focuses on immediacy over smoothness. Launch control is also offered in Sport and Race modes, and it can change down through multiple gears if the left-hand paddle is held down.
2020 Renault Megane facelift: prices, specs and release date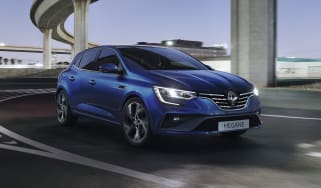 2020 Renault Megane facelift: prices, specs and release date
Updated Peugeot 5008 starts at £29,585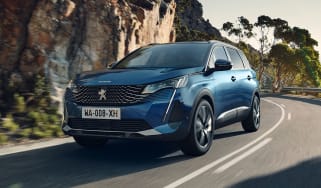 Updated Peugeot 5008 starts at £29,585
Cupra Formentor SUV review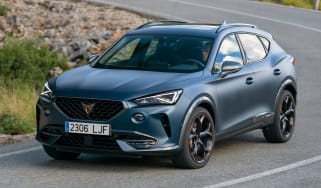 Cupra Formentor SUV review
2020 Volkswagen ID.3 hatchback: base model starts at under £30k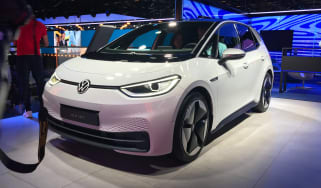 2020 Volkswagen ID.3 hatchback: base model starts at under £30k