New MINI SUV expected in 2021
An electrified small MINI SUV is set to rival Nissan Juke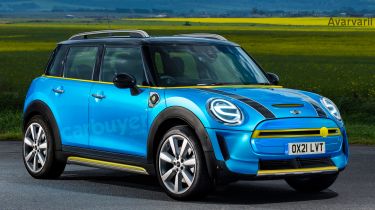 MINI is expected to launch an SUV model to sit beneath the MINI Countryman. It could be in showrooms by 2021, competing with models including the Volkswagen T-Cross and SEAT Arona.
Previewed in our exclusive images, MINI's small SUV could use a new generation of chassis featuring electric motors and battery packs. MINI has already ruled out the possibility of an SUV bigger than the Countryman.
At the Los Angeles Motor Show, BMW board member Peter Schwarzenbauer told us: "That [a large SUV] would not fit with MINI's DNA - we would not make a seven-seater or something like that. I think a Countryman is the maximum size and the right thing for MINI, but I wouldn't see it getting any bigger."
In contrast, when asked if MINI might consider a smaller SUV than the Countryman, Schwarzenbauer told us: "That would be an interesting option, especially when you look around. There are few car types in the world right now that fit into every market. A small urban SUV is definitely a segment that is extremely interesting, but so far we haven't made any decision on its direction."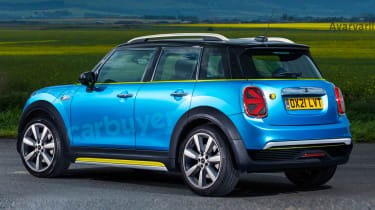 MINI is already thought to be working on the next-generation platform that would form the basis of a future range of MINIs, including a small SUV. MINI currently uses two platforms, one of which underpins the MINI Hatchback and Convertible, with a second for the Clubman and Countryman, the latter of which is available with plug-in hybrid technology.
When the all-electric MINI arrives in 2019, it will be based on a modified version of the MINI Hatchback platform, but the next-generation version will be designed around electrified powertrains from the outset. BMW sales and marketing boss Ian Robertson has even hinted that MINI could eventually have an all-electric model lineup, and the new platform will be key to its future.
While MINI has confirmed it won't build a bigger model than the Countryman SUV, it has also told us there won't be a smaller car than the current three-door hatchback - ruling out a production version of the 2011 MINI Rocketman concept - because the business case didn't stack up.
The new platform is also expected to be used across brands to share costs, so could find its way into a new generation of front-wheel drive BMW 1 Series, 2 Series and X1 models, and potentially a new BMW i3 EV.