New Lexus LC F spotted testing under light disguise
Go-faster Lexus LC F to challenge Porsche 911 Carrera GTS and forthcoming BMW M8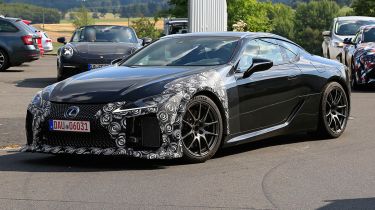 This is the forthcoming Lexus LC F, a high-performance version of the current Lexus LC coupe. Seen here testing in Germany along with its Toyota Supra cousin, the car's light disguise does little to hide the changes to its bodywork.
At the front, the Lexus LC F test car has large cutouts either side of the grille; these are likely to be better finished for production and appear to be for cooling purposes, with an oil cooler clearly visible in our shots. Wider front wheelarches mean a wider front track is likely, helping improve cornering performance and stability. A more aggressive front splitter also features, while it's unlikely that the car's wheels are production-ready.
Carbuyer's best looking cars on the market right now
The most obvious change at the rear of the car is the new diffuser and bumper arrangement, along with a primitive version of Lexus' trademark stacked exhaust pipes that feature on all of its performance F models. A carbon-fibre roof can also be seen in our rear-end image.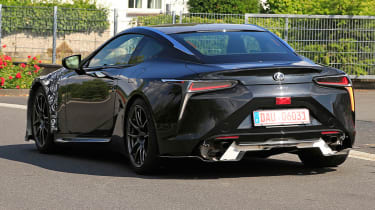 Carbuyer has expected the LC range to be bolstered with a performance version for some time. The Lexus LC F coupe is set to offer an alternative to models like the forthcoming BMW M8 or even faster versions of the Porsche 911.
A source at Lexus has previously suggested to Carbuyer that the Lexus LC F could feature a new 4.0-litre twin-turbo V8 engine producing around 600bhp. This contradicts suggestions of a modified version of the non-turbo V8 currently found in the LC500.
The new model's appearance comes ahead of the potential addition of a convertible LC model. Carbuyer understands that a convertible version of Lexus' flagship coupe has been given the go-ahead by bosses. A Lexus insider said earlier this year that the car is a "done deal" and is likely to be launched within the next 18 months to two years.
• Carbuyer's best hybrid & electric sports cars on sale now
Yoshihiro Sawa, president of Lexus International, acknowledged the need for the premium brand to offer a convertible to be taken seriously as a competitor to its German rivals. He told Carbuyer: "I hope that we will have a convertible in the near future. We know the luxury market requires a convertible.
"We are always studying the possibilities. And yes, technically it's possible."
In reference to the Lexus LC F, Yoshihiro Sawa said: "We are studying many possibilities and more power is another candidate. It's not decided yet but in my mind, a high-performance LC is a good opportunity."
Sawa is also focused on continuing the transformation of Lexus. He said: "The perception of Lexus is becoming better and better. We used to be the boring brand. But now it is changing, although we have to push continuously or it becomes boring again."
Engine management light: top 5 causes of amber engine warning light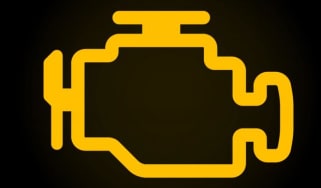 Engine management light: top 5 causes of amber engine warning light
Best new car deals 2022: this week's top car offers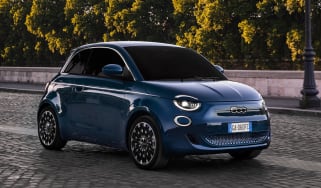 Best new car deals 2022: this week's top car offers
Top 10 cheapest electric cars 2022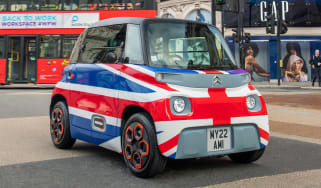 Top 10 cheapest electric cars 2022