All-new BMW 8 Series Coupe launched
Flagship BMW 8 Series Coupe is big on power and technology
This is the 2018 BMW 8 Series Coupe. It's the all-new flagship for the German brand, and is priced from £76,270 with order books open now.
After a rigorous testing regime that has put the new BMW 8 Series through punishing conditions all over the world, the elegant coupe is about to appear in showrooms – marking the return of a nameplate absent for almost two decades. It also links the new model to the iconic BMW Z8 roadster of James Bond fame, as well as the cutting-edge BMW i8 hybrid sports car.
Best sports cars you can buy in 2018
While the previous 8 Series was a striking machine, with its pop-up headlamps and vast, angular shoulders, its descendant is far more in tune with the times, with an organic, flowing shape that trades aggression for elegance. It's far more advanced beneath the surface, too – BMW's xDrive four-wheel-drive system is standard, while lightweight materials and construction techniques are employed in the quest for agility and efficiency.
Initially, two models will be offered: a V8 petrol M850i xDrive and a six-cylinder diesel 840d xDrive, both in coupe form. A convertible version is expected to follow, as well as a four-door Gran Coupe variant and high-performance M8.
2018 BMW 8 Series design
The 8 Series replaces the BMW 6 Series Coupe and Convertible in the premium brand's line-up. It provides BMW with a single model that could rival cars as disparate as the Mercedes S-Class Coupe, Porsche 911, Lexus LC 500 and Aston Martin Vantage.
The 8 Series' design was previewed by the Concept 8 Series that was unveiled during Italy's Concorso d'Eleganza Villa d'Este in 2017. Changes have been made during the transition to production, though, with a more conventional front-end treatment as dictated by safety legislation. The end product strongly acknowledges other models in the BMW range, while having a more muscular persona than previously seen on a car with the badge.
The front three-quarter view is arguably the 8 Series' most conventional aspect – at a glance it could be mistaken for a BMW 4 Series Coupe. Look closer, though, and the new car's unique details rise to the surface, with twin bonnet bulges, hungry-looking chin intakes and a uniquely three-dimensional treatment for the trademark 'double kidney' grille. The eye is then drawn to the prominent air exit vent just aft of each front wheel, which extracts cooling air from the powerful engine and brakes. The vent's profile continues in a deeply scalloped contour that fades just ahead of the rear wheel.
The 8 Series' side view is quite unlike any BMW to come before it – there's more than a suggestion of Ford Mustang to its sinewy form. From this angle, you begin to see the broad blisters over the rear wheels, which blend into the bootlid surfacing and extend into a prominent duck-tail spoiler that overhangs narrow horizontal rear lights with LED detailing. But it's from the rear three quarters that the 8 Series looks its muscular best – the full breadth of its hips can be clearly seen and its gaping exhaust surrounds suggest a lot of power under the bonnet.
There's a lot of clever thinking in the looks of the 8 Series, with considerable care paid to airflow and streamlining. The area beneath the car is almost fully sealed, too, while "active air flap control" and "air curtains including air breathers" help to reduce aerodynamic drag.
New BMW 8 Series interior
Some recent BMW interiors have strayed from the brand's driver-focused past, but the 8 Series dashboard truly does wrap around the driving seat. Compared to the space-age BMW i8, the 8 Series' dashboard is far more conventional and businesslike, with a single 10.25-inch infotainment screen, rather than the dual-screen systems favoured by Range Rover and Audi's latest models.
The screen is part of BMW's Live Cockpit Professional system, which is claimed to combine "a new display and control concept and maximum connectivity into a superb all-round package". This includes a high-resolution 12.3-inch digital dashboard instrument cluster, which can be configured to show the driver's choice of information. A head-up display is standard, projecting driving information directly into your line of sight.
The driver and front-seat passenger are divided by a tall, wide centre console, which provides storage for oddments and drinks. There are two permanent cupholders and pockets on either door, which provide an overflow from the 420-litre boot. This can be expanded by dropping the individually folding rear seats, which are mounted low and feature integrated head restraints. Hands-free boot- opening is standard.
New BMW 8 Series features and technology
Live Cockpit Professional is an all-encompassing system that incorporates driving information and entertainment technology inside the BMW 8 Series. As well as the usual driving information, it offers 'adaptive' navigation and a hard-drive-based multimedia system with 20GB of storage, plus wi-fi, Bluetooth and USB connectivity.
The system works via BMW Connected – a cloud-based system that enables you to remain in contact with your car using a smartphone or other connected device – Google Home, Amazon's Alexa service and the Apple Watch are given as examples. The system also offers integration with Microsoft Office 365, which enables the car's infotainment to sync with its owner's e-mail and daily scheduler, with no need to use a smartphone while driving.
There's plenty of driving assistance technology, too, such as autonomous emergency braking, active cruise control and pedestrian/cyclist detection. An array of sensors surrounding the car provides the data needed for automated "corrective braking or steering inputs" and BMW claims that its Personal Co-Pilot system represents "the latest advances on the road to automated driving".
BMW 8 Series engines and chassis
BMW has yet to announce the full 8 Series engine line-up. However, the brand is known to have trademarked a long list of model numbers, including 825, 830, 835, 845, 850, 860 and M850. To start with, the choice is between an 840d diesel and M850i petrol. The former is a 3.0-litre, six-cylinder with twin turbochargers and develops a claimed 316bhp. CO2 emissions are given as 160g/km, with 46.3mpg possible.
Twin turbos are also a feature of the M850i, which produces 523bhp from its 4.4-litre V8 petrol engine – enough for a claimed 0-62mph time of 3.7 seconds. BMW also claims a 28.3mpg fuel consumption, and 223g/km CO2 emissions which, although hefty by the standards of a typical family hatchback, are impressive for such a big, high-performance car. Both model names are suffixed with 'xDrive', which indicates that BMW's sophisticated four-wheel-drive system is standard.
BMW M8
BMW bosses have also confirmed that a high-performance BMW M8 model will spring from the 8 Series platform, as the ultimate offering from BMW's M Division. The company says the M8 will feature "classical M features", including larger air intakes, more powerful brakes and four tailpipes. The engine is still under wraps, but it could use a 4.4-litre V8 engine, designed to give the M8 sufficient power to rival the Mercedes-AMG S63 Coupe.
Frank van Meel, BMW M Division's boss, said: "The future BMW M8 will build on the genes of the 8 Series and augment its DNA with added track ability and generous extra portions of dynamic sharpness, precision and agility. It all flows into a driving experience that bears the familiar BMW M hallmarks and satisfies our customers' most exacting requirements."
BMW M8 Gran Coupe Concept
BMW also showed off a striking M8 Gran Coupe Concept at the 2018 Geneva Motor Show, previewing how a four-door version of the 8 Series might look. The concept's M8 designation means it can also be considered an early taster of high-performance versions of the 8 Series and 8 Series Gran Coupe production cars.
The concept's extra pair of doors fit seamlessly into its rakish design. Its headlights, with a hexagonal take on BMW's signature 'four-eyed' look, are similar to those used on the M8 GTE race car, which made its debut at the Daytona 24-hour race in Florida on 27-28 January.
New BMW 8 Series price and release date
Built in the same plant in Dingolfing, Germany, as the BMW 7 Series, the new 8 Series can be ordered now. The 840d xDrive is priced from £76,270, while the range-topping M850i xDrive commands a £100,045 price tag.
Cupra Formentor SUV review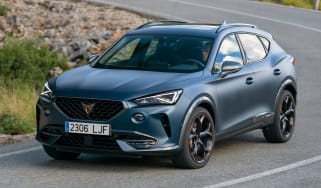 Cupra Formentor SUV review
2020 Volkswagen ID.3 hatchback: base model starts at under £30k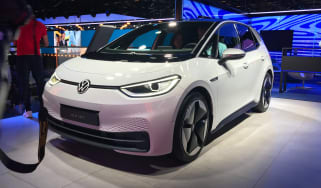 2020 Volkswagen ID.3 hatchback: base model starts at under £30k
Audi Q8 gains plug-in hybrid versions with 28-mile electric range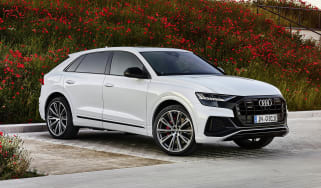 Audi Q8 gains plug-in hybrid versions with 28-mile electric range