Volkswagen Amarok Aventura special edition on sale now
Flagship VW Amarok Aventura features 255bhp V6 diesel engine and lavish equipment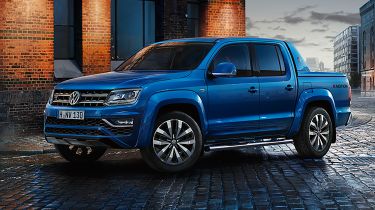 Volkswagen has launched the Amarok Aventura, a special edition of its pickup truck that becomes the flagship model in the Amarok range. The most luxurious and stylish version of the Amarok starts at £39,960 excluding VAT.
The Amarok Aventura special edition comes with a leather interior, 4MOTION four-wheel-drive, the range-topping 255bhp V6 engine and a raft of extra features and equipment
A pickup truck is an increasingly popular alternative to a conventional SUV, and the double-cab Amarok is one of many that can offer tax benefits to company car drivers. With its luxurious interior, the imposing Amarok Aventura gives would-be Volkswagen Touareg buyers another tempting alternative.
Performance is certainly an Aventura strong suit. Its 255bhp 3.0-litre V6 diesel engine has an overboost function that allows it to generate 268bhp in short bursts. Substantial pulling power from low revs, permanent 4MOTION four-wheel drive and an eight-speed automatic gearbox make it a good choice for those who frequently tow heavy loads.
Distinguished by 20-inch alloy wheels, a body-coloured 'sports bar' and chrome-plated side bars with LED spot lighting, the Amarok Aventura also has underbody cladding for protection when off-road, a load bay protector and power-folding mirrors. Inside, you'll find 'ErgoComfort' 14-way adjustable seats with soft Nappa leather upholstery and a heated leather steering wheel. The brand's 'Discover' infotainment system is standard, as are rain-sensing wipers and automatic headlights.
You can also add to the Aventura's specification. A black or silver roll-top load bay cover by Mountain can be added for £1387.50 (plus VAT), and Volkswagen's special Ravenna Blue or Indium Grey matt paint finishes are available at a reduced cost of £2,335 (plus VAT).
The special edition Amarok Aventura is available to order now through Volkswagen Commercial Vehicles Van Centres, and is priced at £39,960 (plus VAT).