Double-cab pickup tax benefits explained
For some motorists, a pickup can make a cost-effective alternative to an SUV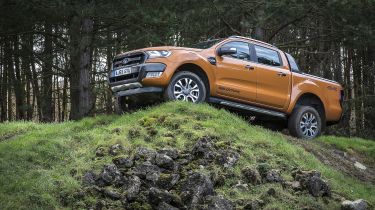 There's no doubt at all that pickups have moved on significantly in recent years. No longer solely the preserve of builders, tradesmen and farmers, a pickup now makes an interesting alternative to the SUV norm, and models like the Toyota HiLux and Ford Ranger are remarkably comfortable and well equipped.
Whether you're a private buyer looking for a fun second family car, or a business driver looking for a new set of wheels, a pickup has much to offer, but it's well worth considering the tax advantages that such vehicles bring to those in a position to make use of them. Depending on its specification, if your pickup is classed as a 'Light Commercial Vehicle' or LCV, it could have big implications for the amount of tax you pay.
Read on to find out if a pickup could make financial sense as your next car.
Pickups and 'Light Commercial Vehicles' (LCVs)
HMRC, the government body responsible for tax collection in the UK, defines a 'light commercial vehicle' or LCV as one that has a maximum cargo payload of 1,000kg or more. The vehicle's maker will publish payload information, and it's important that you look for the 'gross' payload, rather than the 'net' payload – the latter includes a 75kg allowance for the driver.
'Gross' payload is calculated by subtracting the vehicle's kerbweight (how much it weighs when unladen but ready for action) from its maximum loaded vehicle weight. You'll find that the majority of double-cab pickup trucks occupy the LCV category; at the time of writing, every version of the Ford Ranger double cab has a payload of over 1,000kg, with the range-topping four-wheel-drive 3.2-litre diesel just sneaking into the category by 7kg. You should find payload information in the sales brochure for any new pickup.
However, bear in mind that any removable hard-top load-bay cover added as an accessory will need to be deducted from the pickup's payload. So, a 75kg glazed hardtop will take the 3.2-litre Ford Ranger 4x4 double-cab's remaining payload down to 932kg, disqualifying it from LCV classification.
The rules are less complex for single-cab pickups, which are deemed not to offer the same non-business benefits as double-cab pickups. As such, they're automatically classified as LCVs, as are panel vans with three seats or fewer.
Company car tax benefit for pickup drivers
If you're a company-car driver, the most immediate benefit of choosing a pickup comes from its attractive rate of Benefit-in-Kind (BiK) tax. Unlike cars, where the exhaust CO2 emissions are the biggest factor in determining tax liability, qualifying LCVs attract a flat rate of BiK, currently set at £3,350. This means a 20% taxpayer will face a £634 annual bill, and a 40% taxpayer will pay £1,540.
That figure compares well against an SUV of comparable size. If we compare our example Ford Ranger 3.2-litre against the similarly priced Ford Edge Titanium with a 207bhp 2.0-litre diesel engine and manual gearbox, the latter's CO2 emissions place it in the 34% BiK bracket for 2018/2019.
With a P11D value of £34,940, that equates to a BiK liability of £11,879 for the Ford Edge, so a 20% taxpayer would pay £2,375 annually, and a 40% taxpayer would pay £4,750.
That means the SUV represents almost three times as much of a tax burden as the pickup.
| | | | | | | |
| --- | --- | --- | --- | --- | --- | --- |
| Vehicle make/model | P11D value | C02 rating | BIK % rate | BIK figure | Annual tax for 20% taxpayer | Annual tax for 40% taxpayer |
| Ford Ranger 3.2 4x4 double cab | £29,146 | 221 | Fixed rate | £3,350 | £670 | £1,340 |
| Audi A6 Avant 2.0 TDI Ultra SE | £35,135 | 118 | 28% | £9,837 | £1,967 | £3,934 |
| Land Rover Discovery Sport 2.0 TD4 SE | £44,515 | 177 | 37% | £16,470 | £3,294 | £6,588 |
| Ford Mondeo Estate 2.0 TDCi Titanium | £24,950 | 132 | 31% | £7,734 | £1,546 | £3,092 |
Benefits for VAT-registered owners
As the term Light Commercial Vehicle suggests, there are benefits where such a vehicle is bought primarily for business use. If a business is VAT-registered, it can claim a percentage of the LCV's purchase VAT back, depending on how much of its annual mileage can be categorised as business-related. If it's declared that 80% of a pickup's annual mileage will be business-related, for example, 80% of the VAT can be reclaimed.
Non LCV-drivers aren't eligible to claim a VAT refund unless it can be demonstrated that the vehicle is used strictly for business 100% of the time (although limited exceptions apply for vehicles bought for use as taxis, private-hire cars or driver tuition vehicles, for example).
Since business use excludes commuting to and from work, annual commuting mileage would be deducted from any possible VAT refund. However, a business that chose to claim a VAT refund on a non-LCV would be unable to do so if the vehicle spent any time at all in use for commuting.
An LCV owned by a VAT-registered business is also treated in the same manner as 'plant and machinery' when it comes to Capital Allowances. This means that the purchase price of a pickup can usually be written off against annual profit before the business's annual tax is calculated. In contrast, a non-LCV company car may have a capital allowance write-off rate as low as 8% per year.
Check with your accountant
With all aspects of taxation, there are many variables that can influence the liability of an individual or business, and it's always worth seeking the advice of a qualified accountant before making a purchase decision, particularly if you intend to pursue VAT reclamation or capital allowance tax refund.
While this feature aims to make it easier to understand the potential tax advantages of choosing a pickup, it should be regarded as a general overview only.
More on UK car tax...