New Porsche Cayenne E-Hybrid launched
Up to 88.3mpg claimed for plug-in Cayenne E-Hybrid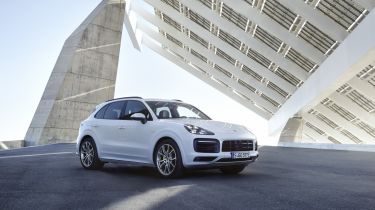 Porsche has launched the Cayenne E-Hybrid, a plug-in hybrid version of its biggest SUV. It starts at £67,128 and customer deliveries are set to begin later this month.
Premium, high-performance SUVs are big business, and with consumers increasingly embracing the advantages of reduced-emissions motoring, it makes a lot of sense to combine the two. Buyers can already choose the Volvo S80 T8 Twin Engine, BMW X5 Xdrive40e and Mercedes GLE 500e plug-in hybrids, and now Porsche has entered its latest Cayenne into the electrified fray, alongside the established Panamera E-Hybrid luxury hatchback.
Porsche claims CO2 emissions of between 72 and 78g/km depending on what size wheels and tyres are fitted, and those figures will be welcomed by those who pay Benefit-in-Kind (BiK) tax. They mean a company-car tax liability of 16 or 19%, compared to the 37% rating of any other Cayenne. A claimed range of 27 miles when running in zero-emissions EV mode means many commuters will be able to make their daily round-trip without the petrol engine firing up at all.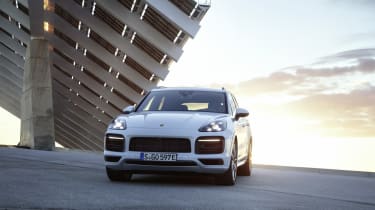 If the E-Hybrid's 336bhp 3.0-litre petrol engine is only occasionally called upon in daily use, Porsche's claim of up to 88.3mpg economy might hold water. However, the company – still famed for iconic sports cars like the Porsche 911, 718 Boxster and 718 Cayman – makes no bones about driving pleasure being a big part of what the E-Hybrid has to offer.
Porsche Cayenne E-Hybrid engine and performance
When the 132bhp electric motor joins in, the Cayenne E-Hybrid has a total of 456bhp to call upon – enough to bring the big SUV's 0-62mph time down to five seconds, with a 157mph top speed possible. At this point, fuel economy and low emissions may be the last thing on your mind – Porsche acknowledges this by explaining that "the boost strategy matches that of the 918 Spyder super sports car".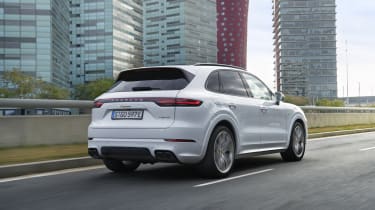 Porsche says that the extra power of the electric motor can be harnessed in every mode of the standard user-configurable Sport Chrono Package, to boost performance on demand. As electric motors are able to generate full pulling power as soon as they're activated, this is claimed to make a profound difference to how the Cayenne feels when full acceleration is called for, leading to a "more agile and responsive driving experience".
Porsche Active Suspension Management (PASM) is standard and you can get the Porsche Dynamic Chassis Control (PDCC) roll-stabilisation system at extra cost. Meanwhile, Sport and Sport Plus driving modes dedicate the E-Hybrid's battery almost entirely to boosting performance. Sport mode recharges the battery only as much as is necessary for a new boost, while Sport Plus mode sees the battery recharging as quickly as possible. Fuel efficiency and maximised range in EV configuration is prioritised in the other driving modes.
Porsche also boasts of increased battery capacity for the latest E-Hybrid compared to its predecessor – 14.1 compared to 10.8kWh, or a 30% gain. A 230-volt, 10A household charging lead is said to fully charge the battery in just under eight hours, while an optional 37.2kW, 32A on-board charger reduces this to just 2.3 hours. The Porsche Connect app can monitor charging remotely, as well as helping to locate charging stations and set them as navigation destinations. It can also remotely set the car's climate-control system to prepare ahead of a journey.
Porsche plans to roll out a Porsche Charging Service in the UK, although a date for this has yet to be confirmed. This will give E-Hybrid drivers access to a network of public charging stations irrespective of their provider. Charging will be billed directly to the user's Porsche ID account.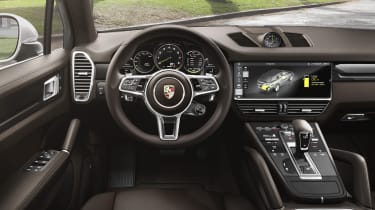 Features and options
Alongside the launch of the Cayenne E-Hybrid, Porsche has introduced upgrades across the Cayenne range. There's an 'expanded' range of comfort and assistance systems, which include massage seats and the first head-up display system ever to appear in a Porsche.
A heated windscreen and a remote-control interior heating system join the options list, along with 22-inch alloy wheels – although Porsche has yet to confirm exactly which of these will be offered in the UK.
Porsche Cayenne E-Hybrid price and release date
The Cayenne E-Hybrid is available to order now. Prices start at £67,128 and the first customer deliveries are expected towards the end of May.