Toyota scrappage scheme extended: £2,000 off Toyota Aygo
Toyota has extended its scrappage car deal until June 2018, with £2,000 off the Toyota Aygo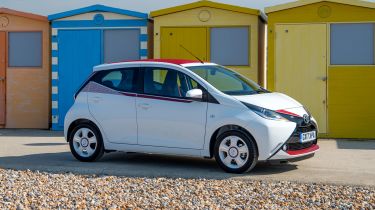 Toyota scrappage car customers can now benefit from an increased £2,000 discount on the Toyota Aygo city car, while the fuel-efficient Toyota Yaris Hybrid supermini has also been added to Toyota's scrappage scheme.
Scrappage is designed to encourage drivers of older, more polluting models to trade them in for new, cleaner cars by offering them a chunky discount to sweeten the deal. The scrappage discount on the Toyota Aygo has been increased from £1,500 to £2,000 throughout June 2018.
Carbuyer's best small hybrid cars
The Toyota Yaris Hybrid is one of the brand's cleanest cars and has been reintroduced on to the scheme with a £1,500 discount when ordered between 1 and 30 June and registered for the road by 10 September at the latest. We've listed all of Toyota's scrappage cars and discounts in the table below, but highlights include £2,000 off a Toyota Prius hybrid or a £3,000 reduction if you pick up a Toyota Auris or Auris Hybrid.
At the opposite end of the spectrum, fans of the Toyota GT 86 sports coupe can enjoy a £2,000 discount if they trade in their old car, while the Toyota Land Cruiser gets the biggest reduction of £4,000.
To qualify for the scrappage deal, customers need to sign over a petrol or diesel car or commercial vehicle first registered on or before 30 June 2010 that has been in their ownership for at least six months. These will be taken off the road and stripped of pollutants, with at least 95% of the vehicle (by weight) recycled.
Since the launch of Toyota's scrappage deal last September, 7,000 customers have traded in their older models, with the Toyota Aygo accounting for 40% of new replacements. Toyota boss Mark Roden said: "The response to our scrappage initiative has been excellent, with many customers taking the opportunity to move into cleaner and more efficient Toyota hybrid electric models in place of their old petrol and diesel cars."
"With the extra incentives we have added for the coming month, we're expecting this positive momentum to continue, introducing more people to the Toyota brand and the quality of our extensive product line-up."
What does it mean for car buyers?
Unlike the first scrappage scheme, introduced by the UK Government in 2009 and offering a £2,000 incentive for scrapping your pre-1999 car, the schemes that popped up during 2017 were manufacturer led.
They were a response to negative media around exhaust emissions and aimed to promote the cleaner engines of new petrol, diesel, hybrid and electric models, by incentivising motorists to make the switch. Participating manufacturers included Audi, Dacia, Ford, Hyundai, Kia, Mazda, Mitsubishi, Nissan, Peugeot, Renault, SEAT, Skoda and Volkswagen.
The majority of manufacturer scrappage schemes were due to expire at the end of March 2018, but Toyota's environmentally-friendly image and success with scrappage means it's little surprise to see its programme been extended through June. If you have an old car to trade in, the discount could mean the difference between affording a nearly-new or new replacement car, or help cover the cost of upgrading to a hybrid model, a larger car or a higher trim level.
Available Toyota scrappage savings in June:
| | |
| --- | --- |
| MODEL | SCRAPPAGE SAVING |
| Aygo | £2,000 |
| Yaris (petrol) | £2,500 |
| Yaris Hybrid | £1,500 |
| Auris and Auris Hybrid | £3,000 |
| Verso | £3,500 |
| RAV4 and RAV4 Hybrid | £2,500 |
| C-HR | £1,000 |
| Avensis | £3,500 |
| Prius family | £2,000 |
| GT86 | £2,000 |
| Land Cruiser | £4,000 |
| Hilux | £2,000 |
| Proace | £2,000 |