New Jeep Grand Wagoneer: prices, specs and release date
Flagship Jeep Grand Wagoneer SUV could cost around £100,000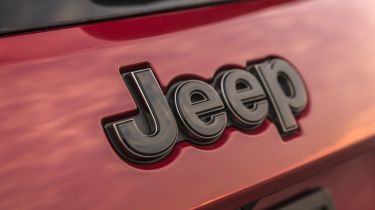 Jeep has confirmed plans to compete with high-end SUVs such as the Range Rover, Mercedes GLS and Audi Q8 by launching a new model with a price tag of around £100,000.
The move comes as part of Jeep's plan to release nine new or heavily updated models globally before 2022, which includes the Jeep Wrangler that went on sale in the UK earlier in 2018. The Wagoneer badge, which has been absent from the Jeep range since the early 1990s, is set to re-appear on an all-new flagship model.
With SUV sales continuing to soar, it comes as no surprise that Jeep wants to conquer a premium SUV market dominated by the Audi Q7, BMW X5 and Porsche Cayenne. Currently, the Jeep Grand Cherokee heads the Jeep line-up, offering a Volvo XC90-size car with a price tag closer to the Volvo XC60. However, while value for money has always been a Jeep strong point, the brand will need to deliver on quality in order to persuade buyers away from premium European rivals.
New Jeep SUV models for Europe
Mike Manley, CEO of Jeep's parent company Fiat Chrysler Automobiles (FCA), is confident in the brand's future outside Europe, although the growing market for luxury SUVs in Asia is perhaps more of a target than the UK. That said, future models are being developed with European tastes in mind, as evidenced by a switch to emissions-reducing electrified petrol engines in place of traditional diesel power. Manley has confirmed that diesel will disappear from European Jeep price lists, with petrol, mild-hybrid, plug-in hybrid and pure electric models taking over.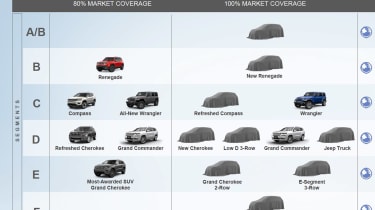 Speaking at the 2016 Paris Motor Show, when he was still solely in charge of Jeep, Manley told Carbuyer: "the Grand Wagoneer concept is moving forward. It's an exciting nameplate to bring back, I think." Later, speaking at the Detroit Motor Show, he explained that progress had been made, with Jeep's Truck Assembly Plant in Warren, Michigan, revamped to support Wagoneer production.
When asked whether Jeep could realistically offer a rival to such prestigious SUVs as the Range Rover and Porsche Cayenne, Manley was steadfast. He said: "I don't think there's a maximum price ceiling per se for Jeep. If you look at the upper end of the segment in the US, for me, the Grand Wagoneer done well can compete all the way through this segment.
"I'll use US dollars, but pushing the car up to $130,000 to $140,000 [more than £100,000] may be possible, but we need to establish Grand Wagoneer in its own right first. That's why I wouldn't say there's price ceiling." Up to now, the $85,000 Grand Cherokee Trackhawk is the most expensive model Jeep has yet fielded in the US market; it isn't officially sold in the UK right now.
There's little doubt that Jeep's parent company has the ability to build a premium SUV, though – the Maserati Levante was launched as the first SUV from the celebrated Italian sports-car maker, and could lend its mechanical makeup to a flagship Jeep. This could even see the Maserati's 3.0-litre twin-turbocharged V6 engine finding a home under the Grand Wagoneer's bonnet.