Ford Ranger Wildtrak review
The Ford Ranger Wildtrak certainly stands out from a crowd, but is it worth £34,000?
Once the preserve of workmen and farmers, pickups like the Ford Ranger, Mitsubishi L200, Isuzu D-Max and Nissan Navara now make increasingly popular alternatives to SUVs. There are even premium models like the Mercedes X-Class, which really do put luxury first.
With the Ranger, you can choose a wide variety of models from the utilitarian, work-focused, entry-level XL, the more comfortable XLT and Limited or the range-topping Wildtrak. The XL has a two-seat single cab, the XLT and Limited can have a 'SuperCab' with two rear jump seats and slim rearwards-opening doors, or the same five-seat double cab that's standard with the Wildtrak.
Carbuyer's top 3 used pickups for £9,000
This flagship model makes up a big proportion of Ford Ranger sales and we'll wager that the Wildtrak's looks are why. With its unmistakable 18-inch machined-surface alloy wheels, titanium-effect grille and exterior trim and matching side steps. the Wildtrack certainly stands out from a crowd, with at least as much road presence as the Mitsubishi L200 Barbarian, especially in with eye-searing Pride Orange metallic paint.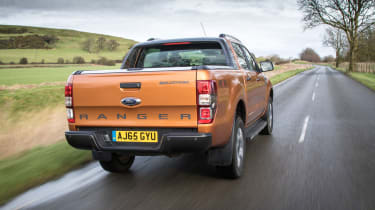 There's a price for all this attention-grabbing style: over £34,000. This substantial figure does net you a long list of standard equipment, though, including Ford's eight-inch SYNC3 touchscreen infotainment system with sat nav, voice control, Apple CarPlay and Android Auto compatibility, as well as a reversing camera. You also get multi-colour ambient lighting, special colour-co-ordinated Wildtrak upholstery and floor mats and a matching stitched leather steering wheel.
The Wildtrak also brings a boost in performance for your extra outlay – the only engine available is a 3.2-litre diesel, a big five-cylinder engine with 197bhp and lots of pulling power. Four-wheel drive is standard, too, providing loads of traction to help on rough or slippery roads, while a 3,500kg maximum braked trailer towing weight should make light work of hauling a speedboat up a greasy slipway.
The downside to all this power is fuel consumption that struggles to better 33mpg, and that'll barely reach 32mpg if you opt for the six-speed automatic gearbox. Those bigger wheels also take their toll on the Ranger's ride quality – its relatively basic suspension design is intended more for load-lugging than cruising comfort, and the Wildtrak's low-profile tyres struggle to dissipate pothole shocks as well as the smaller wheels elsewhere in the range.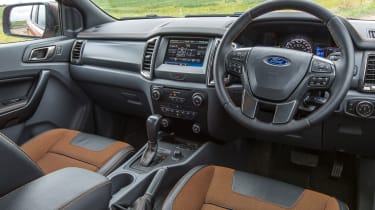 The Ranger's ride isn't quite as punishing as that of some pickup rivals, though, and it's one of the more enjoyable to drive, too, with a more precise feel through the steering than you'll experience in a Nissan Navara. It's no sports car in bends, though, and rapid cornering is likely to elicit complaints from passengers. It's better for all on board if the driver takes a more relaxing approach, using that big engine to effortlessly reel in the miles.
Verdict: 3/5
The majority of buyers will have made their minds up on the Wildcat long before reaching the showroom. The big, showy pickup is pricey compared to other models in the range, but still looks temptingly affordable next to a similarly sized SUV like the Range Rover Sport or Mercedes GLE. There's no shortage of standard equipment, either. However, if you choose the less dramatically styled Limited it unlocks the smaller, more economical 2.2-litre engine and a smoother ride, while saving you almost £4,000.