Range Rover Sport SVR review
Supercar performance meets SUV style and off-road ability
The Range Rover Sport SVR feels like a swansong model that's soon to be extinct – a rampant SUV with more power than a sports car, giving it performance completely at odds with its size, as well as astronomical running costs. It's Britain's riposte to models like the Porsche Cayenne Turbo, Mercedes-AMG GLE 63 and Audi SQ7; all likely to be usurped by electric or plug-in hybrid models during the next decade.
Designed and built by the manufacturer's Special Vehicle Operations (SVO) division, it's the fastest Range Rover of all time thanks to its 5.0-litre supercharged V8 petrol engine, with 567bhp. This vast motor dominates the driving experience, pressing the Sport SVR's rear tyres into the tarmac as you accelerate off the line, hurtling it from 0-60mph in a scarcely believable 4.3 seconds. Find a runway long enough and it'll carry on gathering pace until 176mph flashes up on the speedometer.
Carbuyer's best 4x4s and SUVs on sale now
Fun isn't strictly restricted to straight lines, either, because upgrades to the chassis make the SVR even more unflappable than the standard Range Rover Sport. There's less dive under braking and body lean in corners, and the permanent four-wheel-drive system can redirect power in all four directions to improve agility and traction. It's an uncanny feeling as the big, high-riding SVR pivots through the middle of a corner and powers out like a hot hatch.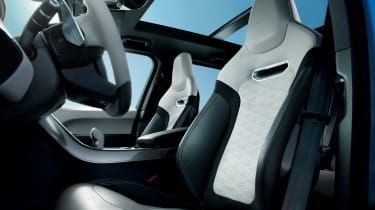 While most SUVs are designed to emit little more than a quiet hum, the SVR has quad tailpipes and an active exhaust that can change its volume, switching between refinement and rortiness. There's a thorough makeover, too, starting with 22-inch alloy wheels. Impressively, these can even be fitted with mud-and-snow tyres, keeping the SVR's ability to head off-road. Its body kit includes functional air vents to maximise cooling airflow and the grille has a unique mesh pattern. A carbon-fibre bonnet reduces weight over the front wheels, and an optional Carbon Fibre Pack swaps pieces of exterior trim.
Inside, SVR sports seats are trimmed in Windsor leather and heated, with cooling and a diamond pattern as options. The steering wheel is switched and there's more carbon fibre inside, too.
Verdict: 4/5
Costing close to six figures and returning 22mpg, the Range Rover Sport SVR will appeal to a very specific customer, yet it isn't short of rivals. The Porsche Cayenne Turbo is arguably more engaging on tarmac, but lacks the Sport SVR's uncanny off-road ability. The Mercedes-AMG GLE 63 also has a brawny V8, but many will find the SVR more characterful. Whichever you choose, make sure you sign on the dotted line before V8 SUVs with supercar-baiting performance and a thunderous soundtrack are a distant memory.