Fiat Panda receives zero-star Euro NCAP safety rating
Fiat Panda joins Fiat Punto in being awarded no stars at all from Euro NCAP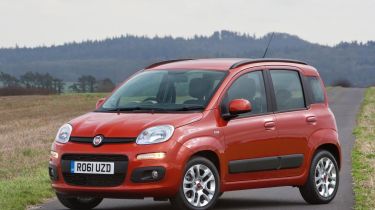 The Fiat Panda has received a zero-star crash safety rating from Euro NCAP, making it one of just two cars ever to receive the body's lowest possible score. The latest round of tests from Europe's independent crash safety specialist also gave the new Jeep Wrangler SUV a low one-star rating.
The Panda had previously scored a four-star rating but under the latest, more stringent tests brought in to reflect improved car construction techniques and crash avoidance technology, it fell significantly short of four-star standard today.
A car's overall star rating is drawn from scores across four main categories comprising adult occupant protection, child occupant protection, vulnerable road user protection and safety assist technology. The Panda scored less than 50% in all four categories, and in news that will alarm owners with families, the car received just 16% for child occupant protection - the lowest ever score in this category.
Matthew Avery, director of research at Thatcham Research, the UK's only Euro NCAP accredited testing centre said: "Most troubling is that the Fiat Panda is seen as a good choice for young drivers and fledgling families. But the only safety technology fitted were seatbelt reminders and the rear system failed to meet requirements, so wasn't even rated."
At 45%, the Panda's adult occupant protection score wasn't vastly better than its child protection result, while the lack of a standard Autonomous Emergency Braking (AEB) system combined with an inadequate rear seatbelt reminder made for a safety assist category score of just 7%.
"As the bare minimum, a standard-fit automatic emergency braking (AEB) system should be available with the Fiat Panda. This is especially important since the car offers so little protection in the event of a collision," added Avery.
The Panda's zero-star rating marks the second time that Fiat has had a drastically bad safety score given to one of its models, with the ageing Fiat Punto also receiving zero stars in 2017 before it was withdrawn from sale earlier this year.
In a statement, Fiat responded to the Panda's disappointing Euro NCAP safety score by saying: "We take the safety of our customers and other road users extremely seriously. The Fiat Panda complies with all safety legislation in every country in which it is sold".
Other safety ratings issued in the latest round of tests include a one-star rating for the newly-launched Jeep Wrangler SUV which, like the Panda, is a product of Fiat Chrysler Automobiles (FCA). Meanwhile, five-star ratings were awarded to the Audi Q3, BMW X5, Hyundai Santa Fe, electric Jaguar I-PACE, Peugeot 508, Volvo V60 estate and its saloon partner, the Volvo S60 saloon.
What does it mean for car buyers?
The fact that the Fiat Panda scored a four-star NCAP rating when originally tested in 2011 and a zero-star rating in 2018 underlines both the continuing pace of new car safety development and the way the Euro NCAP tests have evolved to keep pace.
After seven years on sale, the Panda is nearing the end of its life-cycle anyway and Euro NCAP's damning verdict may well hasten its demise. As a general rule, because of this ongoing process of technological and design improvements, newer cars are safer than older ones. The Panda does not compare well to today's new city car alternatives for the reasons Euro NCAP has identified but the difference will be less pronounced in comparison to car designs of a similar age.
Of course, none of this should make any difference to car buyers. Our advice would always be to pay attention to the Euro NCAP results and go for the safest car you can afford. Remember that Euro NCAP results from different years are not comparable because of the way that the tests have been made more stringent over time, so a car with a four-star rating from 2018 is significantly safer than a car tested in 2011 with the same number of stars - as the unfortunate Panda has proved.