Smaller entry-level Jeep SUV to arrive in 2022
A baby Jeep model will be the firm's smallest SUV yet and could feature petrol, diesel and electric powertrains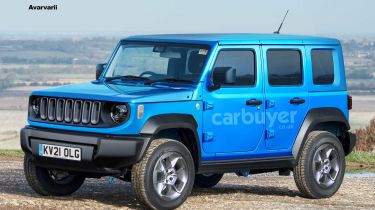 New model will be the smallest Jeep you can buy
Likely to be underpinned by the CMP platform used by the Peugeot 2008
Petrol, diesel and electric powertrains all expected to feature
Jeep is developing a new small SUV model that's slated for arrival in showrooms by 2022. The new car is the first to be developed under the new partnership between Jeep's parent company, FCA, and French car manufacturer PSA, whose brands include Vauxhall and Peugeot.
Senior officials at Jeep have confirmed that the new car will be aimed at the European market, where the sale of small SUVs and crossovers has seen significant growth in the last few years.
When the as-yet-unnamed model arrives, it will be a tough-looking small SUV that is likely to borrow styling cues from the larger Wrangler, with angular, utilitarian styling. Our images preview how the new model might look.
Jeep is prioritising practicality with this new entry-level model while ensuring it retains the formidable off-road capability for which the Jeep name is known. This is according to Marco Pigozzi, the firm's head of European brand marketing, who confirmed the plans to Carbuyer's sister site, Auto Express, saying: "The car will be able to be used as a bad-ass Jeep, but it has also been designed to be used every day."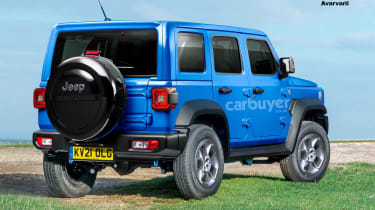 Jeep has started to electrify its model range with the launch of the forthcoming plug-in hybrid versions of the Renegade and Compass SUVs. Both cars feature a 1.3-litre petrol engine, electric motor and battery pack that offers up to 31 miles of pure-electric range. It's expected that the smaller SUV would follow suit with both petrol-electric hybrid and fully electric powertrains, with Pigozzi stating: "We have the capability to deliver the electrification we need."
This hints that the car could use the Common Modular Platform (CMP) architecture that underpins the Peugeot 2008 and DS 3 Crossback. This platform can accommodate a full EV powertrain with an electric motor and battery pack, as well as conventional petrol and diesel engines. Using this platform, the new small Jeep SUV would be around four metres long and sit between the Suzuki Jimny and Nissan Juke in terms of overall length.
As the firm scrambles to electrify its model range ahead of the EU CO2 emissions target for cars of 95g/km, which comes into force in 2021, Pigozzi outlined that electrification is not only beneficial to meeting this target, but will also make Jeep models more capable off-road. "The move from mechanical to 'e' all-wheel-drive is a massive improvement – it's more capable than a conventionally powered Jeep," he said. "The enormous torque on offer from the electric motor allows [the car] to easily crawl over rocks and obstacles. And the fact that it's mounted on the rear axle means [the car] is pushed up hills rather than pulled."
To learn more about the Jeep model range, why not read our reviews of the Jeep Compass and Jeep Renegade.