Nissan Leaf named Britain's best-known electric car
Tesla seen as the most innovative electric car company by DrivingElectric readers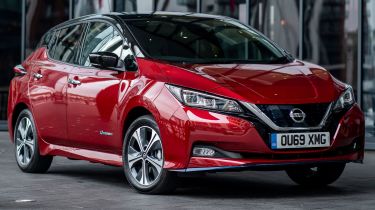 The Nissan Leaf is the UK's most well-known electric car, according to a survey by our sister site DrivingElectric. Over 94% of respondents in the survey said they were aware of the Leaf, while models from Tesla and Jaguar also scored highly.
In the survey of more than 700 people, the Nissan Leaf finished just ahead of the Tesla Model S and Jaguar I-Pace; 93% and 89% of the people questioned had heard of the Model S and I-Pace respectively. The Tesla Model X and BMW i3 rounded out the top five, while the Mercedes EQC (55%) and Smart EQ ForTwo (45%) were the electric cars of which respondents were least aware.
The survey also asked readers about the most innovative electric cars and the most visually appealing, as well as asking which brands were the most responsible for increasing the adoption of electric cars. Tesla scored highly in all these aspects, with respondents ranking the American tech company top for innovation and helping to increase EV sales.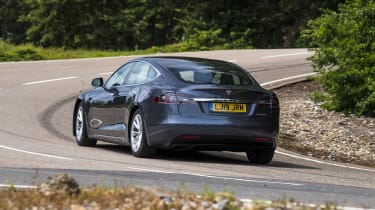 Jaguar's first electric car, the I-Pace SUV, must be wowing buyers; Jaguar was said to be the brand producing the 'most visually appealing electric cars'. Tesla came second in this category, followed by BMW. Jaguar is also claimed to have the second-most innovative EVs, and it claimed third-place in the list of brands leading the adoption of electric cars.
The Nissan Leaf was one of the first mainstream electric cars sold in the UK, having hit our shores in 2010. Now in its second generation, the Leaf has a much less radical design but a considerably higher range. The e+ model can manage up to 239 miles, which represents a big improvement over the old car's maximum of 155 miles.
Richard Ingram, DrivingElectric editor, commented: "The survey shows that brands that have been selling electric cars for the longest are the ones that buyers are most aware of.
"But with the market now offering such a great array of fantastic plug-in models, it's more important than ever that consumers do their research on DrivingElectric.com – and consider those models that might not be household names."
The choice of electric cars available is growing all the time, and over the next couple of years we'll see plenty more new EVs - just look at some of the cars coming in 2020 and 2021.
Read reviews and news about every plug-in car on sale now at DrivingElectric.com