Jaguar Land Rover online sales system now available to all
JLR's online sales platform fully operational for UK buyers wanting to buy a new car remotely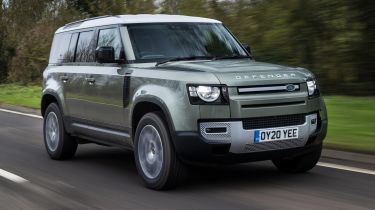 Entire Land Rover and Jaguar ranges now available to buy online
Platform covers the complete buying process, including payment and financing
Virtual showroom allows buyers to talk to sales staff online
The online Jaguar Land Rover (JLR) sales platform, which allows customers to configure and purchase new cars from the brand without visiting a showroom, is now available to UK customers.
The online sales system, which was first introduced in May 2019 as a trial, was originally limited to a certain number of buyers. The limit has now been removed so that it's open to all UK buyers, with JLR joining brands such as Ford, Dacia and Peugeot in offering a full online sales process.
With car showrooms still closed due to the coronavirus lockdown, JLR's digital sales platform allows buyers to choose from the ranges of both brands, from the new Land Rover Defender to the latest Jaguar F-Type. Once a customer has configured their new car, they can also pay for it via the online platform, or arrange PCP or HP financing.
JLR's digital sales platform also lets buyers get a valuation on any car they're considering part exchanging. It also incorporates a virtual showroom with phone and video chat appointments, meaning a customer can still take the traditional route of speaking to a salesperson during the ordering process.
To complete the collection of a new car, JLR has confirmed that all of its dealerships now feature handover bays to ensure current medical and social distancing guidelines are met, with certain dealerships offering a home delivery service.
According to JLR, some 3.3 million people visited their online sales platform during the initial trial period. It was also revealed that the platform was used by a higher proportion of female buyers, when compared to dealership visits, and that the first model ordered was a Range Rover costing £119,000.
Why not read our top tips you need to know when buying a new car.