Skoda Octavia Estate: old vs new
The Skoda Octavia Estate has undergone a hi-tech makeover - how does the latest model compare with its predecessor?
Step back 20 years and the Skoda Octavia Estate was something of a budget offering when compared to its rivals. The introduction of the third-generation model in 2017 was a huge step forward, upping the luxury while still offering greater practicality and value for money than almost anything else in the class. In early 2020, Skoda introduced an all-new fourth generation Octavia Estate. It's still very practical but is another jump up in terms of luxury, style and technology, and the price is now more on par with rivals than ever before.
Every version of the Skoda Octavia Estate has shared its engines, underpinnings and technology with other Volkswagen Group models, including the Golf and SEAT Leon, all while offering more interior and boot space at a lower price.
Both the current and previous versions of the Octavia Estate offer more interior space than the Mazda6 estate and Ford Mondeo estate, and a larger boot than the Ford Focus and Toyota Corolla Touring Sports estate.
With the arrival of the new Octavia, the Czech brand has given the model a hi-tech makeover, along with a styling overhaul to give it a more sophisticated look. Should you buy the new model or go for a pre-registered, nearly new or used example of the old car? Read on for our old vs new comparison.
Design
The previous Octavia was instantly recognisable as a Skoda, with a slightly angular design. Some of the lower trim levels, such as the S, SE and SE Drive, can look a little bland, with more expensive Sportline, SE L and Laurin & Klement versions adding larger alloy wheels and tweaked exterior styling.
The new model borrows heavily from the larger Skoda Superb Estate, with a stylish and more modern design, including a larger front grille, narrow LED headlights and angular rear lights. At launch, buyers can only pick from two 'First Edition' trim levels, with an entry-level S-badged model expected to arrive later this year. The forthcoming Sportline model will sit beneath the high-performance vRS model, with the luxury L&K version topping the range.
Interior
The interior of the previous Octavia wasn't a huge departure from the one that preceded it, and borrowed heavily from several VW models of the same era. While all of the essential controls and eight-inch infotainment screen (a larger 9.2-inch screen is also available) are easy to use, there is little doubt its design is slightly dated by modern standards, with the dashboard featuring an array of buttons. The use of soft-touch materials in some areas is let down by the inclusion of cheap feeling plastics in certain areas (the upper door trims for example), meaning it lagged behind the interior quality found in the Golf.
The new car is a significant departure from the old one, with a fresh design approach including a slim infotainment screen measuring 8.25-inches in lower trims, increasing to 10 inches in higher trims.
The new dashboard looks modern, thanks in part to fewer physical buttons and tech features such as ambient lighting, touch sensitive controls and an easy to read digital dial cluster. Soft-touch materials feature throughout the interior, giving it an upmarket and a higher quality feel than the old car. Every automatic model features a smalll toggle-style gear selector, which helps to free up space in the centre console, leaving you enough room to charge your smartphone wirelessly.
Economy and performance
In standard guise, the old Octavia Estate feels stable and secure to drive but not much fun. It's a similar story with the new model, which is still not as fun to drive as the Focus Estate. However, the new car is a significant step forward from the old one; it feels more composed and on-road refinement is also better, with extra sound insulation helping to muffle tyre and road noise.
The engine range for the new Octavia line-up has largely been carried over from the previous generation, with minor tweaks to improve fuel economy. The 1.6-litre diesel has been discontinued with a 2.0-litre TDI diesel engine available in 113bhp and 148bhp power outputs. Both are capable of over 60mpg when driven carefully, a gain of around 5mpg over the old car. The 1.5-litre TSI petrol engine, which produces 148bhp, is capable of up to 49mpg, around 5mpg better than the old model. An entry-level three-cylinder 1.0-litre petrol engine will arrive later this year.
A plug-in hybrid Octavia iV model has been confirmed. It uses a 1.4-litre petrol engine, 13kWh battery and electric motor, and will be capable of up to 34 miles of electric only range.
Full performance specifications for the vRS performance models have yet to be confirmed but the new generation will be available with a 197bhp diesel engine. A 242bhp turbocharged 2.0-litre petrol engine is also confirmed, and is capable of 0-62mph in 6.7 seconds, which is identical to the old car. A plug-in hybrid vRS will also join the line-up, it uses the same powertrain as the iV model and the forthcoming Golf GTE, and is capable of 0-62mph in 7.3 seconds with a top speed of 140mph.
Practicality
The outgoing Octavia Estate was one of the largest models in its class, beating its rivals for both interior and boot space. It boasts a total of 610 litres of cargo space, which increases to 1,740 litres with the rear seats folded down. The new car offers similarly cavernous amounts of load space, with a 640-litre capacity, which increases to 1,700 litres with the rear seats folded down.
The old model features several useful storage cubbies dotted around the cabin, with the new car featuring a similar setup and a large 'Jumbo Box' in the centre console that stays cool when the air conditioning is on. The new car also has remote folding rear seats and larger front door storage bins capable of holding a 1.5-litre water bottle.
The towing capacity of the new model is limited to 1,600kg for the most powerful diesel model. The older model improves on this, with the four-wheel-drive diesel capable of towing up to 2,000kg.
Safety
There should be few concerns about the safety of the Octavia Estate, with the old model receiving a full five-star rating from Euro NCAP in 2013. While the new model has yet to be tested, we'd be surprised if it didn't match the similarly specced Volkswagen Golf, which received a full five stars earlier this year.
As crash testing is now much stricter, the new model will be even safer. The list of safety tech is more extensive as well, with collision avoidance assist, turn assist, and exit warning, with the latter sounding an audible warning if the driver or passenger attempts to open a door if an oncoming hazard is detected.
Verdict
It's clear the latest Octavia Estate is a substantial step forward over the old model, with aspects such as technology, refinement, and safety technology all improved to give it a more upmarket image. While pre-registered examples of the old car will be cheaper to buy, Skoda is likely to offer excellent PCP finance deals on the new model, which we think is worth the extra if it's within your budget.
New 2020 Skoda Octavia: prices, specs and release date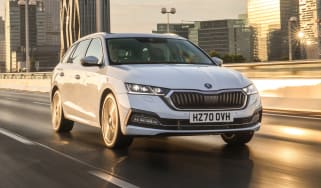 New 2020 Skoda Octavia: prices, specs and release date
2020 Skoda Octavia vRS: prices and specs revealed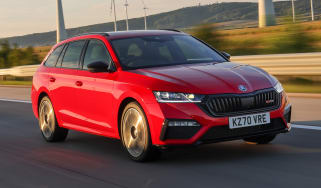 2020 Skoda Octavia vRS: prices and specs revealed
Best fast estates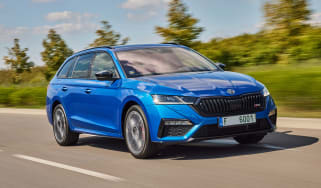 Cupra Formentor SUV review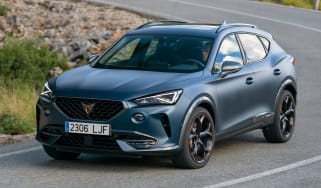 Cupra Formentor SUV review
2020 Volkswagen ID.3 hatchback: base model starts at under £30k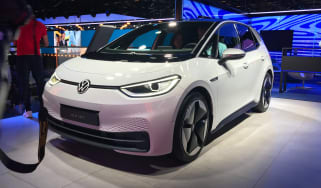 2020 Volkswagen ID.3 hatchback: base model starts at under £30k
Audi Q8 gains plug-in hybrid versions with 28-mile electric range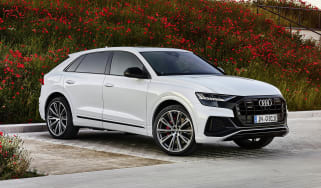 Audi Q8 gains plug-in hybrid versions with 28-mile electric range