Best cheap-to-run cars
Our top 10 rundown details the best and most fuel-efficient cars on sale today.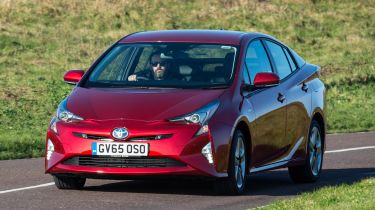 When buying a new car, it's wise to consider running costs above any other factor. But should you really use your head instead of following your heart when it comes to the exciting world of new car purchases? It can be difficult but being realistic, fuel prices rarely go down. With that in mind, be aware of a car's official economy figures – a yardstick for how far a car can travel on a gallon of petrol or diesel.
We call it a yardstick because these figures are achieved in laboratory conditions, and can vary a little from those you'll see in daily driving. But, since all manufacturers are obliged to use the same methods in their tests, it does at least mean cars can be fairly compared against each other.
In 2018, the outdated NEDC (New European Driving Cycle) fuel economy and emissions testing regime was replaced by WLTP (World harmonised Light vehicle Test Procedure). This new testing regime includes actual testing on the road, meaning new cars will have their efficiency measured using real-world conditions. However, there's little doubt that cars have become far more fuel-efficient in recent years – irrespective of how it's measured.
Not so long ago, a car that achieved 30mpg was seen as relatively frugal, but an average family car can now be expected to travel much further on a gallon. With modern, turbocharged engines, a small hatchback might return upwards of double that figure, and some can go even further.
We've gathered 10 of our favourite economical cars, but since there's more to car ownership than cold fuel-efficiency figures, we've taken other factors into account in our rankings. All the cars we've featured will be enjoyable to live with, and should fit neatly into family life. Of course, some cars are more geared towards family life than others, so we've compiled a list of the most economical family cars.
Besides optimising your fuel economy, there are other ways to save money on motoring. Check out our favourite cars that aren't affected by the London Congestion Charge. And, with the technology becoming ever more popular, we've ranked the best hybrid and electric cars.
Unfortunately, since the latest road tax system came into effect in April 2017, only zero-emissions cars can escape from road tax, but we can still advise you on the best tax-exempt cars you can pick up on the used market.
Think of a hybrid and it's more than likely the Toyota Prius will be the first car to pop into your head. That's because it was the world's first mass-produced hybrid and has become the poster boy for the hybrid movement. The latest Prius is an easy car to live with, too, thanks to a pleasantly large boot and the quiet motoring you'd expect from such a car. Just a firm ride and limited rear passenger space count against it.
It's undeniably strong on the economy front, though – Toyota claims that the Prius is comfortably capable of over 60mpg, with CO2 emissions of up to 107g/km. This means an attractively low Benefit-in-Kind rate, which is bound to please company-car users. Drivers faced with short daily commutes are likely to find the Prius more cost-effective to run than a regular petrol hatchback, but driving it can take some getting used to thanks to the occasional hesitance when you press the accelerator. All in all, the Prius is a car less suited to enthusiastic driving and more to frugal, relaxing motoring.
There's a version of the latest Ford Fiesta to appeal to just about everyone, including anyone looking to keep an eye on bills. If that's you, the 84bhp 1.5-litre diesel is the pick of the range, thanks to its claimed fuel economy of over 65mpg. It also has a CO2 emissions figure of 112g/km – placing it in a low BiK banding for company-car drivers. It's not just the diesel that returns solid economy, though: the 1.0-litre EcoBoost petrol engine features mild-hybrid assistance, which helps the Fiesta return over 55mpg. It also costs slightly less to buy than the diesel engine, bringing down your total monthly costs.
Low running costs aren't all the Fiesta has in its favour, though – Ford's supermini has long been regarded among the most entertaining small cars to drive, and the latest version builds on the talents of its predecessor. The previous model had nothing like the upmarket feel of today's car, whose well designed dashboard is classy to look at and easy to use, while the rear seats are noticeably more generous on space, too.
Some say that Hyundai was more than just inspired by the Toyota Prius when it developed its own rival to that pioneering Japanese model, but the truth is that Toyota's proven template for hybrid car success would have been foolish to ignore. The Ioniq's silhouette is aerodynamically efficient and helps to reduce the effort required to push this family hatchback through the air, so its petrol engine and electric motor rarely feel overworked.
In fact, the Ioniq is a markedly faster car than the Prius, and its responsiveness is helped by the use of a conventional dual-clutch automatic gearbox instead of the Prius' variable-ratio CVT system. As a result, drivers moving over to a hybrid from a conventional petrol or diesel car will find the Ioniq feels a little more familiar than the Prius, although the latter feels a little more settled on bumpy roads. However, the Ioniq's firm setup isn't uncomfortable and it costs less than the Prius. Claimed economy of over 60mpg puts it close to the Prius hybrid in fuel-economy terms.
There's a lot to like about the new Skoda Octavia: it has a massive boot and features a host of new technology and plenty of standard equipment. While it's a little more expensive than the old model, it's still great value for money. Its overall size places it closer to models in the class above like the Ford Mondeo, rather than direct rivals like the Focus.
Despite its size, the Octavia is cheap to run with an excellent range of frugal engines to pick from. The most frugal of these is the entry-level diesel engine; a 2.0-litre with 113bhp. It'll return over 65mpg, while the more powerful 148bhp version of the same engine is capable of returning 50-60mpg. Even the two petrol engines, a 108bhp 1.0-litre and a 148bhp 1.5-litre, can manage over 50mpg, which is very impressive. With a CO2 output ranging from 117-153g/km, the petrol engines are a decent option for company-car drivers. As the diesels are more expensive to buy, and they attract the additional 4% in BiK tax, we'd recommend the petrol to all but the highest-mileage drivers.
Saloons might seem to be a dying breed as everyone buys an SUV instead but the Peugeot 508 shows there's still a place for this more traditional bodystyle. It helps that it has such a distinctive design, particularly those models with the long, fang-like LED daytime running lights that scythe through the front bumper. The interior is just as arresting, thanks to Peugeot's small steering wheel, iCockpit infotainment system and piano key controls.
Under the bonnet, the engines are punchy enough and impressively economical. The 1.5-litre BlueHDi 130 engine can manage between 50-60mpg or better, while the more powerful 2.0-litre diesel with an automatic gearbox still offers over 50mpg. While diesels make up the bulk of the range, the plug-in hybrid that uses a petrol engine is officially the most economical with an economy figure of between 166-225mpg. It's also the most expensive model in the 508 range.
SUVs that combine a retro hatchback's looks with extra practicality are big business, and the MINI Countryman might be the most popular of the lot. It's much more spacious and family-friendly than the MINI hatchback, and it shares some parts with the BMW X1, but it's still good to drive and frugal. Economy of over 50mpg is claimed but, as with most diesels, the better fuel consumption is offset by a higher purchase price, so make sure you drive enough miles to justify going for the diesel.
Alternatively, there's also the MINI Countryman Cooper S E All4 plug-in hybrid version, which is the economy and performance champion of the range. Not only is it quicker than the Cooper S, with 0-62mph taking just 6.8 seconds, but it's said to return over 140mpg too. You might struggle to get close to the claimed figure in the real world, and it is the most expensive model, but it's efficient nonetheless.
Though the Kia Niro is a hybrid, it's not quite as fuel-efficient as the Toyota Prius, and the latter will have more appeal if fuel costs are your primary concern. However, the Kia Niro is attractively priced when you consider its high level of standard equipment, and is also extremely easy to live with. The Niro's squared-off design has SUV styling traits, including a high roofline for plenty of headroom for all occupants. The interior layout is not only spacious but has room for plenty of handy storage cubby holes. And, despite its bulky shape, the Niro doesn't require that passengers climb up to get inside; it has a far lower floor than most conventional SUVs.
Though not matching the Prius, the Niro's claimed fuel economy of over 58mpg is still very impressive, particularly for a car fuelled by petrol, while low-speed all-electric capability helps to reduce emissions in urban environments. If you don't mind spending a bit extra, try the Niro plug-in hybrid or the fully electric e-Niro, as these are even cheaper to run than the standard hybrid model.
The fact that the Mercedes C-Class is an upmarket choice in the family saloon/estate classes doesn't mean that owners aren't concerned about fuel consumption. With its plush and techy interior, which wouldn't look out of place in the limo-like Mercedes S-Class saloon, the C-Class has plenty of appeal inside and out, and the C-Class Estate adds extra practicality for family life over the saloon.
The entry-level diesel, the C 220 d, can officially manage over 55mpg in mixed driving; an impressive figure for a car like this. The faster C 300 d is nearly as frugal with a maximum economy figure of over 49mpg, and there's also a C 300 de plug-in hybrid model that's said to be capable of between 176-235mpg.
The Skoda Fabia is no longer available with a diesel engine but its petrol engines are economical enough that very few people will miss the diesels. There are four versions of Skoda's 1.0-litre engine; two badged MPI and two turbocharged ones badged TSI. Outputs of 59, 74, 93 and 108bhp are available, and we'd recommend choosing one of the two more powerful ones if you can - the turbo engines are much faster and more economical too. The 93bhp is the most frugal, managing around 52mpg - a figure we matched in our tests.
Skoda's good-value hatchback also impresses with its sturdy interior, which offers plenty of kit even on low-spec versions. There's also a Skoda Fabia Estate if you want the Fabia's strengths with extra boot space.
The Dacia Sandero is just about unbeatable when it comes to value and low running costs. A big part of this is the fact it's so incredibly cheap to buy in the first place, costing from around £7,000. As a cost-effective small hatchback, the 0.9-litre TCe 75 petrol engine is hard to beat, returning over 48mpg in every trim, and insurance and maintenance won't cost the earth either. The diesel engine has been discontinued, with the new 1.0-litre petrol/LPG powered TCe 100 Bi-Fuel existing as a good option for higher mileage drivers. It's the most expensive model to buy but when running on petrol, this tiny engine is capable of around 49mpg. The switch to LPG proves similarly economical, with up to 39mpg possible.
You can't have everything and the Sandero's budget roots are plain to see when you compare interior and exterior fit and finish with more expensive rivals. Though not the last word in tactile delight, the materials feel robust and there's no reason a Sandero shouldn't cope with the rigours of family life. Given its price, the Dacia Sandero is a practical five-door with a decent boot and, on Ambiance models and above, an intuitive infotainment system. Should you need more space, we recommend the Dacia Logan MCV, as it's as economical but comes as a spacious estate.
Best used hybrid cars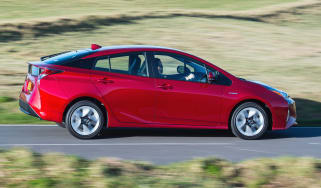 Cupra Formentor SUV review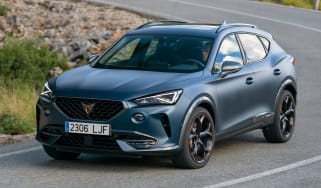 Cupra Formentor SUV review
2020 Volkswagen ID.3 hatchback: base model starts at under £30k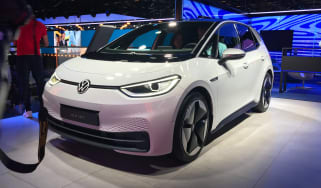 2020 Volkswagen ID.3 hatchback: base model starts at under £30k
Audi Q8 gains plug-in hybrid versions with 28-mile electric range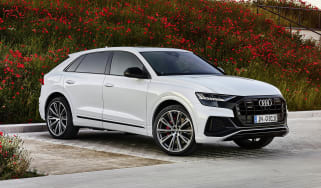 Audi Q8 gains plug-in hybrid versions with 28-mile electric range