The best supercars money can buy
Discover the very best supercars, including models from Ferrari, Porsche, Lamborghini ...and Ford
Supercars have traditionally been considered high-performance showcases for the best manufacturers and rather expensive toys for the richest of car enthusiasts. Today, the technical and performance elements remain, but with a modern twist: the vast majority are designed to be used every day if needed.
'Supercar' is a broad term that has come to describe a range of high-performance vehicles; from hugely powerful grand tourers to mid-engined racing cars for the road, there are plenty of high-end machines that could qualify for inclusion in this list of the best. Here, we've brought together some of the fastest, most accelerative and exclusive cars on sale today, all of which could be used every day if you're lucky enough to be able to afford their six-figure prices and sizeable running costs.
We've deliberately avoided hypercars – a category that exists on an entirely separate plane of power, exclusivity and price. For our money, each of the following is almost as fast, far more attainable and still deeply special.
McLaren 720S
It's one of the newest cars on this list and also one of the fastest: the McLaren 720S does 0-62mph in just 2.9 seconds, 0-124mph in 7.8 seconds and its top speed is 212mph. It offers performance that can humble some of the fastest cars from the class above, yet it remains comfortable and useable in everyday motoring – a duality that McLaren brings to all its cars.
The 720S ticks all the other boxes, too. Its dramatic styling incorporates all manner of aerodynamic aids and weight-saving touches, as well all-important wing-like 'dihedral' doors. The interior is covered in Alcantara and carbon fibre – the accepted combination for the raciest of supercars. It all combines to create a real sense of occasion that's hard to match.
It's one of the most exciting cars here, but the McLaren 720S is also one of the most useable. As in other McLarens, there are great seats that give you a fantastic driving position, which, when paired with the deliberately low dashboard and large glass area, make for a car that's surprisingly easy to drive. The clever active suspension can be adjusted to offer a very comfortable ride and the car will even do around 22mpg – not bad for a 710bhp twin-turbocharged V8!
Ferrari 488 GTB
The successor to the legendary Ferrari 458 Italia, the 488 GTB is better in almost every measurable way. Some might miss the bellow of the 458's 4.5-litre V8 engine, as the new 3.9-litre V8's turbochargers mute the roar, but one prod of the accelerator will convince you of its greatness.
Its three second 0-62mph time is fearsome, but the way the car behaves in corners is not. At speed, the car's balance means it can corner very hard, and very, very fast, in a way that's not at all intimidating.
While the interior of the McLaren is all very minimalist, the Ferrari 488 GTB feels as complicated as Sebastian Vettel's F1 car with buttons where you'd expect stalk controls. There's one very good reason for this: it means the space around the gearshift paddles is uncluttered, which is something you'll appreciate when you're focusing on driving.
There are two even bigger reasons why you'd choose a 488 GTB; because it looks stunning and carries the most evocative badge in the business. That it's an exceptional car is almost a bonus.
Porsche 911 Turbo S
The other cars in this list look and feel very exotic, but the Porsche 911 Turbo S is based on the standard 911 – itself a relatively common sight on the road.
Understatement isn't likely to be top of a typical supercar buyer's list, but in this company that's exactly what the 911 Turbo S offers. To the untrained eye, it doesn't look too different to a standard 911 Carrera, but enthusiasts will love the wider bodywork, bigger wheels and extra vents.
They'll also love the 3.8-litre engine, which in the Turbo produces an incredible 572bhp. That translates to 0-62mph in 2.9 seconds and – thanks to huge reserves of low-down power – warp-speed overtaking ability. The Turbo S is intended as comfortable yet devastatingly quick grand tourer with a supercar-like edge, and that's exactly what it delivers, all wrapped up in a fairly unassuming (and practical) body.
It might not be the most involving car to drive on this list, but the 911 Turbo S is certainly one of the fastest in point-to-point terms; four-wheel drive, huge reserves of grip and traction, Porsche Dynamic Chassis Control (PDCC) and a slick PDK automatic gearbox all combine make the Turbo S a truly effortless car to drive quickly.
Ferrari 812 Superfast
The latest in a long line of front-engined V12 Ferraris, the 812 Superfast is as potent as its name suggests. Its 6.5-litre engine – which sits roughly in the middle of the car for weight distribution reasons – produces an incredible 789bhp and almost revs out to 9,000rpm. Needless to say, it sounds fantastic – unlike so many cars on this list, the 812 doesn't have any turbochargers to stifle its bark.
It really is 'super fast', too, with a 0-62mph time of 2.9 seconds and 0-124mph taking just 7.9 seconds. It'll accelerate all the way up to 211mph – although it's unlikely many owners will find space to make the most of the Superfast's top speed.
Continuing a modern Ferrari trend, the 812 Superfast is bristling with technology that makes even this fearsomely powerful supercar a doddle to drive at normal speeds. Push harder and the 812 demands respect, but it's far more forgiving than you'd expect such a powerful car to be. Rear-wheel steering and fast, accurate steering help make the car feel light and agile, while its suspension can be made as soft or aggressive as your mood demands.
The 812's interior is as modern and well finished as any other Ferrari's, with titanium air vents, luxurious leather and an optional readout screen for the passenger side all helping make it feel worthy of the car's huge price tag. At well over £250,000, the 812 Superfast is the most expensive cars here, but it's also one of the very best of the breed.
Read on to see more of the world's best supercars from Audi, Ford, Mercedes and more.
2020 scrappage schemes: the complete guide
2020 scrappage schemes: the complete guide
Best new car deals 2020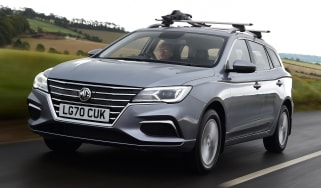 2022 Volvo XC100 SUV to rival BMW X7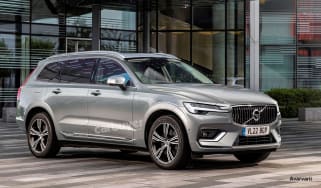 2022 Volvo XC100 SUV to rival BMW X7