Used Volvo V40 buying guide: 2012-present (Mk2)
The Mk2 V40 was the first of the five-door Volvos to be as stylish as it was sensible and now makes an attractive used buy
Volvo is a brand often considered to be 'near-premium'. This makes life pretty hard for the company: its cars have to look and feel a cut above more mainstream competitors, yet must still be priced realistically. The Volvo V40 hatchback fits this bracket perfectly, looking and feeling that bit more special than a Ford Focus or Vauxhall Astra, but still priced well below a BMW 1 Series or Audi A3.
On its launch in 2012, the V40 built on the success of its smaller three-door Volvo C30 stablemate, a car that was most unlike Volvos of old due to its diminutive size and relative lack of practicality. It was great-looking, though, and the V40 was markedly less boxy than its V50 estate predecessor, without throwing practicality out of the window. The V40 is available only as a hatchback – it replaced the Volvo V50 estate and Volvo S40 saloon in one stroke.
It's a well-built, comfortable car that drives very well thanks to mechanical similarities with the Ford Focus. It's spacious inside, although it can feel a little dark due to its high waistline and shallow windows and the dashboard layout is a bit fussy. It's also not as good a load-carrier as you might expect: the boot can take just 335 litres of luggage with the rear seats in use. Assuming you travel relatively light, the V40 makes a fantastic family car, and a safe one, too – it established a new record score in Euro NCAP crash-testing.
The best news, though, is that the V40 is now available second-hand at pretty enticing prices. Follow our buyer's guide to find the best V40 for you.
Volvo V40 history
The first V40s to find homes in the UK arrived in September 2012, their buyers having chosen between a 1.6-litre petrol engine in 148bhp T3 or 177bhp T4 specification or from a wide range of diesels: the 113bhp 1.6-litre D2 diesel or 148 and 174bhp 2.0-litre D3 and D4. Trim levels initially consisted of ES, SE and SE Lux, with the sporty R-Design and more rugged Cross Country (XC) models arriving for January 2013.
The D2 became available with an automatic gearbox in spring of that year, with an entry-level 120bhp 1.6-litre T2 petrol engine introduced at the same time. May 2014 saw the D4 diesel's power increased to 190bhp, while in May 2015, a 1.5-litre petrol engine was introduced for the T2 and T3 automatic models. Summer 2015 saw Drive-E technology introduced across the whole range to reduce CO2 emissions while increasing fuel economy.
Which is the best Volvo V40 for me?
None of the engines is likely to disappoint, with all delivering decent power and an enjoyable driving experience. If you're looking for an automatic, we recommend the later eight-speed gearbox, which is far more efficient and smooth in operation than the earlier six-speed.Even entry-level ES cars are well equipped, with a multifunction steering wheel, electric windows front and rear, Bluetooth, climate control and alloy wheels. DAB digital radio is standard on all models. Moving up to SE adds upgraded interior trim, cruise control and a set of power-folding door mirrors. You get xenon lights, leather-faced seats and 17-inch alloys if you choose an SE Lux.
The sporty-looking R-Design model ups the dashboard screen size from five to eight inches, while also boasting extra detailing inside and out. There's also a Cross Country version of the V40, available in SE and SE Lux trim levels. It's the only V40 with four-wheel drive, so it could be of interest if you live in a rural location and are likely to encounter poor roads or wet and greasy surfaces on a regular basis. The Cross Country has a raised ride height and chunkier styling than the regular V40, but it's not a proper off-roader.
Every V40 is equipped with automatic emergency braking as standard. This is a useful safety feature that can reduce your insurance premium and was instrumental in the V40 earning its five-star Euro NCAP rating.
The lower reaches of the V40 range sold well to corporate fleets, so you might find the odd D2 diesel with over 100,000 miles on the clock, but the majority of V40s are privately owned, with low mileage and impressive service history. The Cross Country can command a little more than the standard car, as it's slightly more sought-after.
Fewer than one in 10 Volvo V40s is petrol-engined and the vast majority of these will have been privately owned with low mileage. About a quarter of all V40s have an automatic gearbox.
Running Costs
Fuel economy is a definite V40 strong point and the 1.6-litre D2 diesel engine can manage in the region of 80mpg. Even the most powerful D4 can top 70mpg and road tax won't exceed £20 a year for any of the diesels. Petrol V40s are pretty good on fuel, too, all managing 50mpg or more – but every one falls into the £110 yearly road-tax band.
Insurance groupings vary from group 17 for the entry-level model to a highish group 35 for the top-spec T5 with an automatic gearbox.
All V40s will need a service every 18,000 miles or 12 months, except for the D2. This needs more frequent servicing, with dealer visits every 12,500 miles or 12 months. Servicing is a little more expensive for diesels than petrols. All all V40 engines are fitted with a timing belt and this will need to be changed between every six years/87,500 miles or eight years/144,000 miles, depending on which of the four schedules your engine falls under. It's not a cheap job, so make sure it's not due any time soon on a car you're looking at buying.Another scheduled maintenance job is changing the brake fluid, which needs doing every two years but is relatively inexpensive to have performed at a Volvo garage.
What to look out for
The V40 has proven a pretty reliable, robust car. In our 2016 Driver Power owner satisfaction survey it was named as the 43rd most reliable car out of 150 cars surveyed, a decent result for a car which has been on the market for quite a while.
Problems faced by owners have tended to be niggling or design-led issues. A frequent complaint is the lack of rear visibility and many V40s bear scuffs on their bumpers as evidence of this issue. Parking sensors are a worthwhile feature on these cars, as is Park Assist Pilot, which can take over steering duties to get you into even the tightest of spaces without you having to touch the wheel.
The DAB digital radio is a nice standard feature, but it has been reported to suffer from signal drop-out in areas where reception is known to usually be good. This seems to be a characteristic rather than a fault – the radio will revert to FM if this occurs.
A lot of owners have reported rattles and noises from the area of the V40s stylish-looking centre console. It's a problem that quickly became apparent to Volvo and it sent a bulletin to official workshops, who should be able to readily solve this issue on your car.
Recalls
Volvo is a pretty pro-active brand when it comes to recalls, preferring to grasp the nettle and deal with issues promptly than let things drag on. With this reputation it's reassuring that only one recall has ever been issued for the V40.
The sole recall was opened in March 2014 and involved 1,492 cars built between November 2013 and March 2014. The issue involved the left rear tail-lamp going out, followed by a warning appearing on the car's instrument panel. This was traced to a software error and a simple re-coding is all that was needed.
Alternatives
Sitting in its narrow near-premium niche, the Volvo V40 faces competition from all sides. Fortunately, the Audi A3, BMW 1 Series and Mercedes A-Class are all considerably more expensive than the Volvo, even used. All are well-built, with the BMW excelling for driver appeal and the Audi winning quality plaudits and also being available with four-wheel drive.If a premium badge isn't essential, the Ford Focus is an extremely talented car and, in estate form, a hugely practical one. Sharing mechanical design with the Volvo means it handles brilliantly and is pretty well built.
There are a great many non-premium cars of the same size that should be considered – the Mazda3 is a very underrated choice, while the SEAT Leon attracts its share of rave reviews and can be bought as a very practical ST estate.
In terms of brand cachet, the Volkswagen Golf is probably the most closely aligned to the Volvo, as well as being and probably the most desirable and accomplished all-rounder of all the V40s competitors, with terrific quality and a great blend of comfort and driver appeal.
Verdict
The Volvo V40 has been an interesting car to chart in our Driver Power owner satisfaction survey over the years. It debuted in 2014, when it finished 19th overall. It then climbed to an impressive 15th in 2015, with excellent results for seat comfort, running costs and reliability. However, 2016 saw it drop to 78th overall out of 150 cars on the market.
Owners have criticised the V40 for poor ride quality and limited practicality. We haven't noticed the Volvo rides significantly worse than its rivals, but the smallish boot speaks for itself. It's advised that you spend plenty of time behind the wheel before you make a purchasing decision to make sure you choose wisely.
We had a D2 on our test fleet for a good while and those who drove it loved its comfortable seats, smooth engine and excellent fuel economy. As long as you don't need to carry bulky loads all that often, it makes a terrifically useable family car and must be one of the best- value small hatchbacks you can buy used today.
Cupra Formentor SUV review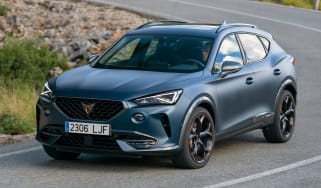 Cupra Formentor SUV review
2020 Volkswagen ID.3 hatchback: base model starts at under £30k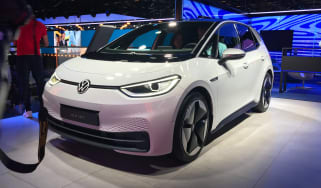 2020 Volkswagen ID.3 hatchback: base model starts at under £30k
Audi Q8 gains plug-in hybrid versions with 28-mile electric range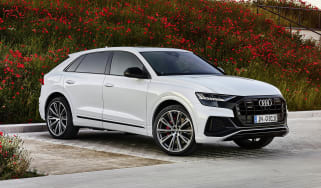 Audi Q8 gains plug-in hybrid versions with 28-mile electric range