10 best MoT-exempt cars
If your car is 40 years old or more, it's MoT-exempt as of 20 May 2018. Here, we look at our 10 favourite MoT-exempt cars.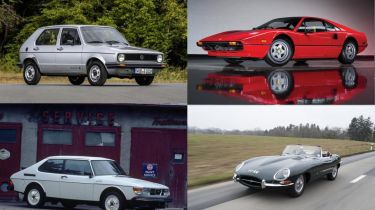 From 20 May 2018 onwards, every car registered 40 or more years ago is exempt from MoT testing – the yearly test of roadworthiness that every car in the UK must pass in order to be legal on the road. This means that, while the MoT is getting tougher for most cars to pass, drivers of the oldest cars on the road technically don't need to worry.
What changed under the new MoT exemption rules?
The move to implement a rolling MoT exemption policy is an extension of previous rules, which made a car exempt from MoT if it was registered before 1960. It brings the minimum age for MoT exemption down from 58 years to just 40 years. As a rolling exemption, it will start by including cars registered before May 1978, with May 1979 following suit next year, and the pattern will continue for every year thereafter.
The reduced qualifying age for vehicle MoT exemption will mean a huge increase in the number of MoT-exempt cars on Britain's roads. Under the previous rules, approximately 197,000 cars were exempt, and this figure swells to 293,000 after the changes come into force.
Why have the MoT exemption rules changed?
The Department for Transport (DfT) successfully argued that classic cars are becoming increasingly incompatible with the latest MoT tests. Their design and construction means certain rules don't apply – cars built before 1966, for example, were not obliged to have seatbelts fitted as standard, and consequently these can't be tested in the MoT. The DfT also suggested that enthusiastic owners tend to look after their classic cars meticulously.
Many critics have suggested that this isn't always the case, and that there could be a risk some drivers will see the new rules as an opportunity to freely drive an older car on UK roads that has previously struggled to pass an annual MoT test.
What does this news mean for car buyers?
As of 20 May 2018, anyone who owns a car registered in May 1978 or earlier is no longer legally obliged to present it for an MoT test. The choice of whether to ensure such a car has a valid MoT becomes yours. If you're considering buying a car of this age, you should be aware that it may not have been tested to MoT standard.
You can still choose to have an annual MOT carried out, and Carbuyer recommends that you do. There are certain safety-related tests, such as braking power, structural integrity, suspension and steering condition, that are more effectively appraised by a qualified vehicle examiner than by a DIY mechanic. An annual MoT isn't a huge expense and remains a good way to gain a snapshot of the condition and safety of your car at the time of testing.
Remember – it remains an offense to drive a car in an unroadworthy condition, and failure to maintain your classic car in good condition greatly increases the risk of prosecution. A competent home mechanic may be able to ascertain that a classic car's tyres, brakes, steering, suspension and electrical system are safe to use on the road, but an MoT provides further reassurance.
Best MoT-exempt classic cars you can buy today
With the number of MoT-exempt vehicles doubling as a result of policy changes, there's never been such a wide range of classic cars to choose from. These are our 10 favourites.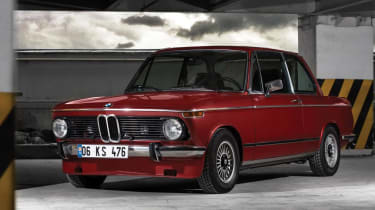 BMW 2002
The BMW 3 Series is commonly ranked among the best-handling saloon cars you can buy and the 2002 was among its forebears. Essentially a larger-engined 2.0-litre version of the 1.6-litre 1602, the 2002 was one of the foremost sports saloons of its era and paved the way for the speedy 2002 Turbo – the first turbocharged BMW in production. With only 1,672 built, the Turbo is sought-after and valuable, but lower-specification models are relatively affordable.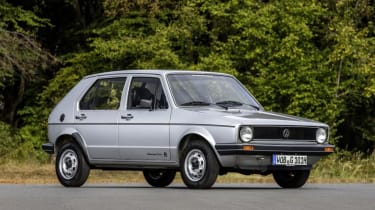 VW Golf
It might be hard to believe that the Volkswagen Golf has been with us for over 40 years, but it's actually been around since 1974. Its sharp lines – by legendary designer Giorgetto Giugiaro – still look crisp today, and it's difficult to imagine it sharing showroom space with the ancient rear-engined Volkswagen Beetle, which was still sold at the time. Unfortunately, if you want to drive a Golf GTI without an MoT requirement, you'll need to wait another year – it didn't reach UK showrooms until 1979.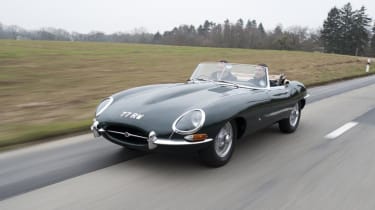 Jaguar E-Type
The Jaguar E-Type is widely regarded as one of the most iconic shapes ever to hit the road. Even Enzo Ferrari – founder of the Italian supercar company – is said to have called the E-type "the most beautiful car ever made" at its launch in 1961. Many believe that the original 3.8-litre models are the prettiest, others protest that the teardrop-shaped 'fixed-head' coupe is the best-looking. In all, there were three engines offered: 3.8 and 4.2-litre six-cylinders and a 5.3-litre V12. It was the smallest, earliest engine that powered the E-Type to its much-debated 150mph top speed.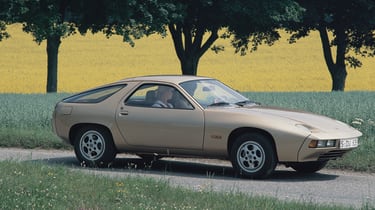 Porsche 928
The first Porsche 928s to be sold in the UK just scrape into MoT exemption, but such a sophisticated and powerful car really ought to be kept in tip-top condition anyway. The 928 represented many firsts for the German company: its first V8-powered car, its first front-engined model and its first road car to use a transaxle (combined rear axle and gearbox) in the pursuit of balanced weight distribution. The next V8-engined Porsche would follow around 25 years later, in the very different shape of the first Porsche Cayenne SUV.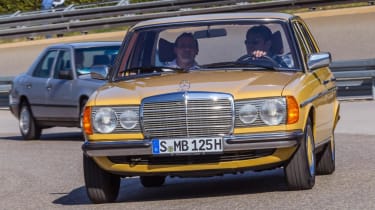 Mercedes W123
An old cliche of 'bank-vault solidity' is often mentioned in the same breath as Mercedes, and the W123 is eminently deserving of it. Ancestor of today's E-Class, the W123 is praised the world over for its reliability, despite over 40 years of service you'll still find many serving front-line duty as taxis in developing countries. And its unburstable mechanical make-up makes it a sensible classic-car choice in the UK, too. Later fuel-injected models are very fast, while the non-turbocharged 200d diesel is anything but.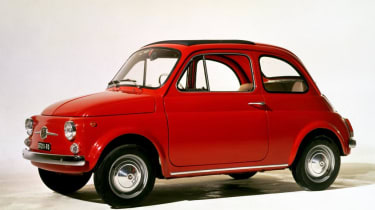 Fiat 500
Although many people cite the original Mini as the best-loved small car of all time, continental opinion is more likely to favour the original Fiat 500. It mobilised post-war Italy and forged the template for every small Fiat until the turn of the 1990s, production having begun in 1957. It boasted just 13bhp, but this was more than enough in bustling Italian traffic – much of which comprised of other Fiat 500s. No surprise, with almost four million examples having been built.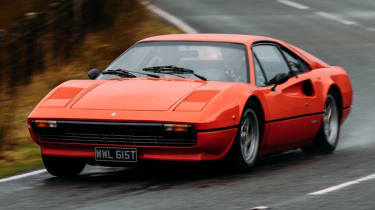 Ferrari 308
The V8-powered Ferrari 308 is the biggest-selling Ferrari ever, and despite production of its 328 successor ending at the end of the 1980s, it's still many people's idea of the 'archetypal Ferrari'. It certainly is iconic, with its much-imitated waste-height air intake and upswept window line, as well as its sinuously curved wheelarches – not to mention its pop-up headlights. With just 252bhp from the earliest non-fuel-injected models, many of today's hot hatchbacks will show a 308 a clean pair of heels. But as a driving experience, few can rival this favourite of Ferraris.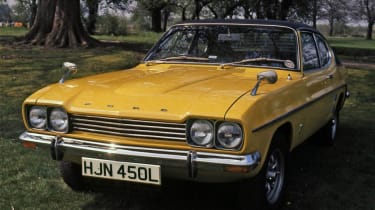 Ford Capri
Offering two-door coupe style for a rather more modest price than the Ferrari above, the Ford Capri was 'the car you always promised yourself' when it went on sale in 1969. Part of its magic was that its rakish body concealed a mechanical package little more complex than the contemporary Ford Escort and Cortina saloons, which made it cheap to buy and to run. While the smallest-engined variants are probably the rarest, the more powerful examples were more obvious candidates for preservation. Those with the 2.6 or 3.0-litre V6 engines are the most sought-after.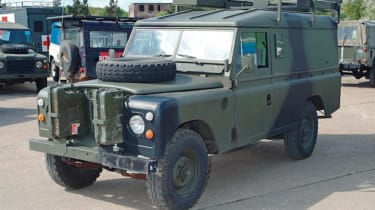 Land Rover
Owing to the way the original Land Rover was designed and built, it can be very difficult to determine exactly how old a given example really is. Every single component is available new or reconditioned from specialist firms and in many unscrupulous cases, the chassis plate from an older example will be fitted to a newer car, simply to gain MoT or tax-exempt status. If you seek specialist guidance and buy a legitimate example, though, what many see as the original off-roader can be very rewarding to own.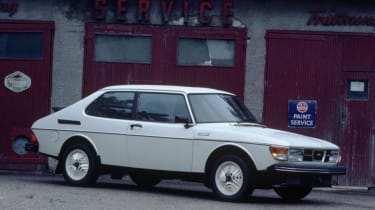 Saab 99
A good many car enthusiasts still mourn the passing of Saab, which folded in 2012. Its legacy was some of the most interesting – and eccentric – family cars ever sold. The 99 was the car that really established the Swedish firm as a mainstream carmaker and Britain welcomed its use of Triumph engines. The most celebrated version of all, though, was the 99 Turbo, a model that surprised a good many sports cars thanks to its 143bhp turbocharged engine.
Speed awareness course: how much does it cost, how long does it take and how do you do one online?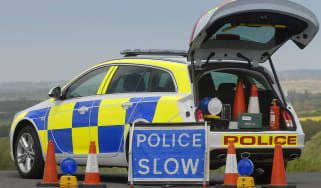 Speed awareness course: how much does it cost, how long does it take and how do you do one online?
New car delivery times: how long will you have to wait?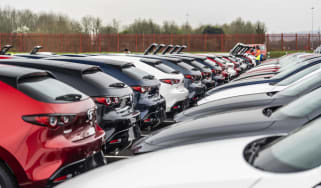 New car delivery times: how long will you have to wait?
Best new car deals 2022: this week's top car offers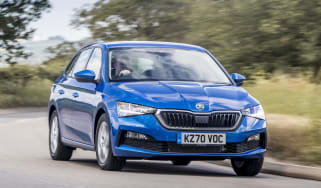 Best new car deals 2022: this week's top car offers