Top 3 used medium-size SUVs for £25,000
"Dear Carbuyer, I'm after a medium-size 4x4 SUV and I'd like something a bit different. What can you recommend for around £25,000?"
There is a vast array of choice for SUV buyers, so whatever you are looking for, there'll be an SUV that meets your requirements. If you're looking for a used medium-size SUV with four-wheel drive that's a bit unusual, there are several capable models available, especially for a budget of £25,000.
In this market sector, models range from the utilitarian Jeep Wrangler, which boasts strong off-road ability but lacks refinement on the road, to the BMW X3, which is much more capable on the road but still has some off-road ability.
• Best medium size SUVs to buy
If you're considering a medium-size SUV as a family car, then it's worth remembering that most only have five seats, with the Land Rover Discovery Sport being one of the few seven-seat models in this sector.
Since their humble and rather spartan beginnings, SUVs have quickly moved into the mainstream in the UK. Most modern SUVs are good to drive on the road, offering a decent level of comfort and refinement with a moderate amount of off-road ability.
The majority of models are well-equipped, with modern technology including sat nav and state-of-the-art safety tech, with most earning a five-star crash-test rating from Euro NCAP. Inside, a mid-size SUV should be spacious with enough space for the entire family, including the dog, and some luggage.
SUVs are usually based on the same underpinnings as saloon and estate models, so share a similar range of petrol and diesel engines. Running costs such as insurance and tax are likely to be similar to a related saloon or estate model, but due to the larger size, additional weight and four-wheel-drive system, most SUVs will be more slightly more expensive to run.
Our reader is looking for a mid-size SUV that's a bit of a departure from the norm. All of our picks are available for their budget of £25,000, with all offering a decent amount of interior space, excellent on-road ability with the ability to go off-road, and a plush, well-equipped interior.
The go-anywhere choice: Land Rover Discovery Sport
For: Off-road ability, seven seats, handsome looksAgainst: Confusing trim levels, weak infotainment
It doesn't have the cachet of a Range Rover, but the Land Rover Discovery Sport has found favour, particularly with family buyers, thanks to the breadth of its abilities and the fact that most models have seven seats. It's also talented off-road because of its sophisticated Terrain Response system, and all versions of the Discovery Sport have a four-wheel-drive powertrain. It's pretty sophisticated on the road, too. A high-spec 2016 HSE Luxury auto with a 178bhp diesel engine is within budget.
It's something of a game of two halves inside. Smartphone connectivity and screen user-friendliness trail rivals', while some dash plastics could be nicer. But the design is pleasing, the boot is huge, and the Disco Sport's seats are comfortable.
Land Rover's engineers did a good job of configuring the Discovery Sport to be competent off the road, yet refined on it. Wind noise is well suppressed, the diesel engine strong, and the nine-speed automatic gearbox makes progress seamless. Owner reports indicate reliability could be better, though.
The comfortable choice: Volvo XC60
For: Effortlessly relaxing, comfortable seats, classyAgainst: Not a driver's car, ride is stiff on big alloys
Volvo has long been synonymous with safety, and its latest cars have seen it become more desirable than ever, too. The Mk2 XC60 offers understated, handsome looks, together with an effortlessly cool interior and a relaxed driving experience, all backed up by the sophisticated and plentiful safety tech buyers expect from the firm. For your budget, the need for 4WD and the Mk2 XC60's youth mainly limit you to the 187bhp D4 diesel, but we did find a 251bhp T5 petrol within reach, too.
Sleek, minimalist and different from the German crowd, the XC60's interior seals the deal for many customers. The Sensus infotainment system isn't quite as good to use as it is to look at, but there's no denying the sense of calm the cabin imbues.
There is no shortage of SUVs aimed at keen drivers, but the XC60 does things differently by getting you to your destination in as unruffled a fashion as possible, instead of delivering a thrill-a-minute experience. The D4 takes nine seconds to go from 0-62mph, which is competitive rather than class-leading.
The driver's choice: Mazda CX-5
For: True left-field appeal, drop-dead gorgeous looksAgainst: Diesel-only 4x4, lacks premium appeal
One look at a CX-5 in the metal will leave you knowing whether or not you want one; its pin-sharp styling has won over many a buyer, with others convinced as soon as they get behind the wheel and realise it's great to drive. Your need for AWD rules out a petrol CX-5, but £25,000 gets you the 181bhp version of Mazda's 2.2-litre diesel engine, rather than the 148bhp model. We found no shortage of high-spec Sport Nav+ cars for sale within your budget, many with less than 10,000 miles on the clock.
There's nothing hugely original about the design of the CX-5's cabin, but it's quite a pleasant surprise. The soft-touch leather (or leather-effect) surfaces add appeal, as do the user-friendly controls. The infotainment system is simple, but effective.
We found an even split between manual and automatic CX-5 models for sale, but while there's nothing wrong with the latter, Mazda's impeccable six-speed manual is worth tracking down. The CX-5 is also one of the more driver-focused SUV out there, with direct steering, good grip and genuine agility.
Best tow cars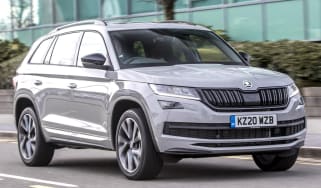 Updated Peugeot 5008 starts at £29,585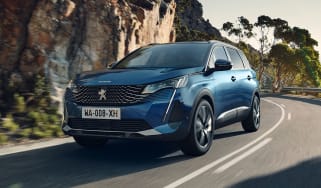 Updated Peugeot 5008 starts at £29,585
Cupra Formentor SUV review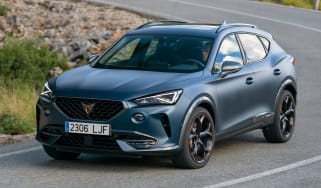 Cupra Formentor SUV review
2020 Volkswagen ID.3 hatchback: base model starts at under £30k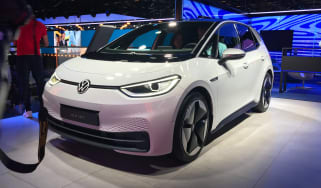 2020 Volkswagen ID.3 hatchback: base model starts at under £30k