Top 10 best cars for tall drivers 2022
Finding a comfortable car can be tricky if you're taller than most. Here are 10 of the best cars for tall drivers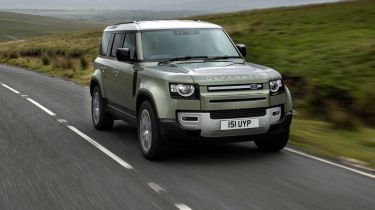 Car buying's tough enough as it is, but it can be even tougher if you're a taller-than-average human who struggles to get comfortable behind the wheel of some cars. And we're not just talking about headroom, legroom's something else the vertically enabled need to consider. Van-based MPVs and boxy SUVs are an obvious solution but there are plenty of low-slung cars that fit the bill, too.
So keep reading for our guide to the best cars for tall people.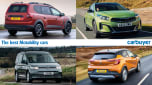 Top 10 best Motability cars 2023
One way to maximise headroom is to avoid panoramic sunroofs. Not only do they tend to be expensive, but they can cut into a car's headroom quite drastically. You might think that a panoramic roof will increase headroom, but the extra components to make the roof work mean this isn't the case.
Not all cars provide a measurement for headroom, so some trial and error might be involved when choosing your next one. However, almost all of the cars on this list provide a figure, which is measured from the seat base to the roof.
Here are some of the best cars you can buy if you're tall (or if you like wearing top hats). Once you're done, why not take a look at our guides to the best family cars or best large SUVs.
The boxy proportions of the latest Land Rover Defender not only make it a great car for tall drivers, it's also great for tall passengers. It is the driving position that lends the new Defender to taller drivers over the surprisingly claustrophobic previous generation. The new Defender is now more comfortable on a longer journey and taller drivers should be able to find a seating position that doesn't cause aches on longer journeys.
Tall rear-seat passengers have all the headroom they are likely to need and although the seats are more upright than a saloon, most taller passengers shouldn't find their knees positioned above their hips.
Maximum headroom in the front of the Defender is quoted at 1030mm at the front whether you go for the standard or panoramic roof, and legroom is 993mm, so whether you are long of leg or body, or both, you should be able to get comfortable.
Next on this list is the truly cavernous Mercedes E-Class Estate, with a similarly huge 1,061mm of headroom for front-seat occupants. Taller people will feel at home in the rear, too, as there's 1,005mm of headroom in the Estate's second seating row. The interior is a gem, and a real strong point of the E-Class; there are few cars with better cabins, especially as the E-Class shares many parts with the opulent S-Class. While it's not the last word in driving thrills, the E-Class Estate makes up for that by being supremely comfortable. If you don't need the huge boot space offered by the Estate, the E-Class saloon does almost as well for headroom; there's up to 1,051mm in the front and 971mm in the rear.
BMW has been building cars with good seat adjustment for generations – it's part of the company's 'ultimate driving machine' mantra – to enhance your connection with the car. However, the latest generation of the 1 Series hatchback has swapped rear-wheel drive for front-wheel drive, using the same platform as the Mini hatch. Fortunately, BMW hasn't forgotten about the importance of seat positioning for both driver engagement and, more importantly, taller drivers' comfort. 
Partnership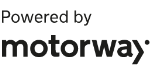 Need to sell your car?
Find your best offer from over 5,000+ dealers. It's that easy.
The latest generation 1 Series still has ample adjustment of the driver seat and you can drop your seat low for increased headroom. Total headroom is quoted at 963mm for all 1 Series models. There is also steering adjustment for reach and height. Having said that, tall drivers may prefer the automatic gearbox as the clutch pedal can feel slightly awkward to use if you're tall.
Although the Land Rover Discovery Sport misses out on full-sized Discovery's enormous proportions, it still has a comfortable driving position for taller drivers. Those with very long legs should be able to position their ankle for the pedals without being forced into an awkward angle and, although it doesn't have the boxy shape of the Defender, most taller people should still have enough headroom.Total headroom in the Discovery Sport measures in at 1003mm with the standard roof or 1021mm with the panoramic glass top. Legroom measures the same as the larger Defender at 993mm. 
As you'd expect, the Discovery Sport is a comfortable family car, with a nice interior and decent infotainment. It's a great motorway cruiser, tidy in corners and has light controls that make it easy to drive in town. Naturally, it's also great offroad with a Terrain Response system that makes it easy to set up for any number of tricky off-road conditions.
The Citroen Berlingo should be on your shortlist if space is top priority; because it's based on a van, you get a vast amount of headroom in all seats. There's actually so much headroom in the rear seats that Citroen has managed to fit a 90-litre storage area above your passengers' heads. Citroen has really paid attention to the car's styling this time around, to - you might even call it good-looking. The equipment list isn't limited to what you'd find in a van but its origins mean it's economical and should prove reliable. You might also want to consider the mechanically identical Peugeot Rifter and Vauxhall Combo Life.
The Volkswagen Polo shows that you don't necessarily need a big car if you're taller than average. It offers 1,019mm of front headroom, and offers just 8mm less in the rear. The Polo is a very grown-up and sensible hatchback, which feels refined at speed and fairly luxurious inside. It's a small hatch with similar build quality to much more expensive cars, and features plenty of equipment as standard. An eight-inch touchscreen, DAB radio and air conditioning are fitted across the range, so no Polo goes without the essentials. Auto wipers, parking sensors and dual-zone climate control are added onto higher-spec models, and you can even choose a digital dashboard from the options list. Not only does the rear bench offer plenty of space, but there's even a large boot to fill.
SUVs offer a raised driving position and, usually, a decent amount of space inside, and family-size models like the Mazda CX-5 are seemingly more popular than ever before. Front-seat occupants have 1,007mm of headroom, which only reduces to 991mm for passengers in the back. We like the Mazda's styling and its minimalist interior design, which is eye-catching and well-equipped in equal measure. It's quiet, too, and the 506-litre boot is spacious enough. Further praise comes from our Driver Power survey, where it finished fifth overall out of the top 75 cars on sale.
While many of the cars on this list have a boxy shape, the Audi A5 Sportback four-door coupe has plenty of headroom too. Those in the front can enjoy up to 1,001mm of space between the seat base and the roof, while the rear-seat passengers still have a large amount of room - 940mm, to be precise. The A5 Sportback is a great choice if you want something that's arguably a bit more stylish than a conventional executive saloon, and rivals everything from the Kia Stinger to the BMW 4 Series Gran Coupe and Tesla Model S. All models feature leather seats, auto emergency braking and the latest smartphone connectivity and, if you don't use the rear seats very often, you could also consider the A5 coupe. The three-door coupe offers 990mm in the front, although its rear headroom is noticeably less spacious.
The Skoda Superb Estate lives up to its name - in fact, we rated it as the best estate you can buy right now. It's good to drive, well built and handsome, and comes with some really nifty features like umbrellas in the front doors. The Superb's interior is lovely too, and the Skoda massively undercuts similarly sized cars - it starts from under £25,000. For that, you'll get a humongous boot and lots of space inside, with 995mm of headroom in the front and 1,001mm in the rear seats. Just like the Kodiaq above, the interior is smart and intuitive but not overly luxurious. You do, however, get a nice array of features, including a digital instrument cluster, WiFi connectivity, all-round parking sensors and Smart Link phone connectivity.
Taller drivers can often find themselves stuck when trying to find a reasonably sized family hatchback that isn't from a premium or luxury brand with a price to match, but the new Vauxhall Astra is that car. The Astra hasn't always been proportioned for taller drivers but, in recent generations, there has been a step forward in headroom and legroom thanks to increased seat adjustment.
The Astra is still available with a petrol engine but there is also plug-in hybrid for taller drivers with access to a charging point who want to reduce their running costs as much as possible. Taller drivers will be happy to hear that the Astra measures in at 1441mm in overall  height.
10 best cars for tall drivers