Top 10 best electric vans 2023
Looking for a low-emissions load-lugger? Here's our run down of the 10 best electric vans on sale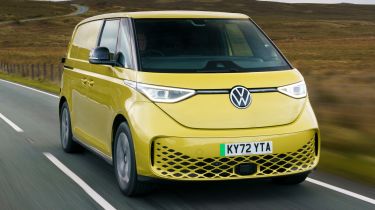 As many cities begin to charge diesel vehicles for entering clean air zones, or ban them altogether, it's becoming more tempting to make the switch to electric power. And now, the choice and variety of electric vans is catching up to cars, with an increasing number of models widely available at a variety of price points.
Electric vans come in all shapes and sizes, too: from full-size panel vans with over eight cubic metres of cargo volume, to more compact vans based on regular family cars. If you're not familiar with modern light commercial vehicles, you should be pleasantly surprised by the vans on this list because  they all come with plenty of modern technology and creature comforts such as touchscreen infotainment systems and adaptive cruise control.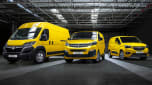 How much is my van road tax? Light goods vehicle VED explained
One of the main concerns buyers may have when it comes to buying an electric van is range. Most electric vans on sale today have a range of around 100-200 miles. While this should cover the majority of buyers looking to use their van locally, drivers that frequently drive cross-country may be better opting for a traditional diesel-powered van for the time being. Remember, also, that carrying heavy loads will reduce the van's range so the kind of cargo you'll be carrying is also a factor.  
The OZEV (Office for Zero Emission Vehicles) has a variety of Plug-in Vehicle Grants (PIVG) ranging from a £2,500 (up to 35% value of the vehicle) grant for vans with a GVW (Gross Vehicle Weight) below 2.5 tonnes. To qualify a vehicle must satisfy a range of requirements, most notably for vehicles of up to a GVW of 2.5 tonnes, they must be able to travel at least 60 miles emissions free, and have an average CO2 emissions figure of below 50g/km.
Vans between 2.5 tonnes and 4.25 tonnes GVW can claim up to £5,000 (or a maximum of 35% value of the vehicle) grant against their purchase but they must also be able to travel at least 60 miles emissions free, and have an average CO2 figure below 50g/km.
If you're looking for something with lots of space but need to carry people, why not check out our lists of the best 7-seater cars and the best people carriers and MPVs? Keep reading for the best electric vans you can buy right now…
1. Ford e-Transit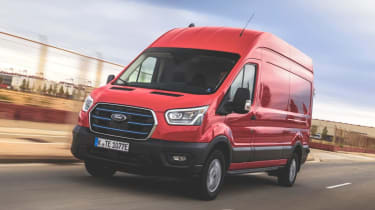 Electric range: Up to 196 miles
Cargo volume: Up to 15.1 cubic metres
Simply put, the Ford e-Transit offers everything you could ever want from a plug-in van: a superb load capacity, a decent electric range and plenty of options for customisation. Buyers can choose from three different body lengths, as well as two different heights, so there should be an e-Transit to suit most buyers. Other options include Ford's latest SYNC 4 infotainment system, which features a large 12-inch touchscreen – as seen in the latest Ford Focus hatchback.
All Ford e-Transit models come fitted with a 68kWh battery, which Ford claims will return up to 196 miles of range on the combined WLTP test cycle. There are two powertrains to choose from: 181bhp or 265bhp. Both provide plenty of punch, however we advise going for the more potent unit if you plan to carry heavier items more often. As is the case with many EVs, the e-Tranist is equipped with a regenerative braking function, although this can be a bit fiddly to operate. 
2. Volkswagen ID. Buzz Cargo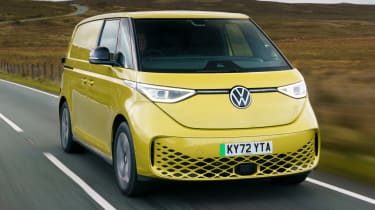 Electric range: Up to 256 miles
Partnership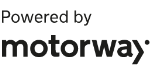 Need to sell your car?
Find your best offer from over 5,000+ dealers. It's that easy.
Cargo volume: 3.9 cubic metres
If you're looking for something that'll turn heads for your business, no van quite has the kerb appeal of the Volkswagen ID. Buzz Cargo. Based on the retro-styled ID. Buzz MPV, which is in-turn a throwback to the Type 2 van of the 1960s, the Cargo omits the second row of seats and transforms the rear into a practical 3.9 cubic metre load space – enough to carry two standard-size Euro pallets, but behind that of many rivals.
Aside from its distinctive looks, perhaps what sets the ID. Buzz Cargo apart from other electric vans is the way it drives. Sharing its underpinnings with other electric VWs such as the ID.4 family SUV, the ID. Buzz feels incredibly refined when on the road and offers a greater range than most rivals. Partner this with a tech-filled interior and super-fast 170kW charging capability and the Volkswagen van is a great choice if you're looking for a stylish electric load-lugger, but don't need to maximise outright carrying capacity.  
3. Citroen e-Berlingo / Peugeot e-Partner / Toyota Proace City Electric / Vauxhall Combo Electric / Fiat e-Doblo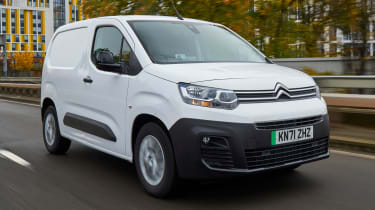 Electric range: Up to 175 miles
Cargo volume: Up to 4.4 cubic metres
Manufacturers across the industry are looking at ways to consolidate costs as they invest in new technology and the switch to electric powertrains. This is resulting in commercial vehicles sharing many parts, and in some cases having very few differences aside from their badge and aftercare package. All four of the vans listed in our number one spot share the same battery and output, providing a range of up to 175 miles, depending on the exact model and specification. All can be charged in 30 minutes when using a 100kW fast charger, helping you get back on the road quickly.
Despite being on the smaller end of the spectrum, all four make the most of the space on offer and can be purchased in both a two-seater panel van, or four-door crew cab layout. Longer wheelbases (the gap between the front and rear wheels) are available for those that need a larger cargo volume. Since all these vans are almost identical, it's the Toyota that stands out due to its 10-year warranty, giving great peace of mind, so long as you're happy to service the vehicle with the main dealer to meet its terms and conditions.
4. Citroen e-Dispatch / Peugeot e-Expert / Toyota Proace Electric / Vauxhall Vivaro-e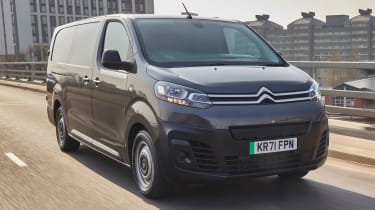 Electric range: Up to 205 miles
Cargo volume: Up to 6.6 cubic metres
These mid-size panel vans are are a result of the same Stellantis and Toyota partnership as the smaller Berlingo and Proace City vans, and a fine choice for tradespeople or business owners looking to go electric. All share the same underpinnings, but buyers have a choice of either a 50 or 75kWh battery. While the van with the 50kWh battery can only manage 143 miles on a single charge, the larger 75kWh models can travel up to 205 miles. Both of these batteries come attached to a 134bhp electric motor; with 100kW fast-charging capabilities, the larger battery takes 45 minutes to get from 0-80%.
Depending on which model you choose, there are also up to three van lengths to choose from. The longest boasts up to 6.6 cubic metres of cargo volume, if you decide to spec the handy through-loading bulkhead. Plus, a maximum payload capacity of 1,275kg means that carrying heavier items shouldn't be too much of a problem, either.
5. Fiat E-Ducato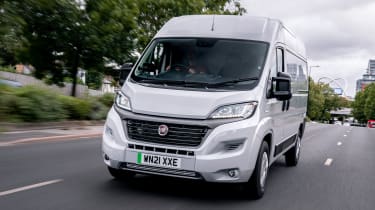 Electric range: Up to 224 miles
Cargo volume: Up to 17 cubic metres
Fiat's E-Ducato is one of the most versatile electric vans on the market. With 3 different lengths and roof heights, this leads to a total of 28 varied configurations to tailor to any businesses' needs. There are also the options for a five-seater crew cab or a nine-seater passenger van on this large panel van range. The E-Ducato has an impressive maximum payload of up to 1.9 tonnes and cargo area options that range from 10 to 17 cubic metres.
Buyers have a choice between either a 47 or a 79kWh battery, paired with a 121bhp electric motor. These configurations produce range figures of up to 113 miles for the 47kWh battery pack or 224 miles with the 79kWh option. All versions come with 50kW charging for fast top-ups, while on the road, the electric Ducato provides a smooth driving experience and a commanding view of the road.
6. LEVC NV5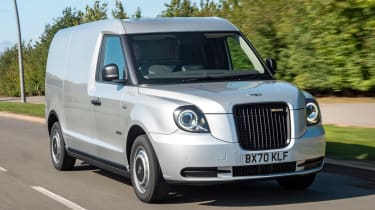 Electric range: Up to 58 miles (300 miles in total)
Cargo volume: 5 cubic metres
No, this isn't a mistake: the famous London Taxi is also available as an electric van – and it's a good one at that. While, by definition, most electric vans lack a petrol engine, the LEVC NV5 utilises a small petrol motor to power the electric motor. There is a small battery that offers 58 miles of electric range, but with the petrol engine running, the NV5 can travel up to 300 miles.
Open the rear door and instead of a set of rear seats emanating a questionable odour there's a 5 cubic metre load bay, with a maximum payload of 830kg. Like the LEVC black cab, the NV5 also shares many of its interior parts and switchgear with Volvo models – a manufacturer that's also owned by parent brand Geely. This means the LEVC feels a lot plusher than many other more-commercial-feeling plug-in vans, with all models getting dual-zone climate control, keyless entry and a host of driver aids.
7. Renault Master E-Tech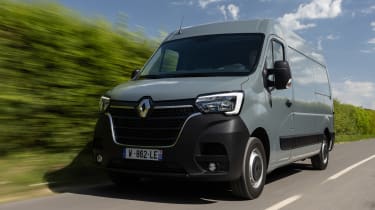 Electric range: Up to 115 miles
Cargo volume: Up to 13 cubic metres
Once called the Renault Master ZE, the newly-renamed Master E-Tech is a large panel van built to be a dependable workhorse, with an electrified twist. The Renault Master E-Tech panel van is available in six different configurations: with two different roof heights and either a short, medium or long wheelbase (the distance between the front and rear wheels).
Renault claims a real-world driving range of 115 miles and while this may sound unimpressive, it takes into account a heavy payload, use of air-conditioning/heating systems and variable driving speeds, which most range figures advertised by manufacturers do not. Charging the 33kWh battery takes around four hours using a 7.4kW wall box or public fast charger and the van's sat-nav can direct you towards the nearest available charger when you're running low.
8. Citroen e-Relay/Peugeot e-Boxer/Vauxhall Movano-e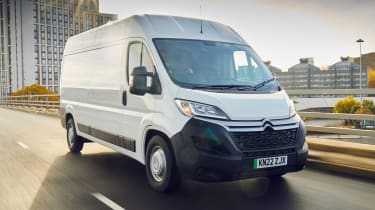 Electric range: Up to 169 miles
Cargo volume: 8 cubic metres
All three vans of these vans are nearly identical, so buyers may find it worth their while shopping between manufacturers for the best offers. Buyers have the choice of two battery sizes: 44kWh or 62kWh. These are mated to a 120bhp electric motor and manage 141 miles and 169 miles respectively. Fast 50kWh charging is also available, allowing for 80% charge in around an hour.
On the inside, these vans are beginning to show their age with a relatively uninspired design and third-party infotainment systems. In the rear, the vehicles are available in a variety of lengths and configurations, including single and double cab arrangements. The maximum load space is 15 cubic metres and, thanks to this being a front-wheel-drive model, the floor is low, unimpeded by any mechanical parts.
9. Renault ZOE Van E-Tech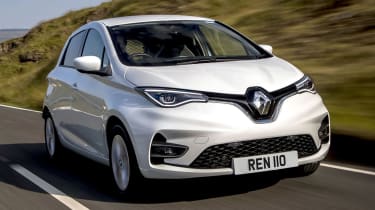 Electric range: Up to 245 miles
Cargo volume: 1 cubic metre
The Renault ZOE Van E-Tech is the perfect choice for someone looking for a compromise between an electric car and a van. Based on the best-selling ZOE hatchback, the ZOE Van maintains many of our favourite aspects of the passenger car such as a well-made cabin, great tech and superb driving range. The ZOE Van can manage up to 245 miles on a single charge and with the 50 kW rapid charging capability found on top-of-the-range Business+ models, you can get up to 90 miles of range after just 30 minutes plugged-in.
While the ZOE dwarfs other vans in terms of range, it falls short when it comes to cargo space. Given it is based on a supermini around the size of a Ford Fiesta, room is at a premium - with just 1 cubic metre of cargo space and a payload capacity of 457kg. However, this should be enough for some small businesses and the ZOE is a more refined alternative for those who need extra space but still want a car-like driving experience.
10. Citroen Ami Cargo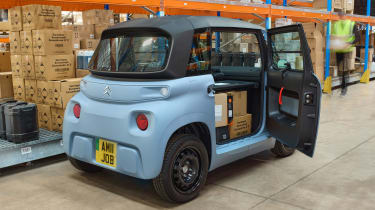 Electric range: Up to 46 miles
Cargo volume: 260 litres
If cargo space isn't much of a concern and you're looking for something fun and funky for urban deliveries, the Citroen Ami Cargo is a brilliant left-field option. Instead of the regular Ami's two-seater layout, the Ami Cargo has a single driver's seat, mounted alongside a 260-litre cargo void. There are a few tie-down points for loose items and a fold-down shelf that can be used as a mobile desk.
Officially classed as a quadricycle, the Ami Cargo isn't allowed on motorways; however, it's the city where it'll thrive with its 28mph top speed and 46-mile electric range. Available for as little as £20 per month on finance, the Ami should be incredibly cheap to run – being more affordable than public transport in many cases. You can only charge it with a three-pin plug, however, its small battery means you'll be back on the road with a full charge in just three hours.
Need something with lots of room that isn't a van? Check out our list of the cars with the biggest boots
New 2024 Porsche Panamera – new looks, interior, and Turbo E-Hybrid model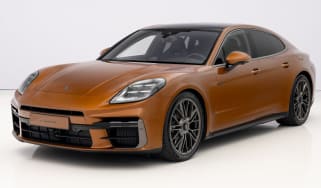 New 2024 Porsche Panamera – new looks, interior, and Turbo E-Hybrid model
Best new car deals 2023: this week's top car offers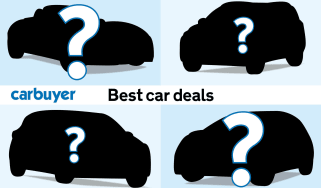 Best new car deals 2023: this week's top car offers
Toyota Yaris Cross updated for 2024 – new tech, trim and hybrid option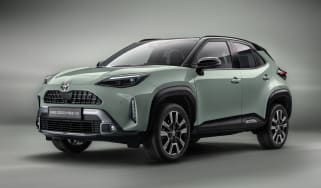 Toyota Yaris Cross updated for 2024 – new tech, trim and hybrid option