The safest cars to buy in 2023
Looking for peace of mind when out on the road? Here are the safest cars according to independent crash-test body Euro NCAP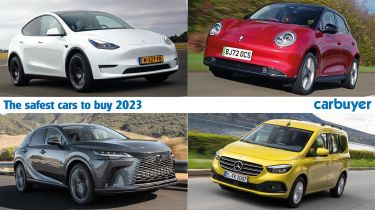 Car safety ratings don't always get the attention they deserve, being sidelined compared with fuel efficiency or new technology that attracts car buyers into showrooms. However, a car with a five-star safety rating is high on the priority list of many families. Walking away from a crash is more important than any new gizmo will ever be.
Euro NCAP ratings are the primary means for car buyers to gauge a car's level of safety and it is highly trusted by the industry and consumers alike. The independent organisation tests new cars in its own laboratory crash test and rates them in four critical areas: adult occupant protection, child occupant protection, vulnerable road user protection and safety assistance technology.
Euro NCAP's tests are notoriously becoming more stringent each year, with the latest safety tech having a large impact on a car's overall score. This means that a car awarded a five-star safety rating a few years ago may not do so well on the latest tests, putting pressure on car makers to continually improve safety – something that's good news for buyers overall.
All the cars listed below received a full five-star safety rating and high scores in all of the four main test areas. However, while Euro NCAP sorts cars into several different categories such as 'superminis', 'large SUVs' and 'executive cars', some cars fall into categories that don't quite match the section of the market Carbuyer places them in. For example, Euro NCAP ranks the SEAT Ibiza as a 'small family car', alongside models from the class above such as the larger SEAT Leon. Thus, for this rundown we've taken Euro NCAP's top-scoring cars, and placed them in the car classes we use across our reviews.
Keep reading to find out the safest cars that you can buy today…
Safest Supermini – Volkswagen Polo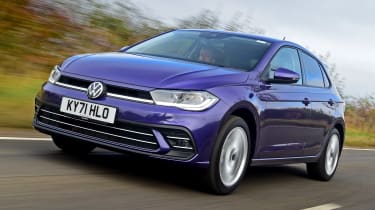 Adult occupant protection: 94%
Child occupant protection: 80%
Vulnerable road user protection: 70%
Safety assist: 70%
The Volkswagen Polo is the safest supermini you can currently buy thanks to its impressive array of standard safety features. As standard, all Polos get autonomous emergency braking (AEB) that can detect pedestrians, lane keep assist, lane departure warning, a speed limiter and rear parking sensors. Blind-spot monitoring illuminates a light by the door mirrors when an object is detected, and rear cross-traffic alerts use sensors to stop the car if a potential collision is detected. Every Polo gets two ISOFIX child seat mounting points, for the outer rear seats. 
We love the sophistication and refinement the Volkswagen Polo offers in the supermini class, and an update in 2021 ushered in newer technology to ensure the Polo's interior stays up to date. It's also impressively spacious, with five doors now standard for improved rear seat access, and a 25% bigger boot. Many buyers will no longer need to step up to the more expensive Volkswagen Golf.
Safest Small Family Car – GWM ORA Funky Cat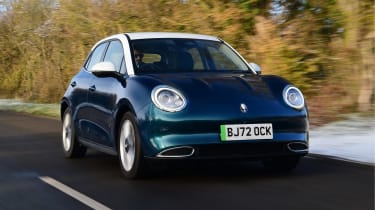 Adult occupant protection: 92%
Child occupant protection: 83%
Vulnerable road user protection: 74%
Safety assist: 90%
You may be surprised to see a relatively unknown brand on this list, but GWM ORA's first car to be sold in Britain, the Funky Cat, is, in fact, the safest small family car you can buy. At launch, the Funky Cat is only offered in range-topping First Edition guise; this comes loaded with safety features including blind spot monitoring, lane keep assist with lane centering and a 360-degree camera system. GWM ORA's safety systems seem to work a treat, too, as they scored 90% in Euro NCAP's safety assist test.
Partnership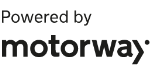 Need to sell your car?
Find your best offer from over 5,000+ dealers. It's that easy.
The Funky Cat truly lives up to its name, with a cutesy exterior and striking cabin. While Chinese cars have a reputation for being cheap-feeling and utilitarian, the GWM ORA offsets that stereotype with a plush, well-built interior with a suitably 'funky' two-tone colour scheme. With a range just shy of 200 miles, the Funky Cat lags behind rivals such as the Volkswagen ID.3, however it manages to undercut them on price and is offered with a strong five-year, unlimited mileage warranty.
Safest Large Family Car – Hyundai Ioniq 6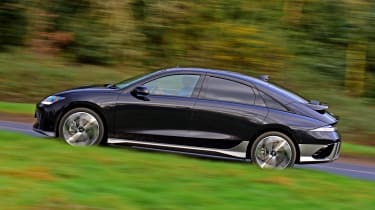 Adult occupant protection: 93%
Child occupant protection: 89%
Vulnerable road user protection: 80%
Safety assist: 82%
Mercedes has long been highly-regarded for its cutting edge technology, and this extends to safety innovations, too. The Mercedes C-Class showcases the German brand's latest suite of safety and driver assistance offerings which includes blind spot monitoring and lane keep assist. AMG Line Premium Plus cars get Mercedes' digital matrix LED headlights with adaptive high beams, as well as a 360-degree camera system and a brilliant augmented reality head-up display that can project sat-nav directions over the road in front of you, negating the need to look away.
As you can probably gather, the interior of the latest Mercedes C-Class is an utter tech fest. All cars get the brand's latest MBUX infotainment system which features an 11.9-inch touchscreen alongside a slick-looking digital instrument cluster. The C-Class is good to drive and is offered with a variety of punchy and efficient powertrains; our pick is the plug-in hybrid C 300 e which offers a class-leading electric range of up to 62 miles.
Safest SUV – Tesla Model Y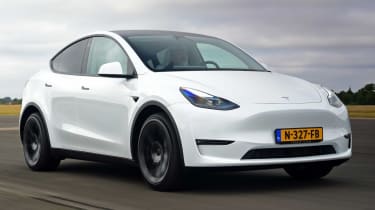 Adult occupant protection: 97%
Child occupant protection: 87%
Vulnerable road user protection: 83%
Safety assist: 91%
In terms of adult occupant protection, the Tesla Model Y is the safest new car you can buy. Also scoring strongly in all of Euro NCAP's other tests, the Model Y is equipped with some of the most advanced driver safety technology, too. While it still gets forward collision warning, AEB and blind spot monitoring, upgrading to Tesla's 'Full Self Driving Capability' adds a raft of additional safety features. While the pack's name is a bit misleading as the Model Y still requires full driver attention and occasional input, this setup utilises a variety of sensors to stop and start the car in traffic, steer and even change lanes on the motorway.
While Tesla's Autopilot system relies on incredibly complicated technology, the Model Y's interior is totally minimalist, with few physical buttons. While there are no instruments behind the steering wheel, dominating the centre of the dashboard is a 14-inch touchscreen which houses almost all of the car's functions. There are three versions of the Model Y to choose from and while the Performance model may be tempting with its blistering acceleration, the entry-level Model Y offers the best value-for-money with its circa £45k price tag and 283-mile range.
Safest Large SUV – Lexus RX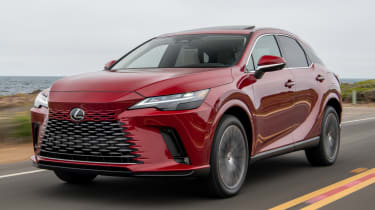 Adult occupant protection: 90%
Child occupant protection: 87%
Vulnerable road user protection: 89%
Safety assist: 91%
A rival to the BMW X5, the Lexus RX excels as much in terms of safety as it does in efficiency. All RX models come as standard with Lexus' Safety System + suite of driver aids; this includes pre-collision warning with pedestrian detection, AEB, lane departure warning, blind spot monitoring, adaptive high beams and adaptive cruise control. All of this combines to make the already-luxurious Lexus feel even more relaxing to drive.
Speaking of luxury, the RX boasts a plush interior, with soft-touch materials everywhere you look. Ditching the finicky Lexus touchpad systems of old, the RX gets the Japanese marque's latest infotainment setup, featuring a 14-inch touchscreen with digitised climate control dials. Despite being a large car, the RX is more affordable to run than you might expect; when fitted with the 450h+ plug-in hybrid engine, the Lexus 4x4 is claimed to return up to 256.8mpg, thanks in part to its 40-mile electric range.
Safest Large Executive Car – Tesla Model S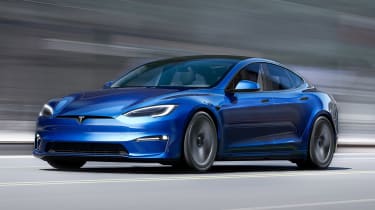 Adult occupant protection: 94%
Child occupant protection: 91%
Vulnerable road user protection: 85%
Safety assist: 98%
Despite first launching all the way back in 2012, the Tesla Model S is still at the bleeding edge of in-car safety thanks to constant updates and an already-sophisticated array of driver aids. Like most Teslas, the Model S comes with the usual bundle of safety kit like blind spot monitoring and lane-keep assist, but it's the 'Advanced Autopilot' and 'Full Self Driving' capabilities that set it apart from the rest. Furthermore, the Model S has a low centre of gravity as its batteries are mounted underneath the cabin floor, therefore it's less likely to roll in the case of an accident.
The Tesla Model S hasn't been available to order in the UK since the COVID-19 pandemic, however it still appears on the brand's website and deliveries are likely to resume again soon. The Model S' interior may not be as plush as rivals, but its 'yoke' steering wheel and slick infotainment system with built-in games console is sure to pique the interests of buyers. While the Long Range model offers an amazing 400+ mile range, the Model S Performance holds the title of the fastest-accelerating production car, reaching 62 mph in less than two seconds.
Safest Sports Car – BMW Z4 (Tested in 2019)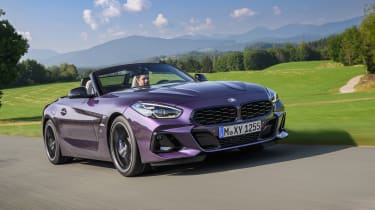 Adult occupant protection: 97%
Child occupant protection: 87%
Vulnerable road user protection: 91%
Safety assist: 76%
Mainstream sports cars are somewhat of a dying breed today, so the Safest Sports Car mantle is still held by the BMW Z4, which underwent safety testing back in 2019. Nonetheless, at the time it scored well in terms of adult occupant protection as well as vulnerable road user protection. Despite a mid-life facelift in 2022, the Z4 has not been tested since, however all cars do come with forward collision warning, lane departure warning and a speed limit info function with no-overtaking indicator.
Developed in parallel with the new Toyota Supra, the Z4 takes a more 'grand touring' approach to the sports car formula, with a supple ride, automatic gearbox and power-folding fabric soft top. As is always the case with BMWs, the Z4's interior is top notch and comes with the brand's easy-to-use iDrive infotainment system. The standard Z4 produces 194bhp and all the punch most buyers will ever need, while the range-topping Z4 M50i with its muscular 334bhp six-cylinder engine will offer the ultimate in performance.
Safest MPV – Mercedes T-Class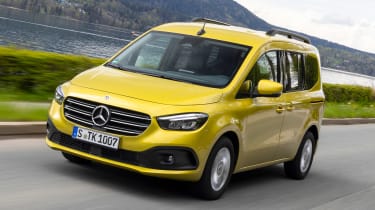 Adult occupant protection: 91%
Child occupant protection: 93%
Vulnerable road user protection: 69%
Safety assist: 90%
Despite its commercial van origins, the Mercedes T-Class is the safest MPV you can buy, according to Euro NCAP. While its comparatively low score for vulnerable road user protection can likely be attributed to the T-Class' boxy shape, it makes up for it with superb occupant protection, helped in part by a centre airbag which protects occupants in a side impact. Other standard safety equipment includes blind spot monitoring, a drive fatigue sensor and an automatic speed limiter.
The T-Class may look a bit utilitarian by Mercedes standards, but it's still much posher than most van-based MPVs. The German marque's MBUX infotainment system is standard, while top-spec cars even get part-leather upholstery. There's only one engine available: a 1.5-litre diesel, offered in 94bhp and 114bhp guises – so we'd opt for the latter if you plan on carrying lots of luggage or passengers. Company car drivers may want to look at the all-electric EQT, which is identical to the T-Class but offers a negligible company car tax rate and a range of up to 175 miles.
Safest Pickup – Ford Ranger/Volkswagen Amarok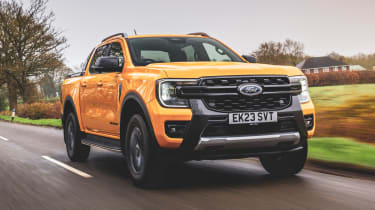 Adult occupant protection: 84%
Child occupant protection: 90%
Vulnerable road user protection: 74%
Safety assist: 84%
If you're worried that pickup trucks prioritise lugging heavy pallets of building materials over safety, then think again. Both the Ford Ranger and its near-identical Volkswagen Amarok sister model both scored the full five stars for crash-test safety, with an impressive 84% for adult occupant protection. As standard, the Ranger gets airbags, ESP+ stability control, collision mitigation, traffic-sign recognition, a rear-view camera and lane-keeping tech. 
Adding the Technology Pack to the Ford Ranger bolsters safety equipment further, bringing features like lane change warnings, adaptive cruise control, blind-spot monitoring and a 360-degree camera view. Front parking sensors and emergency braking with pedestrian and cyclist detection are standard for the Volkswagen Amarok.
The latest Ranger and Amarok are the most desirable versions yet, partly thanks to a large central infotainment screen, bringing them closer to SUV levels of technology and luxury. With 2.0-litre or 3.0-litre V6 diesel engines fitted in the Ford, it also feels powerful enough to easily keep up with traffic, even when laden or towing a heavy trailer, without breaking a sweat.
Want the latest technology in your new car? Check out our top 10 best electric cars