Official: new petrol and diesel car sales will be banned from 2030
UK Government brings ban on sale of new petrol and diesel cars forward but hybrids will be sold until 2035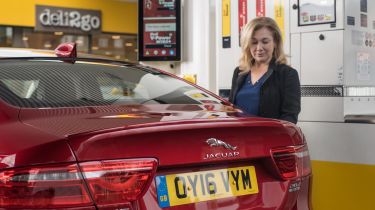 Ban part of 10-point plan set out by Prime Minister
Petrol and diesel vans will also be banned
£1.3bn granted for infrastructure improvements
The sale of new petrol and diesel cars and vans will be banned by 2030, the UK Government has confirmed. The announcement brings the ban forward by 10 years from the Government's initial target, as part of a wider plan to make the UK carbon neutral by 2050. Full hybrids (as opposed to those cars with mild-hybrid assistance) and plug-in hybrid vehicles (PHEVs) will be allowed to remain on sale until 2035.
PHEVs and electric cars have accounted for 9.1% of car sales in the ten months of 2020 so far, although sales are up 91.5% and 168.7% respectively compared to 2019. Banning petrol and diesel cars sooner is likely to accelerate the uptake of electric vehicles. Hydrogen-powered cars will escape the ban as they don't produce any emissions but only two models are currently on sale.
Prime Minister Boris Johnson has promised £1.3bn to improve and increase the charging network for electric vehicles, plus £582m will be set aside for financial incentives such as the existing Plug-in Car Grant (PiCG). Over the next four years, nearly £500m will also be spent on the development and production of batteries.
In addition, the Government's plan states an aim to ban new diesel-powered HGVs in favour of zero-emission freight alternatives. No date has been set for this yet.
A recent Greenpeace study suggests that bringing the ban forward to 2030 will create 32,000 jobs this decade, both directly and indirectly linked to electric cars and the associated infrastructure. The study also claims that the UK's GDP would rise by £4.2bn should petrol and diesel cars be outlawed in 10 years' time.
Earlier this year, when Prime Minister Boris Johnson announced the ban was to be implemented in 2035, he said: "There can be no greater responsibility than protecting our planet, and no mission that a 'Global Britain' is prouder to serve. 2020 must be the year we turn the tide on global warming - it will be the year when we choose a cleaner, greener future for all."
Introducing the latest 2030 ban, he added: "Our green industrial revolution will be powered by the wind turbines of Scotland and the North East, propelled by the electric vehicles made in the Midlands and advanced by the latest technologies developed in Wales, so we can look ahead to a more prosperous, greener future."
A move to electric cars will massively cut tailpipe emissions but their limitations remain. Charging can be inconvenient if you don't have off-street parking and charging times for electric cars, particularly in domestic settings, remain quite long. There are also concerns about the provenance and ethics of some of the materials used in electric car batteries and whether the National Grid can handle a mass take-up of EVs.
The chief executive of the Society of Motor Manufacturers and Traders (SMMT), Mike Hawes, said, "We share the government's ambition for leadership in decarbonising road transport and are committed to the journey. Manufacturers have invested billions to deliver vehicles that are already helping thousands of drivers switch to zero, but this new deadline, fast-tracked by a decade, sets an immense challenge.
"We are pleased, therefore, to see Government accept the importance of hybrid transition technologies – which drivers are already embracing as they deliver carbon savings now – and commit to additional spending on purchase incentives. Investment in EV manufacturing capability is equally welcome as we want this transition to be 'made in the UK', but if we are to remain competitive – as an industry and a market – this is just the start of what's needed.
"Success will depend on reassuring consumers that they can afford these new technologies, that they will deliver their mobility needs and, critically, that they can recharge as easily as they refuel."
This is echoed by the president of the AA, Edmund King OBE. While drivers "support measures to clean up air quality and reduce CO2 emissions," he thinks the updated targets are "incredibly challenging".
"We will also need a package of grants coupled with a comprehensive charging infrastructure at homes and in towns, cities, motorways and in rural locations."
The petrol and diesel car ban is part of a wider package of measures, including producing enough energy from offshore wind farms to power every home, investing in zero-emission public transport, and planting 30,000 hectares of trees every year.
Scotland to introduce petrol and diesel ban in 2032
Scotland has announced it will introduce the same rule but in 2032, which was initially eight years ahead of the rest of the UK's first deadline. Nicola Sturgeon, Scotland's First Minister, told the Scottish parliament:
"The transition from petrol and diesel cars and vans to electric and other ultra-low emission vehicles is underway and gathering pace… our aim is for new petrol and diesel cars and vans to be phased out in Scotland by 2032".
Will there be a diesel scrappage scheme?
No, there are no current plans for a diesel scrappage scheme. The government's clean air strategy lumps petrol and diesel cars as equally guilty when it comes to air pollution.
While there will be consultation on a possible scrappage scheme at a later date, government research suggests the prevalence of diesel cars is so high that any scrappage scheme would run to billions of pounds in order to have any impact. If a diesel scrappage scheme does emerge, it'll almost certainly be highly targeted, taking aim at older diesels in small areas of the country.
Some manufacturers are offering their own 2020 scrappage schemes, which you can read about here.
What does this mean for car buyers?
This won't affect car buyers for the next few years and we sincerely hope that there will be more affordable electric cars by the time this ban is introduced. The report by Greenpeace mentioned above also suggests that consumers will be able to spend more on leisure because of an electric car's cheaper running costs, but our colleagues at Auto Express have found that the Government is also looking at introducing a roads pricing tax to make up for the projected loss in fuel tax.
Petrol and diesel prices will almost certainly rise when this ban comes into force, while it's not known how the ban will affect the residual values of conventionally fuelled cars. If this ruling means residual values are poor, you can expect PCP finance deals to reflect that in higher monthly prices.
Read our guides to the best electric cars and the cheapest electric cars now on sale.