Hyundai Ioniq 6 will offer 379-mile range
The Ioniq 6 will be able to go further than a Tesla Model 3 Long Range on a single charge
Class-leading range from bigger battery
53kWh and 77.4kWh battery versions
Starting price of around £43,000
New details have been released for the all-electric Hyundai Ioniq 6, which is expected to cost from just over £40,000 when it arrives later in the year. Its headline figure is a maximum range of up to 379 miles – a handful more than the Tesla Model 3 Long Range.
It shares much of its technology with the Ioniq 5, and 53kWh or 77.4kWh battery capacities will be available, but its aerodynamic shape and updated powertrain means the Ioniq 6 can go up to 64 miles further than the hatchback. Over time, its range could even be increased, thanks to wireless software updates that can alter "key control systems" for the first time in a Hyundai model, according to Thomas Schermera, Hyundai's Executive Vice President. Its energy consumption of more than 4.4mi/kWh is said to make it one of the most efficient EVs on sale.
While entry-level rear-wheel drive versions with the smaller battery are likely to cost from around £43,000, the Hyundai's price is expected to rise to £57,000 for a range-topping Ioniq 6 with the larger battery, four-wheel drive and 316bhp, propelling it from 0-62mph in 5.1 seconds. A high-performance Ioniq 6 N model is rumoured to be coming at some point, although Hyundai has yet to confirm this.
It'll also use the Ioniq 5's 800v electrical architecture, so will be capable of charging from 10-80 per cent in 18 minutes at a rapid charger.
A novel EV Performance Tune-up system will allow the owner to adjust the power of the electric motors, accelerator sensitivity and steering weight to their liking, while e-ASD can affect how the car sounds while it's being driven, and add a 'spaceship-like' soundtrack.
Following several years of speculation and spy shots, Hyundai unveiled its all-electric Ioniq 6 saloon last month. While it follows on from the Ioniq 5 and features many similar elements, it has a sleeker, more conventional shape.
In 2020 Hyundai revealed a concept car called the Prophecy, and the new Ioniq 6 is the road-going result of that dramatic model. It's been toned-down a little for production, but it's still a dramatic shape with a long, sloping roofline.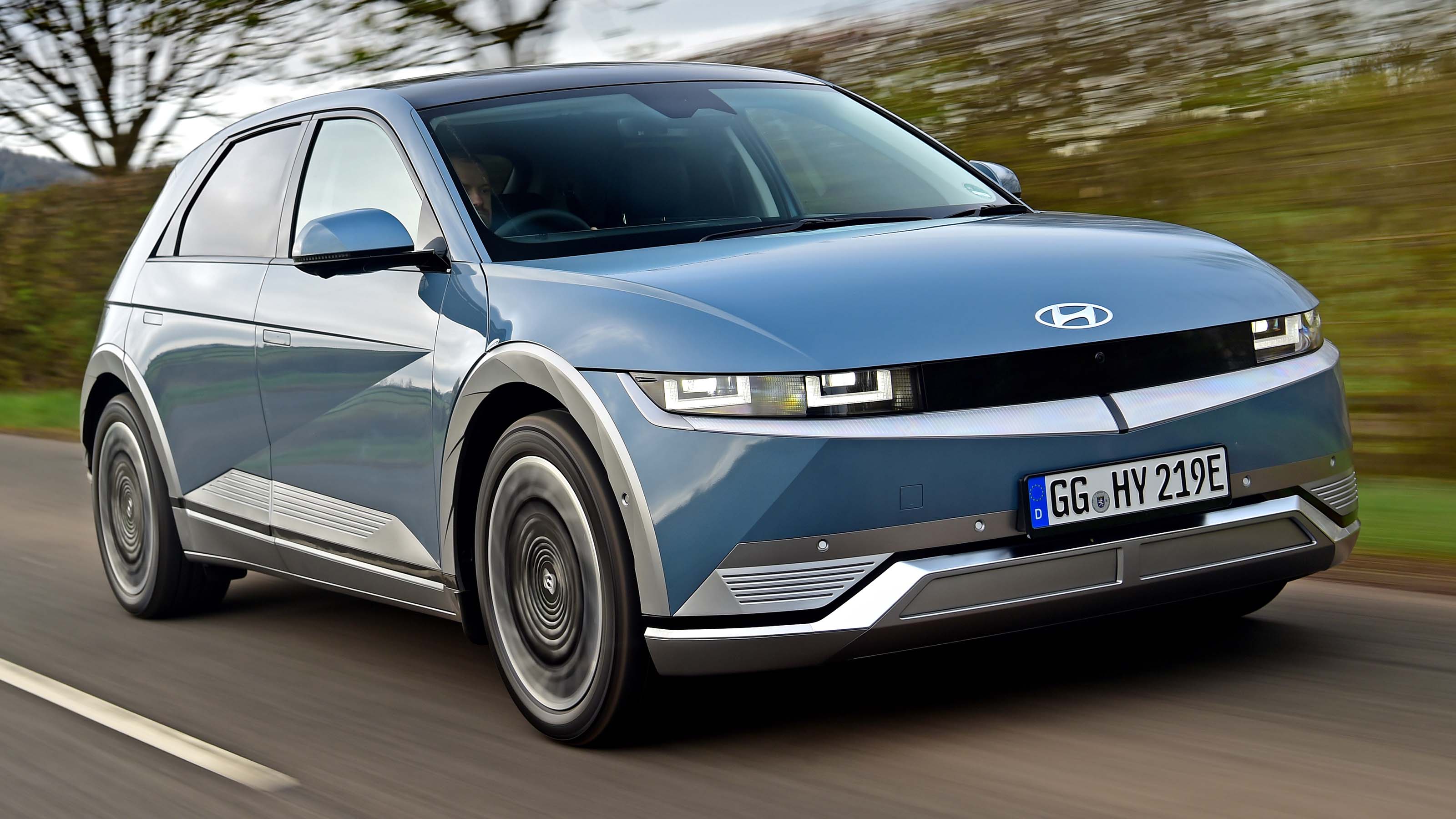 Top 10 best electric cars 2022
The Ioniq 6 has a long wheelbase - the distance between the wheels - which means it will have lots of interior space, plus there's room for a big battery pack under the floor. Large 18- or 20-inch alloy wheels are fitted and it features 'virtual' door mirrors that use cameras rather than mirrors - a feature seen on quite a few electric cars, including the Honda e and Audi e-tron.
The Ioniq 6 has large LED lights at the front and rear, and at the back they are spread into a pattern of squares just like on the Ioniq 5. There's a small spoiler above the badge and the lower part of the rear bumper is black, which contrasts with the rest of the bodywork. It's been shown with similar satin paintwork that's already been seen on the Ioniq 5. Plenty more colours will be available, though, including red, blue, white, black and green.
Inside, the Ioniq 6 shares some elements with the Ioniq 5, such as the steering wheel and some of the switchgear, but it's a more cocooning cabin with a larger centre console that stretches up to the dashboard. It's a more conventional look, but still features a pair of 12-inch screens - one touchscreen set-up for the infotainment and another for the digital instruments ahead of the driver.
Eco-friendly materials are used inside, including the upholstery that is made from recycled plastics and the fibres from fishing nets. At the sides of the wide dashboard are the screens that display the view from the door mirror cameras, and the door panels feature bold ambient lighting with the choice of 64 colours and six themes. This brightness of the interior illumination for front occupants can also be set to adjust based on the car's speed. While exact UK specs haven't been confirmed yet, globally the Ioniq 6 will be offered in up to 12 exterior colours, while the interior comes in four colourways, including dark and light grey, olive green with light grey, black with pale brown and black.
At 4,855mm long, the Ioniq 6 is 220mm longer than an Ioniq 5, but it's narrower and shorter. The 6 features seats with backrests that are around 30 per cent thinner to provide more space, while optional Relaxation Comfort Seats will allow extra seat angle adjustment. Four Type-C USB ports and a single Type-A USB are provided for charging and connecting mobile devices.
The Ioniq 6 will usher in the next generation of Hyundai's 'SmartSense' driver aids, which includes Highway Driving Assist 2. Essentially a smart cruise control, this can maintain a set distance to the car ahead, and keep the car centred in its lane through curves. It can also adjust the car's positioning if a vehicle in another lane gets too close, and change lanes if the driver indicates - although this feature isn't yet confirmed for the UK. Other aids will include autonomous emergency braking that can also sense crossing traffic and blind-spot collision avoidance.
Read about the longest-range electric cars and the best electric SUVs on sale now.